UPDATE: Proscription Petition to Declare the CPP and the NPA as 'terrorists,' including activists and IPHRDs
February 11, 2019
ipmsdl_admin
Categories:

Campaign
Campaign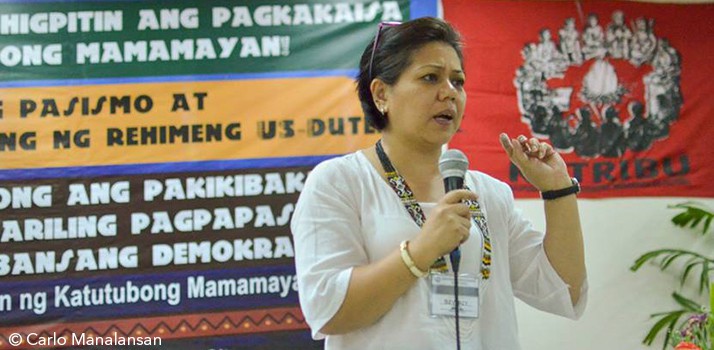 Dear Friends,
We are writing to deliver you the recent updates in the status of the Proscription Petition filed by the Philippine Government through its Department of Justice (DoJ) to declare the Communist Party of the Philippines (CPP) and New People's Army (NPA) as terrorist organizations.
The petition contains a list of 461 names and 188 aliases, including my name, Beverly Longid, that the government claims as known officers of the CPP and NPA, including some Indigenous Peoples Human Rights Defenders.
In response to our motions in August 31, 2018, we are glad to inform you that last February 1, 2019, the Manila Regional Trial Court Branch 19 have ruled in removing my name, together with my colleagues from the Cordillera Peoples' Alliance (CPA) Joanna Cariño, Joan Carling, Jeanette Ribaya-Cawiding, and Windel Bolinget, and the more than 600 names, by declaring us a Non-Party to the Proscription Petition. Also removed from the list are human rights workers and peace consultants Elisa Tita Lubi, Rey Casambre, Sherwin De Vera, and Randall Echanis.
Dated January 3, 2019, the DoJ submitted an amendment to the original Proscription Petition reducing the list of alleged CPP and NPA members and officer therein from more than 600 names to only eight names, citing the lack of proof in linking them to the underground groups. The February 1 court ruling however has further reduced it to just two names, Jose Maria Sison and Antonio Cabanatan, for the purposes of serving summons.
Activists Not Terrorists
Last August 31, 2018, together with my legal counsel, we filed with the trial court our "Notice of Special Appearance with Motion to Declare as Non-Party" or to delist my name from the petition and with the hope that our argument would help in the dismissal of the entire petition.
Much earlier, July 27, 2018, the court has ordered the cancellation and recall of summons issued to former Bayan Muna Representative Satur Ocampo, alleged communist leader Rafael Baylosis, U.N. Special Rapporteur Victoria Tauli-Corpuz and Jose Molintas, removing them in the list of alleged members or officers of the CPP and NPA. It cited that there is nothing in the petition or its attachments that would indicate that the four are members or officers of the CPP and NPA.
Together with other activists accused and tagged as terrorists by the DoJ, our motion stands that I am NOT a terrorist but an activist working for the recognition and promotion of Indigenous Peoples rights and welfare.
The arbitrary and malicious targeting measures of the government, like the said petition, only weaken the Indigenous Peoples Movement and unacceptably attack on those who speak up to defend Human Rights.
Only 12 days ago, Randy Felix P. Malayao, an Indigenous colleague and Peace Talks Consultant, whose name is also included in the petition, has been shot dead by unknown assailant while sleeping in a bus.
This further validates that the unfounded, malicious and irresponsible terrorist accusation poses serious threat to the life, security, and liberty of the activists listed and is a dangerous method of harassment and intimidation.
Solidarity Against Attacks on Indigenous Activists
The victory of our campaign against the terrorist tagging and persecution of Indigenous Activists cannot be achieved without your solidarity.
We have received a strong show of support through the resolutions of the local government units of the City of Baguio, the Municipality of Sagada, Mtn. Province, and of Mtn. Province; the statement of the Episcopal Church of the Philippines-Council of Bishops; and the Letter of Concern condemning the petition and/or stating we are not terrorists that was endorsed and supported by various organizations and individuals all over the world including several manifestations in the USA, Hong Kong, Australia, and Canada and in different regions in the Philippines.[1]
Moving Forward: Our Continuing Struggle
What we have achieved in winning this battle will not be possible without the collective actions of both the local movement in the Philippines and the international solidarity from human rights defenders and organizations all over the world. We are taking this opportunity to thank everyone who has expressed their support as individuals and in behalf of their organizations.
Currently, we are in continuous consultation with our legal counsel on the counter measures that needed to be taken. The Proscription Petition have caused undue threats and dangers to us, to our organizations and to our loved ones. It breached our privacy and disclosed our personal information and data to the intelligence networks of the state, and maliciously smeared and maligned our name, our organizations and our work.
The attacks on Indigenous Human Rights defenders continues. Our struggle for our democratic right to free expression and dissent will not stop, along with the bigger fight for a just society where all human rights are rightly and unconditionally enjoyed by the peoples.
Our only way is to move forward. Thus, we strive in collectively carrying the struggle, with the marginalized, against landlessness, unemployment, hunger, poverty, and against all forms of repression.
Long live international solidarity!
Sincerely,
Beverly Longid
IPMSDL Global Coordinator
info@ipmsdl.org
---
[1] Endorsed byThe Saami Council, 53 organizations from the Philippines, 15 global organizations, 11 regional organizations, and 306 organizations from Australia, Austria, Bangladesh, Belgium, Bolivia, Bosnia and Herzegovina, Brazil, Cameroon, Canada, Central America, Colombia, Democratic Republic of Congo, Denmark, El Salvador, Germany, Guatemala, India, Indonesia, Italy, Japan, Kenya, Myanmar, Mexico, Mongolia, Nepal, Netherlands, Nicaragua, Nigeria, North America, Pakistan, Paraguay, Peru, Russia, Senegal, Spain, Sweden, Switzerland, Tanzania, UK, US, Venezuela, and Vietnam.
11,184 individuals from117 countries also endorsed this letter by signing the online petition.
Supported by 93 Solidarity Statements from: 21 International human rights, environmental and support organizations, 3 legislators from the Philippines, 1 media outlet, 12 regional organizations from Asia, Latin America, Nordic Region, Asia Pacific, Africa and the US; 2 donors/Funding institutions; 10 from UN Agencies/Bodies and other Multilateral Bodies; 14 Philippine based IPOs, NGOS and CSOs and from 19 other countries including the Netherlands, Burundi, Australia, Canada, Fiji, Guatemala, India, Indonesia, Malaysia, Mexico, Micronesia, Nepal, Nigeria, Paraguay, Peru, Taiwan, UK, and the US.
---
Actualización: Petición de proscripción para declarar al Partido Comunista de Filipinas (CPP) y al Nuevo Ejército del Pueblo (NPA) como `terroristas', incluyendo activistas y defensores de los derechos humanos de los pueblos indígenas.
Queridos amigos,
Le escribimos para comunicarle las últimas novedades sobre el estado de la Petición de Proscripción presentada por el Gobierno filipino a través de su Departamento de Justicia (DoJ) para declarar al Partido Comunista de Filipinas (CPP) y al Nuevo Ejército del Pueblo (NPA) como organizaciones terroristas.
La petición contiene una lista de 461 nombres y 188 alias, incluyendo mi nombre, Beverly Longid, que el gobierno alega como oficiales conocidos del CPP y del NPA, incluyendo algunos defensores de los derechos humanos de los pueblos indígenas.
En respuesta a nuestras mociones del 31 de agosto de 2018, nos complace informarle que el pasado 1 de febrero de 2019, la Sección del Tribunal Regional de Primera Instancia de Manila 19 ha decidido eliminar mi nombre, junto con mis colegas de la Alianza de los Pueblos de la Cordillera (CPA) Joanna Cariño, Joan Carling, Jeanette Ribaya-Cawiding, y Windel Bolinget, y los más de 600 nombres, al declararnos no parte en la Petición de Proscripción. También fueron eliminados de la lista los trabajadores de derechos humanos y consultores de paz Elisa Tita Lubi, Rey Casambre, Sherwin De Vera y Randall Echanis.
Con fecha 3 de enero de 2019, el DoJ presentó una enmienda a la Petición de Proscripción original que reduce la lista de presuntos miembros del CPP y del NPA y sus oficiales de más de 600 nombres a sólo ocho nombres, citando la falta de pruebas para vincularlos con los grupos clandestinos. Sin embargo, el fallo de la corte del 1 de febrero lo ha reducido a sólo dos nombres, José María Sisón y Antonio Cabanatán, con el propósito de entregar la citación.
Activistas, no terroristas
El pasado 31 de agosto de 2018, junto con mi abogado, presentamos ante el tribunal de primera instancia nuestro "Aviso de comparecencia especial con petición de declarar como no parte" o de eliminar mi nombre de la petición y con la esperanza de que nuestro argumento ayudara en la desestimación de toda la petición.
Mucho antes, el 27 de julio de 2018, el tribunal ha ordenado la cancelación y revocación de la citación emitida al ex representante de Bayan Muna, Satur Ocampo, al supuesto líder comunista Rafael Baylosis, a la relatora especial de la ONU Victoria Tauli-Corpuz y a José Molintas, y los ha retirado de la lista de presuntos miembros o funcionarios del CPP y del NPA. Citó que no había nada en la petición ni en sus anexos que indicara que los cuatro fueran miembros o funcionarios del CPP y del NPA.
Junto con otros activistas acusados y etiquetados como terroristas por el DoJ, nuestra moción sostiene que NO soy un terrorista, sino un activista que trabaja por el reconocimiento y la promoción de los derechos y el bienestar de los Pueblos Indígenas.
Las medidas arbitrarias y maliciosas del gobierno, como la petición mencionada, sólo debilitan al Movimiento de los Pueblos Indígenas y atacan inaceptablemente a quienes hablan en defensa de los Derechos Humanos.
Hace tan sólo 12 días, Randy Felix P. Malayao, un colega indígena y consultor de las conversaciones de paz, cuyo nombre también está incluido en la petición, fue asesinado a tiros por un asaltante desconocido mientras dormía en un autobús.
Esto confirma además que la acusación de terrorismo infundada, maliciosa e irresponsable supone una grave amenaza para la vida, la seguridad y la libertad de los activistas que figuran en la lista y es un método peligroso de acoso e intimidación.
Solidaridad contra los ataques a activistas indígenas
La victoria de nuestra campaña contra el etiquetado terrorista y la persecución de los Activistas Indígenas no se puede lograr sin su solidaridad.
Hemos recibido una fuerte muestra de apoyo a través de las resoluciones de las unidades de gobierno local de la Ciudad de Baguio, el Municipio de Sagada, Mtn. Provincia, y de Mtn. La declaración de la Iglesia Episcopal de Filipinas-Consejo de Obispos; y la Carta de Preocupación condenando la petición y/o declarando que no somos terroristas que fue endosada y apoyada por varias organizaciones e individuos en todo el mundo incluyendo varias manifestaciones en los Estados Unidos, Hong Kong, Australia y Canadá y en diferentes regiones de las Filipinas.
Avanzando: Nuestra lucha continua
Lo que hemos logrado al ganar esta batalla no será posible sin las acciones colectivas tanto del movimiento local en Filipinas como de la solidaridad internacional de los defensores de los derechos humanos y las organizaciones de todo el mundo. Aprovechamos esta oportunidad para agradecer a todos los que han expresado su apoyo como individuos y en nombre de sus organizaciones.
En la actualidad, estamos en continua consulta con nuestro asesor jurídico sobre las medidas correctivas que debían adoptarse. La Petición de Proscripción ha causado amenazas y peligros indebidos a nosotros, a nuestras organizaciones y a nuestros seres queridos. Violó nuestra privacidad y reveló nuestra información y datos personales a las redes de inteligencia del estado, y maliciosamente difamó y difamó nuestro nombre, nuestras organizaciones y nuestro trabajo.
Los ataques contra los defensores de los derechos humanos indígenas continúan. Nuestra lucha por nuestro derecho democrático a la libertad de expresión y a la disidencia no se detendrá, junto con la lucha más amplia por una sociedad justa en la que los pueblos disfruten justa e incondicionalmente de todos los derechos humanos.
Nuestra única forma es seguir adelante. Así, nos esforzamos en llevar a cabo colectivamente la lucha, con los marginados, contra la falta de tierra, el desempleo, el hambre, la pobreza y contra todas las formas de represión.
Viva la solidaridad internacional!
Sinceramente,
Beverly Longid
IPMSDL Global Coordinator
info@ipmsdl.org
---
Mise à jour : Pétition pour l'interdiction de déclarer le Parti communiste des Philippines (PPC) et la Nouvelle armée populaire (NPA) " terroristes ", y compris les militants et les défenseurs des droits humains des peuples autochtones.
Chers amis,
Nous vous écrivons pour vous faire part des mises à jour récentes du statut de la pétition pour l'interdiction déposée par le gouvernement philippin par l'intermédiaire de son ministère de la Justice (DoJ) pour déclarer le Parti communiste des Philippines (CPP) et la Nouvelle armée populaire (NPA) comme organisations terroristes.
La pétition contient une liste de 461 noms et 188 pseudonymes, dont mon nom, Beverly Longid, que le gouvernement prétend être des agents connus du CPP et du NPA, y compris certains défenseurs des droits humains des peuples autochtones.
En réponse à nos motions du 31 août 2018, nous sommes heureux de vous informer que le 1er février 2019, le tribunal régional de première instance de Manille, section 19, a décidé de retirer mon nom, avec mes collègues de la Cordillera Peoples' Alliance (CPA) Joanna Cariño, Joan Carling, Jeanette Ribaya-Cawiding et Windel Bolinget, et les quelque 600 noms que nous avons déclarés non-parti à la requête en proscription, afin de les faire disparaître de la liste des personnes dont je fais partie. Sont également retirés de la liste les travailleurs des droits de l'homme et les consultants pour la paix Elisa Tita Lubi, Rey Casambre, Sherwin De Vera, et Randall Echanis.
En date du 3 janvier 2019, le DoJ a présenté une modification à la pétition d'interdiction initiale réduisant la liste des membres présumés du RPC et de la NPA et des agents qui s'y trouvaient de plus de 600 noms à seulement huit noms, invoquant l'absence de preuve pour les relier aux groupes clandestins. La décision judiciaire du 1er février l'a toutefois réduite à deux noms seulement, José Maria Sison et Antonio Cabanatan, aux fins de la signification des assignations.
Les militants, pas les terroristes
Le 31 août 2018, en collaboration avec mon conseiller juridique, nous avons déposé auprès du tribunal de première instance notre "Avis de comparution spéciale avec requête pour déclarer non-partie" ou pour rayer mon nom de la liste de la requête et avec l'espoir que notre argument aiderait au rejet de la requête dans son ensemble.
Beaucoup plus tôt, le 27 juillet 2018, le tribunal a ordonné l'annulation et le rappel d'une citation à comparaître délivrée à l'ancien représentant de Bayan Muna, Satur Ocampo, au dirigeant communiste présumé Rafael Baylosis, au rapporteur spécial des Nations Unies Victoria Tauli-Corpuz et à José Molintas, les faisant retirer de la liste des membres ou dirigeants présumés du CPP et du NPA. Elle a cité que rien dans la pétition ou dans ses pièces jointes n'indiquait que ces quatre personnes sont des membres ou des dirigeants du RPC et de l'APN.
Avec d'autres militants accusés et étiquetés comme terroristes par le DoJ, notre motion affirme que je ne suis PAS un terroriste mais un activiste qui travaille pour la reconnaissance et la promotion des droits et du bien-être des peuples autochtones.
Les mesures de ciblage arbitraires et malveillantes du gouvernement, comme ladite pétition, ne font qu'affaiblir le Mouvement des peuples autochtones et attaquer de façon inacceptable ceux qui prennent la parole pour défendre les droits humains.
Il y a seulement 12 jours, Randy Felix P. Malayao, un collègue autochtone et consultant pour les Pourparlers de paix, dont le nom figure également dans la pétition, a été abattu par un agresseur inconnu alors qu'il dormait dans un bus.
Cela confirme une fois de plus que l'accusation non fondée, malveillante et irresponsable de terrorisme constitue une menace grave pour la vie, la sécurité et la liberté des militants inscrits sur la liste et une méthode dangereuse de harcèlement et d'intimidation.
Solidarité contre les attaques contre les militants autochtones
La victoire de notre campagne contre le marquage et la persécution des militants autochtones par les terroristes ne peut se faire sans votre solidarité.
Nous avons reçu un fort soutien à travers les résolutions des autorités locales de la ville de Baguio, de la municipalité de Sagada, de Mtn. Province, et de Mtn. La déclaration de l'Église épiscopale des Philippines-Conseil des évêques ; et la lettre de préoccupation condamnant la pétition et/ou déclarant que nous ne sommes pas des terroristes qui a été endossée et soutenue par diverses organisations et individus dans le monde entier, y compris plusieurs manifestations aux États-Unis, à Hong Kong, en Australie, au Canada et dans différentes régions des Philippines.
Aller de l'avant : Notre lutte continue
Ce que nous avons accompli pour gagner cette bataille ne sera pas possible sans les actions collectives du mouvement local aux Philippines et sans la solidarité internationale des défenseurs des droits humains et des organisations du monde entier. Nous profitons de l'occasion pour remercier tous ceux et celles qui ont exprimé leur appui à titre individuel et au nom de leur organisation.
Actuellement, nous sommes en consultation continue avec nos conseillers juridiques sur les contre-mesures à prendre. La pétition pour l'interdiction a causé des menaces et des dangers indus pour nous, pour nos organisations et pour nos proches. Il a violé notre vie privée et divulgué nos renseignements personnels et nos données aux réseaux de renseignements de l'État, et a diffamé et dénigré notre nom, nos organisations et notre travail.
Les attaques contre les défenseurs des droits humains autochtones se poursuivent. Notre lutte pour notre droit démocratique à la liberté d'expression et à la dissidence ne s'arrêtera pas, de même que la lutte pour une société juste où tous les droits de l'homme sont respectés à juste titre et sans condition par les peuples.
Notre seule façon d'avancer, c'est d'aller de l'avant. Ainsi, nous nous efforçons de mener collectivement la lutte, avec les marginalisés, contre l'absence de terre, le chômage, la faim, la pauvreté et contre toute forme de répression.
Vive la solidarité internationale !
Sincèrement,
Beverly Longid
IPMSDL Global Coordinator
info@ipmsdl.org