Fight for our right to dissent! Stop crackdown on Indigenous People's Rights Defenders!
November 8, 2019
ipmsdl_admin
Categories:

News and Features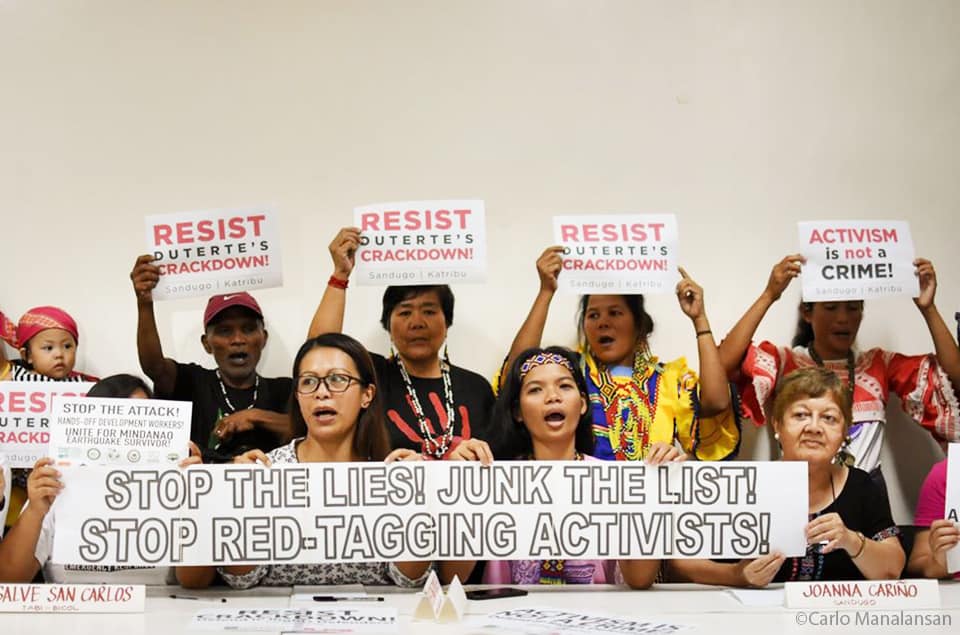 A new terrorist-tagging list by the Armed Forces of the Philippines (AFP) listed members and active partners of the International Indigenous Peoples Movement for Self-Determination and Liberation (IPMSDL) in the country as "communist terrorist groups." The list includes IPMSDL founding member, the Cordillera Peoples Alliance (CPA), and partners Tumandok, Mindanao Interfaith Services Foundation, Inc., the National Council of Churches in the Philippines, among others.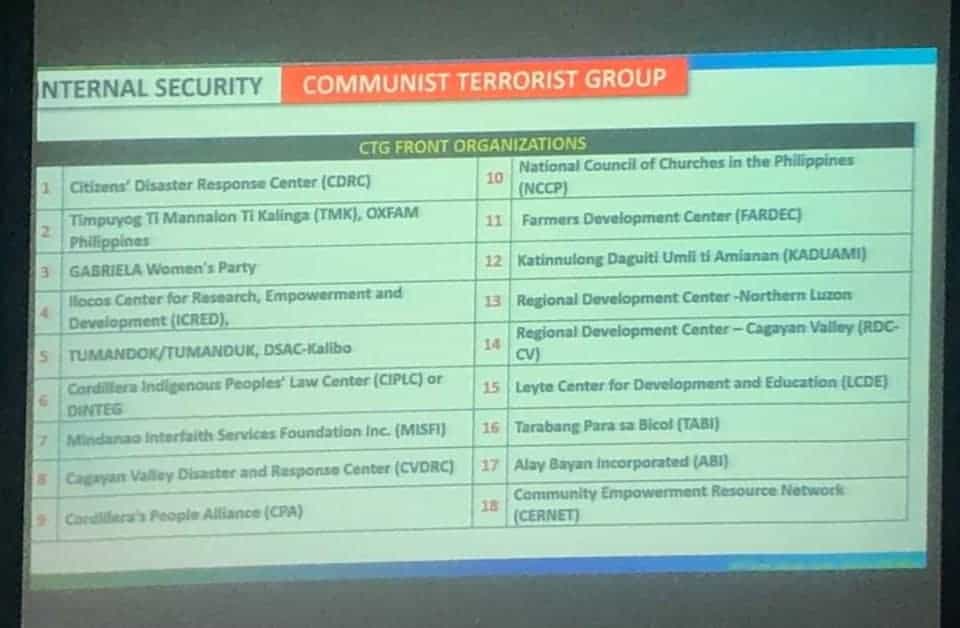 This intensified vilification campaign broke out as the government crackdown on peoples' organizations, activists groups, and progressive movements. The terrorist-tagging of Indigenous Peoples (IP) organizations and defenders is the government's response to the opposition of IP to OceanaGold and destructive mining, Kaliwa-Kanan dam and other energy projects, land conversion and infrastructure development such as the New Clark City, Martial Law in Mindanao, and other repressive policies.
IPMSDL strongly denounces this rabid violation by the Duterte government of the people's rights to freedom of expression, and petition the government for a redress of grievances without fear of reprisal. The Duterte government has killed thousands of poor under its 'war on illegal drugs', displaced thousands of IP from their ancestral lands and destroyed the environment due to onerous deals with big corporations, closed indigenous schools promoting self-reliance and critical thinking, incarcerated critics on trump-up criminal charges, enforced disappearances, and extrajudicial killings of activists.
The international IPMSDL stands by its members and partners in the Philippines many of whom have been working for more than decades in empowering IP who are the least served and marginalized. Activism is not a criminal nor terroristic act but an urgent and necessary call everyone should heed.
We call on our members, networks, and friends to denounce the government crackdown on activists and peoples' organizations. We call for the swift implementation of the UN Human Rights Council's resolution to investigate the situation of human rights in the Philippines. We enjoin the international community to drumbeat the call for accountability on the injustices to IP and other marginalized sectors.
Reference:
Beverly Longid, Global Coordinator
[email protected]
---
¡Luchemos por nuestro derecho a disentir! No más represión contra los defensores de los derechos de los pueblos indígenas!
Una nueva lista de las Fuerzas Armadas de Filipinas (AFP) incluye a los miembros y socios activos del Movimiento Internacional de los Pueblos Indígenas por la Autodeterminación y la Liberación (IPMSDL) en el país como "grupos terroristas comunistas". La lista incluye al miembro fundador de IPMSDL, la Cordillera Peoples Alliance (CPA), y los socios Tumandok, Mindanao Interfaith Services Foundation, Inc. y el National Council of Churches in the Philippines, entre otros.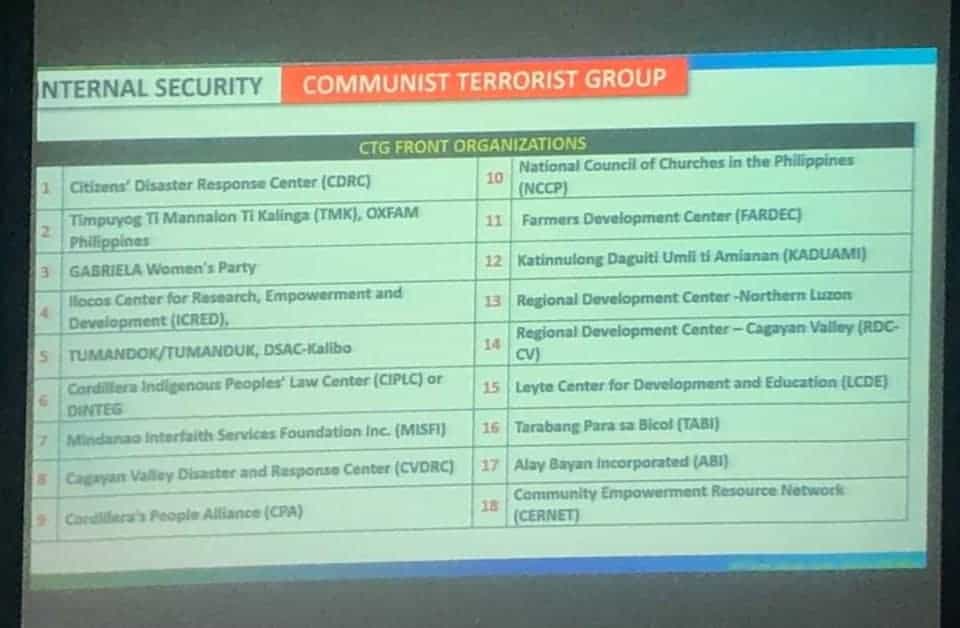 Esta intensificada campaña de vilipendio estalló cuando el gobierno tomó medidas enérgicas contra las organizaciones populares, los grupos de activistas y los movimientos progresistas. El etiquetado terrorista de las organizaciones y defensores de los pueblos indígenas (PI) es la respuesta del gobierno a la oposición de los PI a OceanaGold y a la minería destructiva, a la presa de Kaliwa-Kanan y a otros proyectos de energía, a la conversión de tierras y al desarrollo de infraestructuras como la ciudad de New Clark, a la ley marcial en Mindanao y a otras políticas represivas.
La IPMSDL denuncia enérgicamente esta rabiosa violación por parte del gobierno de Duterte de los derechos del pueblo a la libertad de expresión, y solicita al gobierno una reparación de los agravios sin temor a represalias. El gobierno de Duterte ha matado a miles de pobres bajo su "guerra contra las drogas ilegales", ha desplazado a miles de indígenas de sus tierras ancestrales y ha destruido el medio ambiente debido a los onerosos acuerdos con las grandes corporaciones, ha cerrado escuelas indígenas para promover la autosuficiencia y el pensamiento crítico, ha encarcelado a los críticos de las acusaciones penales falsas, las desapariciones forzadas y las ejecuciones extrajudiciales de activistas.
La IPMSDL internacional apoya a sus miembros y socios en Filipinas, muchos de los cuales han estado trabajando durante más de décadas para empoderar a los PI que son los menos atendidos y marginados. El activismo no es un acto criminal ni terrorista, sino un llamado urgente y necesario que todos deben atender.
Hacemos un llamado a nuestros miembros, redes y amigos para que denuncien la represión del gobierno contra activistas y organizaciones populares. Pedimos la rápida aplicación de la resolución del Consejo de Derechos Humanos de las Naciones Unidas para investigar la situación de los derechos humanos en Filipinas. Instamos a la comunidad internacional a que haga un llamamiento a la rendición de cuentas sobre las injusticias cometidas contra la propiedad intelectual y otros sectores marginados.
Referencia:
Beverly Longid, Coordinadora Global
[email protected]
Battez-vous pour notre droit à la dissidence ! Halte à la répression contre les défenseurs des droits des peuples autochtones !
Une nouvelle liste de terroristes dressée par les Forces armées des Philippines (FAP) a inscrit les membres et les partenaires actifs du Mouvement international des peuples autochtones pour l'autodétermination et la libération (IPMSDL) dans le pays comme "groupes terroristes communistes". La liste comprend le membre fondateur de l'IPMSDL, la Cordillera Peoples Alliance (CPA), et ses partenaires Tumandok, Mindanao Interfaith Services Foundation, Inc. et le National Council of Churches in the Philippines, notamment.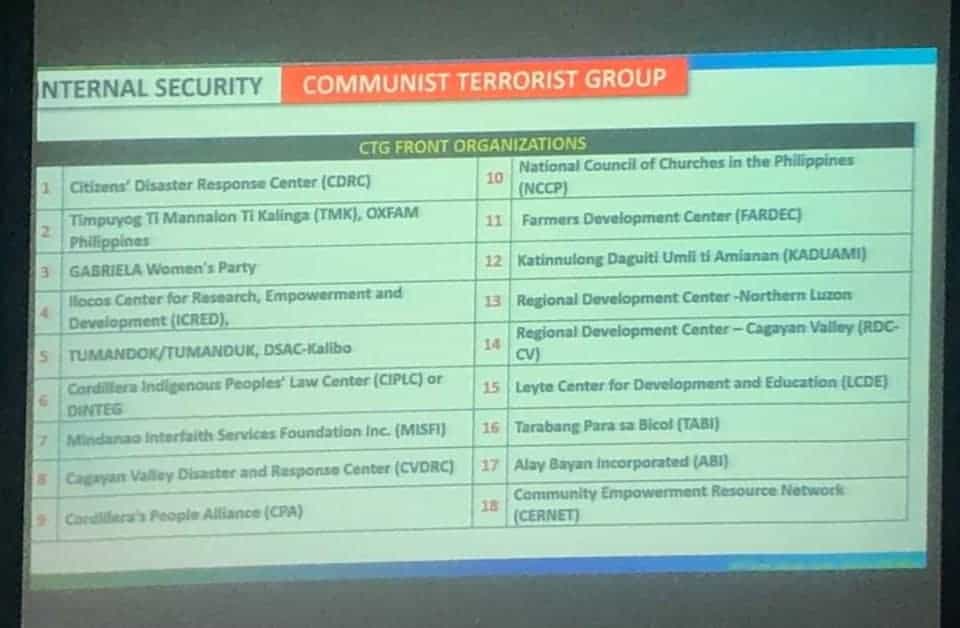 Cette campagne de diffamation intensifiée a éclaté alors que le gouvernement sévissait contre les organisations populaires, les groupes de militants et les mouvements progressistes. L'étiquetage terroriste des organisations et défenseurs des peuples autochtones (PI) est la réponse du gouvernement à l'opposition de la PI à OceanaGold et à l'exploitation minière destructrice, au barrage de Kaliwa-Kanan et autres projets énergétiques, à la conversion des terres et au développement des infrastructures comme la nouvelle ville Clark, la loi martiale à Mindanao et autres politiques de répression.
L'IPMSDL dénonce fermement cette violation enragée par le gouvernement Duterte des droits du peuple à la liberté d'expression, et demande au gouvernement de redresser ses doléances sans crainte de représailles. Le gouvernement Duterte a tué des milliers de pauvres dans le cadre de sa " guerre contre les drogues illicites ", déplacé des milliers de PI de leurs terres ancestrales et détruit l'environnement en raison d'ententes coûteuses avec de grandes entreprises, fermé des écoles autochtones pour promouvoir l'autonomie et la pensée critique, incarcéré des détracteurs pour avoir monté des accusations criminelles, fait disparaître des personnes de force et tué extrajudiciaires des activistes.
L'IPMSDL internationale soutient ses membres et ses partenaires aux Philippines, dont beaucoup travaillent depuis plus de dix ans à l'autonomisation de la propriété intellectuelle des personnes les moins servies et les plus marginalisées. L'activisme n'est pas un acte criminel ou terroriste, mais un appel urgent et nécessaire dont chacun doit tenir compte.
Nous appelons nos membres, nos réseaux et nos amis à dénoncer la répression gouvernementale contre les militants et les organisations populaires. Nous appelons à la mise en œuvre rapide de la résolution du Conseil des droits de l'homme des Nations unies visant à enquêter sur la situation des droits de l'homme aux Philippines. Nous exhortons la communauté internationale à faire taire l'appel à rendre des comptes sur les injustices commises à l'égard de la propriété intellectuelle et d'autres secteurs marginalisés.
Référence :
Beverly Longid, Coordinatrice mondiale
[email protected]
(Spanish and French translations by DeepL.)