Filipino, International activists hold protest in Indonesia Embassy to 'Free West Papua'
December 3, 2019
ipmsdl_admin
Categories:

Merdeka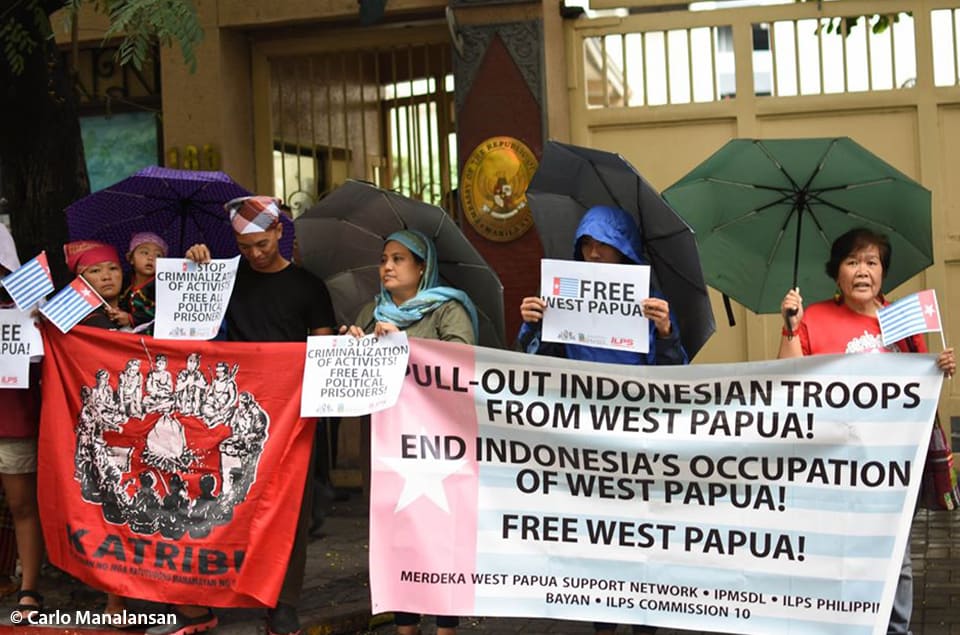 Manila, Philippines – Local and international progressive groups held a protest action in front of the Indonesian Embassy in the Philippines on December 3 to call for the independence of West Papua, currently occupied by Indonesia. The groups also condemned the Indonesian government for the human rights violations, militarization and environmental destruction in the occupied nation.
Led by Merdeka West Papua Support Network, International lndigenous Peoples Movement for Self-Determination and Liberation (IPMSDL) and the International League of People's Struggle (ILPS), progressive groups carried "Free West Papua" calls and West Papua's Morning Star flag during the solidarity action.
"We raise the Morning Star in the Philippines to express our support to West Papua's struggle for self-determination and to call for justice for the victims of extra-judicial killings, illegal arrests, threats and harassments by the police, military, and paramilitary in West Papua. While here we experience de-facto Martial Law nationwide with the attacks against critics of the Duterte Administration, West Papuans too have been under a de-facto Martial Law for more than five decades," said Deewa Dela Cruz, Coordinator of the Merdeka West Papua Support Network.
In Indonesia, raising the Morning Star is considered a subversive act that is penalized with at least 15 years of imprisonment. It was on December 1, 1961 when the Morning Star flag was first raised in West Papua marking its independence from the Netherlands. But immediately after, Indonesia launched an aggressive military operation in West Papua and eventually annexed the nation through a sham referendum in 1969.
"The Papuan's right to self-determination is undermined by Indonesia's occupation of West Papua as they continue to live in fear and are forcibly displaced from their territories, while Indonesian and foreign-owned businesses, especially in the mining and plantation industries, are the ones benefitting from the rich resources of their lands. These scenarios are not far from what our Indigenous Lumad, Igorot, Aeta, and Dumagat experience," said Beverly Longid, Global Coordinator of the International IPMSDL.
More State military and paramilitary forces are deployed by thousands in West Papua, which to begin with is already the most militarized region in Indonesia. Reports have linked this to the high number of human rights abuses in West Papua due to attacks on expressions of dissent, including protests against the Grasberg mine owned by US company Freeport. The Grasberg mine is the largest gold mine and second-largest copper mine in the world that the open pit is visible from outer space.
"A few days ago, Filipinos commemorated the birth of anti-colonial hero Andres Bonifacio. We also honor his legacy by continuing the fight against all forms of colonization here and abroad. Thus our call to all peace and democracy-loving Filipinos and even to progressive officials in our government, to stand with West Papua," said Elmer Labog, Chairperson of ILPS Philippines.
Last September, UN High Commissioner for Human Rights Michele Bachelet expressed concern over human rights violations in West Papua after the protests of tens of thousands of Papuans sparked by Indonesian police's racist remarks to Papuan students. Instead of addressing the Papuans' appeals, their protests were met by fascist Indonesian State resulting to hundreds killed, injured, and arrested in Wamena, Jayapura, Manokwari, and other centers of protest. Up to this day, Indonesian security forces responsible for the violence have not been held accountable. International media, independent investigation teams, and humanitarian aid are yet to enter communities affected by the bombing and heavy militarization due to strict access imposed by the government.
"Seven days from now, the world will commemorate the International Human Rights Day. This is not only about individual rights but of communities and nations, especially those constantly engaged in a battle against the repressive regime. Every time someone's rights are not recognized, whether Filipino, West Papuan or other oppressed nationalities, everyone's right is compromised," said Liza Maza, Secretary General of ILPS.
Reference:
Deewa Dela Cruz, Merdeka West Papua Support Network secretariat, [email protected]
Paul Belisario, ILPS Commission 10 secretariat, [email protected]
Beverly Longid, IPMSDL Global Coordinator, [email protected]
---
Activistas filipinos e internacionales protestan en la embajada de Indonesia para "Liberar a Papúa Occidental"
Manila, Filipinas – Grupos progresistas locales e internacionales realizaron una acción de protesta frente a la Embajada de Indonesia en Filipinas el 3 de diciembre para pedir la independencia de Papúa Occidental, actualmente ocupada por Indonesia. Los grupos también condenaron al gobierno indonesio por las violaciones de los derechos humanos, la militarización y la destrucción del medio ambiente en la nación ocupada.
Liderados por la Red de Apoyo de Merdeka West Papua, el Movimiento Internacional de Pueblos Indígenas por la Autodeterminación y la Liberación (IPMSDL) y la Liga Internacional de Lucha de los Pueblos (ILPS), los grupos progresistas llevaron los llamados "Papúa Occidental Libre" y la bandera de la Estrella de la Mañana de Papúa Occidental durante la acción de solidaridad.
"Levantamos el Morning Star en Filipinas para expresar nuestro apoyo a la lucha de Papúa Occidental por la autodeterminación y para pedir justicia para las víctimas de asesinatos extrajudiciales, arrestos ilegales, amenazas y hostigamientos por parte de la policía, el ejército y los paramilitares en Papúa Occidental. Mientras que aquí experimentamos la Ley Marcial de facto en todo el país con los ataques contra los críticos de la Administración Duterte, los Papúes Occidentales también han estado bajo una Ley Marcial de facto durante más de cinco décadas", dijo Deewa Dela Cruz, Coordinadora de la Red de Apoyo de Merdeka West Papua.
En Indonesia, levantar el lucero de la mañana se considera un acto subversivo que se castiga con al menos 15 años de prisión. Fue el 1 de diciembre de 1961 cuando se izó por primera vez la bandera de la Estrella de la Mañana en Papúa Occidental, marcando su independencia de los Países Bajos. Pero inmediatamente después, Indonesia lanzó una agresiva operación militar en Papúa Occidental y finalmente anexó la nación a través de un referéndum simulado en 1969.
"El derecho de los papúes a la autodeterminación se ve socavado por la ocupación indonesia de Papúa Occidental, ya que siguen viviendo con miedo y son desplazados por la fuerza de sus territorios, mientras que las empresas indonesias y extranjeras, especialmente en las industrias mineras y de plantaciones, son las que se benefician de los ricos recursos de sus tierras. Estos escenarios no están lejos de lo que nuestros indígenas Lumad, Igorot, Aeta y Dumagat experimentan", dijo Beverly Longid, Coordinadora Global de la IPMSDL Internacional.
Miles de personas han desplegado más fuerzas militares y paramilitares estatales en Papúa Occidental, que para empezar ya es la región más militarizada de Indonesia. Los informes han relacionado esto con el elevado número de abusos de los derechos humanos en Papúa Occidental debido a los ataques a las expresiones de disidencia, incluidas las protestas contra la mina Grasberg, propiedad de la empresa estadounidense Freeport. La mina Grasberg es la mina de oro más grande y la segunda mina de cobre más grande del mundo, en la que el tajo abierto es visible desde el espacio exterior.
"Hace unos días, los filipinos conmemoraron el nacimiento del héroe anticolonial Andrés Bonifacio. También honramos su legado al continuar la lucha contra todas las formas de colonización aquí y en el extranjero. Así pues, nuestro llamamiento a todos los filipinos amantes de la paz y la democracia, e incluso a los funcionarios progresistas de nuestro gobierno, para que apoyen a Papúa Occidental", dijo Elmer Labog, Presidente de ILPS Filipinas.
El pasado mes de septiembre, la Alta Comisionada de las Naciones Unidas para los Derechos Humanos, Michele Bachelet, expresó su preocupación por las violaciones de los derechos humanos en Papúa Occidental tras las protestas de decenas de miles de papúes provocadas por los comentarios racistas de la policía indonesia a los estudiantes papúes. En lugar de atender los llamamientos de los papúes, sus protestas fueron atendidas por el Estado fascista indonesio, lo que resultó en cientos de muertos, heridos y detenidos en Wamena, Jayapura, Manokwari y otros centros de protesta. Hasta el día de hoy, las fuerzas de seguridad indonesias responsables de la violencia no han sido consideradas responsables. Los medios de comunicación internacionales, los equipos de investigación independientes y la ayuda humanitaria aún no han llegado a las comunidades afectadas por los bombardeos y la fuerte militarización debido al estricto acceso impuesto por el gobierno.
"Dentro de siete días, el mundo conmemorará el Día Internacional de los Derechos Humanos. No se trata sólo de los derechos individuales, sino también de los de las comunidades y las naciones, especialmente de las que están en constante lucha contra el régimen represivo. Cada vez que no se reconocen los derechos de alguien, ya sea filipino, de Papúa Occidental o de otras nacionalidades oprimidas, los derechos de todos se ven comprometidos", dijo Liza Maza, Secretaria General del ILPS.
Referencia:
Deewa Dela Cruz, Secretaría de Merdeka West Papua Support Network, [email protected]
Paul Belisario, Secretaría de la Comisión 10 del ILPS, [email protected]
Beverly Longid, Coordinadora Global del IPMSDL, [email protected]
---
Des militants philippins et internationaux manifestent à l'ambassade d'Indonésie pour libérer la Papouasie occidentale
Manille, Philippines – Le 3 décembre, des groupes progressistes locaux et internationaux ont organisé une action de protestation devant l'ambassade d'Indonésie aux Philippines pour demander l'indépendance de la Papouasie occidentale, actuellement occupée par l'Indonésie. Les groupes ont également condamné le gouvernement indonésien pour les violations des droits humains, la militarisation et la destruction de l'environnement dans le pays occupé.
Dirigés par Merdeka West Papua Support Network, le Mouvement international des peuples indigènes pour l'autodétermination et la libération (IPMSDL) et la Ligue internationale de la lutte populaire (ILPS), des groupes progressistes ont porté les appels "Free West Papua" et le drapeau de l'étoile du matin de la Papouasie occidentale durant l'action de solidarité.
"Nous levons l'étoile du matin aux Philippines pour exprimer notre soutien à la lutte de la Papouasie occidentale pour l'autodétermination et pour demander justice pour les victimes d'exécutions extrajudiciaires, d'arrestations illégales, de menaces et de harcèlement par la police, les militaires et les paramilitaires en Papouasie occidentale. Alors qu'ici nous connaissons de facto la loi martiale dans tout le pays avec les attaques contre les critiques de l'administration Duterte, les Papous de l'Ouest sont eux aussi sous une loi martiale de facto depuis plus de cinq décennies ", a déclaré Deewa Dela Cruz, coordinatrice du Merdeka West Papua Support Network.
En Indonésie, le fait de lever l'étoile du matin est considéré comme un acte subversif qui est passible d'au moins 15 ans d'emprisonnement. C'est le 1er décembre 1961 que le drapeau de l'étoile du matin a été hissé pour la première fois en Papouasie occidentale pour marquer son indépendance des Pays-Bas. Mais immédiatement après, l'Indonésie a lancé une opération militaire agressive en Papouasie occidentale et a finalement annexé la nation par un faux référendum en 1969.
"Le droit des Papous à l'autodétermination est miné par l'occupation indonésienne de la Papouasie occidentale, qui continue de vivre dans la peur et d'être déplacée de force de leurs territoires, tandis que les entreprises indonésiennes et étrangères, en particulier dans les industries minières et de plantation, sont celles qui tirent profit des riches ressources de leurs terres. Ces scénarios ne sont pas très éloignés de l'expérience des indigènes Lumad, Igorot, Aeta et Dumagat ", a déclaré Beverly Longid, coordinatrice mondiale de l'IPMSDL international.
Davantage de forces militaires et paramilitaires d'État sont déployées par milliers en Papouasie occidentale, qui est déjà la région la plus militarisée d'Indonésie. Des rapports ont établi un lien avec le nombre élevé de violations des droits de l'homme en Papouasie occidentale en raison d'attaques contre des dissidents, notamment des protestations contre la mine Grasberg appartenant à la société américaine Freeport. La mine Grasberg est la plus grande mine d'or et la deuxième mine de cuivre en importance au monde dont la mine à ciel ouvert est visible de l'espace.
"Il y a quelques jours, les Philippins ont commémoré la naissance du héros anticolonial Andres Bonifacio. Nous honorons également son héritage en poursuivant la lutte contre toutes les formes de colonisation ici et à l'étranger. C'est pourquoi nous appelons tous les Philippins épris de paix et de démocratie, et même les responsables progressistes de notre gouvernement, à soutenir la Papouasie occidentale ", a déclaré Elmer Labog, Président de l'ILPS Philippines.
En septembre dernier, la Haut-Commissaire des Nations Unies aux droits de l'homme, Michele Bachelet, s'est déclarée préoccupée par les violations des droits de l'homme en Papouasie occidentale après les protestations de dizaines de milliers de Papous suscitées par les remarques racistes de la police indonésienne aux étudiants papous. Au lieu de répondre aux appels des Papous, leurs protestations ont été accueillies par l'État fasciste indonésien, qui a fait des centaines de morts, de blessés et d'arrestations à Wamena, Jayapura, Manokwari et autres centres de protestation. Jusqu'à ce jour, les forces de sécurité indonésiennes responsables de la violence n'ont pas été tenues responsables. Les médias internationaux, les équipes d'enquête indépendantes et l'aide humanitaire n'ont pas encore pénétré dans les communautés touchées par les bombardements et la forte militarisation en raison de l'accès strict imposé par le gouvernement.
"Dans sept jours, le monde célébrera la Journée internationale des droits de l'homme. Il ne s'agit pas seulement des droits individuels, mais aussi des communautés et des nations, en particulier celles qui sont constamment engagées dans une lutte contre le régime répressif. Chaque fois que les droits d'une personne ne sont pas reconnus, qu'il s'agisse de Philippins, de Papous de Papouasie occidentale ou d'autres nationalités opprimées, le droit de chacun est compromis ", a déclaré Liza Maza, secrétaire générale de l'ILPS.
Référence :
Deewa Dela Cruz, Merdeka West Papua Support Network secretariat, [email protected]
Paul Belisario, secrétariat de la Commission 10 de la SPJI, [email protected]
Beverly Longid, Coordinatrice mondiale d'IPMSDL, [email protected]
---
'FREE WEST PAPUA!' PANAWAGAN NG INT'L AT LOCAL NA GRUPO SA HARAP NG INDO EMBASSY
Manila, Philippines – Isang kilos protesta ang ikinasa ng mga progresibong grupo sa labas ng Embahada ng Indonesia sa Pilipinas noong December 3 para ipanawagan ang kalayaan ng West Papua na sakop ng Indonesia. Kinondena ng mga lokal at international na progresibong grupo ang gobyerno ng Indonesia sa patuloy na human rights violations, militarisasyon at pagkasira ng kalikasan ng nasakop na West Papua.
Sa pangungunna ng Merdeka West Papua Support Network, Internationa lndigenous Peoples Movement for Self-Determination and Liberation (IPMSDL) at International League of People's Struggle (ILPS), dala ng grupo ang mga panawagang "Free West Papua" at mga bandera ng West Papua na Morning Star bilang ipakita ang kanilang suporta.
"Iwinawagayway natin ang Morning Star Flag sa Pilipinas para ipakita ang ating suporta laban ng West Papua para sa sariling pagpapasya at panawagan ng hustisya sa mg biktima ng extra-judicila killings, illegal na pag-aresto, pananakot at panghaharas ng militar, pulis at paramilitary. Kung sa Pilipinas ay may de-facto Martial Law dahil sa dami ng pag-atake sa kritiko ng gobyernong Duterte, sa West Papua naman ay parang limang dekada na silang may Martial Law mula nang mapailalim sa Indonesia," sabi ni Deewa Dela Cruz ng Global Secretariat ng Merdeka West Papua Support Network.
Sa Indonesia, itinuturing na subersibo ang pagwawagayway ng Morning Star Flag na may parusang 15 taong kulong. December 1, 1961 noong unang iwinagaway ang Morning Star Flag ng West Papua nang makalaya ito sa Netherlands. Pero agad itong napasailalim sa kamay ng Indonesia noong 1969 dahil sa "pekeng referendum."
"Walang sariling-pagpapasya ang West Papuan kung nabubuhay sila sa takot at militarisasyon, kung napipilitan silang umalis sa kanilang sariling komunidad, at kung ang nakikinabang sa likas yaman nila ay dayuhang kompanya ng minahan at plantasyon. Halos ganito rin ang kalagayan ng mga katutubong Lumad, Igorot, Aeta at Dumagat, kaya hindi kakatwang nagkakaisa tayo ating mga panawagan," ayon kay Beverly Longid, Global Coordinator of the International IPMSDL.
Nasa West Papua ang libo-libong pwersa militar at paramilitar ng Indonesia. Ang matinding militarisasyon ang ginagamit upang atakihin ang protesta ng West Papuan kabilang ang pagkondena sa minahang Grasberg na pag-aari Amrikanong kompanyang Freeport. Ang Grasberg ang pinakamalaking minahan ng ginto at tanso ng US, na tanaw mula sa outer space ang pagkasira ng kalikasang dulot nito.
"Ilang araw lang ipinagdiwang natin ang kaarawan ni Andres Bonifacio, bayaning Pilipino laban sa mga mananakop, at inspirasyon siya di lang sa Asya kundi sa buong mundo. Pero ang di natin alam, 2019 na ay may bansa pa ring kolonisado tulad ng West Papua. At tinatawagan nating ang lahat na nagmamahal sa kapayapaan at demokrasya, kahit itong sarili nating gobyerno, na tumindig para sa West Papua," ayon kay Elmer Labog ng Kilusang Mayo Uno at ILPS Philippines.
Noong Setyembre, nanawagan ang UN High Commissioner for Human Rights Michelle Bachelet ng imbestigasyon sa mga paglabag sa karapatang pantao sa West Papua matapos ang malalaking protestang noong Agosto. Hanggang ngayon, limitado kundi man walang international media at independent fact finding team ang nakakapasok sa West Papua.
"Pitong araw mula ngayon magdiriwang ang buong mundo ng International Human Rights Day. Hindi ito limitado sa indibidwal na karapatang pantao kundi para sa pandaigdigang laban sa pang-aapi. Sa tuwing may isang Pilipino o West Papuan o kaninong karapatan na winawalang halaga, ang karapatan ng lahat ay nasa panganib," pahayag ni Liza Maza, Secretary General ng ILPS.
Reference:
Deewa Dela Cruz, Merdeka West Papua Support Network secretariat, [email protected]
Paul Belisario, ILPS Commission 10 secretariat, [email protected]
Beverly Longid, IPMSDL Global Coordinator, [email protected]
(Spanish and French translations by DeepL.)