No to imperialist war of aggression!
January 20, 2020
ipmsdl_admin
Categories:

Featured Campaign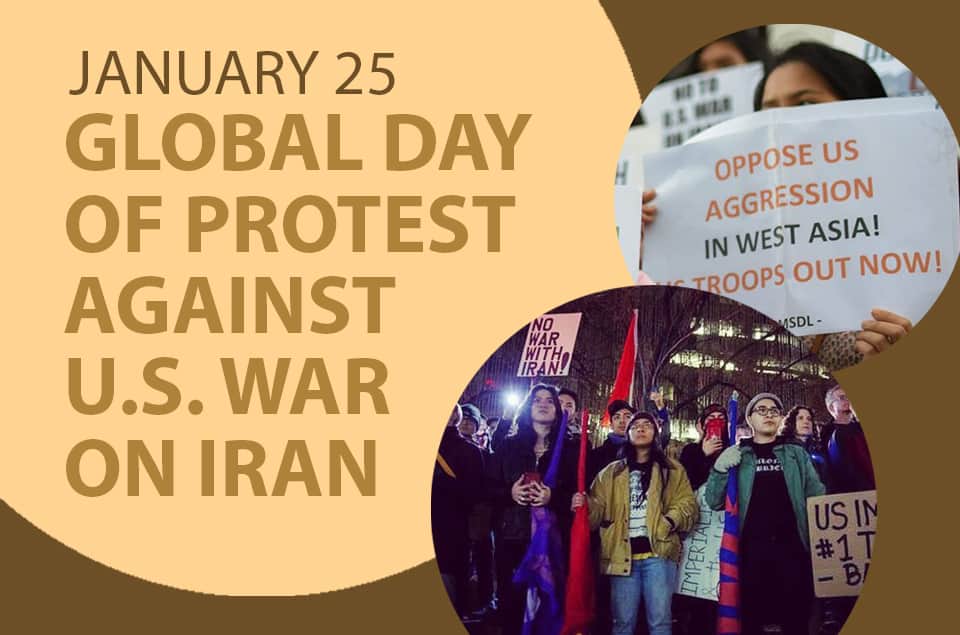 On January 25, let us unite against U.S. war on Iran!
The International Indigenous Peoples Movement for Self-Determination and Liberation (IPMSDL) stands for the right to self-determination and liberation from imperialism, oppression and human rights violations.
Despite the diversity of Indigenous Peoples across the globe and their struggles together with different sectors and peoples, we recognize the commonality of the problems of imperialism and neoliberalism.
The profit-driven plunder and dispossession of ancestral lands and territories, massive displacements brought by wars of aggression, and large-scale projects by the State and imperialist corporations perpetuate impoverishment, discrimination, human rights violations and oppression.
Imperialism and its tools of war profit from undermining self-determination and sovereignty, as witnessed by the whole world with the hostile attacks by the US, sanctions and threats to political and economic independence of the Iranian People, IPMSDL joins the call for greater solidarity.
We call on our members and networks, and the international community to join us this January 25 in the Global Day of Protest against US War on Iran! Let us stand for peace and justice, and denounce all threats of U.S. war of aggression in West Asia and in other parts of the world!
Read the call of the International League of Peoples Struggle (ILPS) calling for an all out mobilization of the people of the globe on January 25, the statement on the "terrorist crimes of Trump and U.S. imperialism to the peoples of the Middle East", and the call against the U.S. aggression and war against Iran and Iraq.
Reference:
Beverly Longid, Global Coordinator
[email protected]
---
No hay guerra imperialista de agresión!
El 25 de enero, unámonos contra la guerra de Estados Unidos contra Irán!
El Movimiento Internacional de los Pueblos Indígenas por la Libre Determinación y la Liberación (IPMSDL) defiende el derecho a la libre determinación y a la liberación del imperialismo, la opresión y las violaciones de los derechos humanos.
A pesar de la diversidad de los pueblos indígenas en todo el mundo y de sus luchas junto con diferentes sectores y pueblos, reconocemos los problemas comunes del imperialismo y el neoliberalismo.
El saqueo y despojo de las tierras y territorios ancestrales, los desplazamientos masivos provocados por las guerras de agresión y los proyectos a gran escala del Estado y las empresas imperialistas perpetúan el empobrecimiento, la discriminación, las violaciones de los derechos humanos y la opresión.
El imperialismo y sus herramientas de guerra se benefician de la debilitación de la autodeterminación y la soberanía, como lo atestigua el mundo entero con los ataques hostiles de los EE.UU., las sanciones y las amenazas a la independencia política y económica del pueblo iraní, el IPMSDL se une al llamado a una mayor solidaridad.
Hacemos un llamado a nuestros miembros y redes, y a la comunidad internacional a unirse a nosotros este 25 de enero en el Día Mundial de Protesta contra la Guerra de Estados Unidos contra Irán! Defendamos la paz y la justicia, y denunciemos todas las amenazas de guerra de agresión de EE.UU. en Asia Occidental y en otras partes del mundo!
Lean el llamado de la Liga Internacional de Lucha de los Pueblos (ILPS) que llama a una movilización total de los pueblos del mundo el 25 de enero, la declaración sobre los "crímenes terroristas de Trump y del imperialismo estadounidense a los pueblos del Medio Oriente", y el llamado contra la agresión y la guerra de Estados Unidos contra Irán e Irak.
Referencia:
Beverly Longid, Coordinadora Mundial
[email protected]
---
Pas de guerre d'agression impérialiste !
Le 25 janvier, unissons-nous contre la guerre des Etats-Unis contre l'Iran !
Le Mouvement international des peuples autochtones pour l'autodétermination et la libération (IPMSDL) défend le droit à l'autodétermination et à la libération de l'impérialisme, de l'oppression et des violations des droits humains.
Malgré la diversité des peuples autochtones à travers le monde et leurs luttes avec différents secteurs et peuples, nous reconnaissons le caractère commun des problèmes de l'impérialisme et du néolibéralisme.
Le pillage et la dépossession des terres et territoires ancestraux, motivés par le profit, les déplacements massifs provoqués par les guerres d'agression et les projets à grande échelle de l'État et des sociétés impérialistes perpétuent l'appauvrissement, la discrimination, les violations des droits humains et l'oppression.
L'impérialisme et ses outils de guerre profitent de l'atteinte à l'autodétermination et à la souveraineté, comme en témoigne le monde entier avec les attaques hostiles des Etats-Unis, les sanctions et les menaces à l'indépendance politique et économique du peuple iranien, IPMSDL se joint à l'appel à une plus grande solidarité.
Nous appelons nos membres et nos réseaux, ainsi que la communauté internationale à se joindre à nous ce 25 janvier pour la Journée mondiale de protestation contre la guerre des Etats-Unis contre l'Iran ! Défendons la paix et la justice, et dénonçons toutes les menaces de guerre d'agression des Etats-Unis en Asie occidentale et dans d'autres parties du monde !
Lisez l'appel de la Ligue internationale de lutte des peuples (ILPS) appelant à une mobilisation générale des peuples du monde entier le 25 janvier, la déclaration sur les " crimes terroristes de Trump et de l'impérialisme américain aux peuples du Moyen-Orient ", et l'appel contre l'agression et la guerre des Etats-Unis contre l'Iran et l'Irak.
Référence :
Beverly Longid, coordinatrice mondiale
[email protected]
(Spanish and French translation by DeepL.)