Uphold peoples' rights and freedom! Stop the attacks on the peoples of Assam and North-East India!
December 14, 2019
ipmsdl_admin
Categories:

News and Features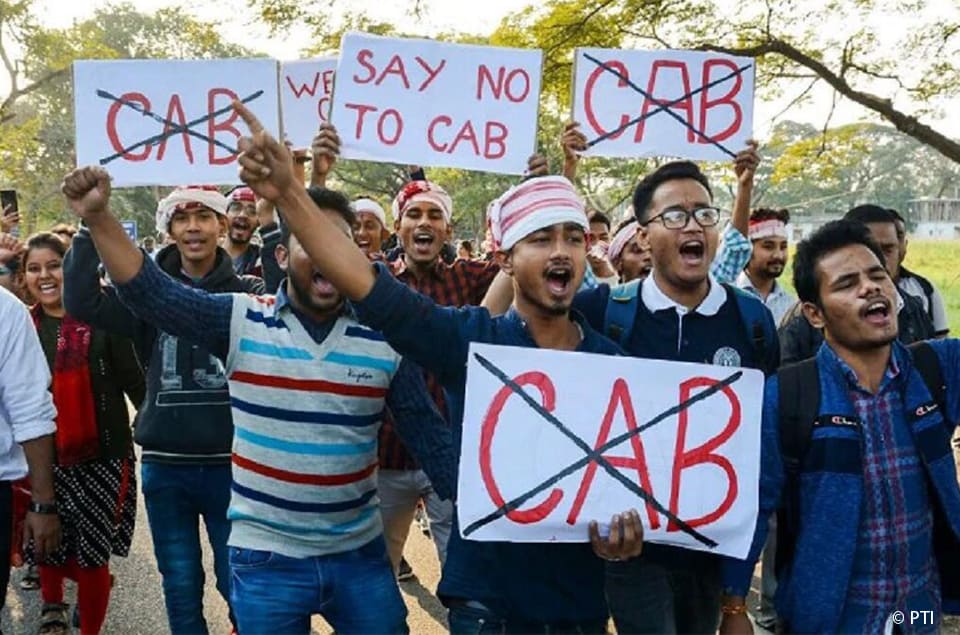 The International Indigenous Peoples Movement for Self-Determination and Liberation (IPMSDL) strongly calls in upholding the people's right to freedom, democratic space and utmost safety amid the massive protests in the North-East India following the passage of India's Citizen Amendment Bill (CAB) 2019.
IPMSDL expresses grave condemnation on the violence and repression by Indian government in response to the anti-CAB uprising led by the youth, students, Indigenous Peoples and local communities.
At least three IP were killed in a shooting during yesterday's protest in Assam while several sustained grave injuries, mostly students, after police open fired and brutally assaulted protesters with rubber bullets, tear gas shells, batons and water cannons. Death has also been recorded in Tripura as pro and anti-CAB groups clash. About 1,800 people had been arrested in Tripura since Wednesday.
In Manipur, 11 members of All Manipur Student Union (AMSU) were illegally arrested and detained in relation to their protest against CAB. Student movements in universities across the North East Region in India under the North East Students' Organisation (NESO) have called for a total shutdown of schools to demand the withdrawal of CAB.
Indian Army and paramilitary have been deployed heavily. About 5,000 paramilitary troops were sent by Indian government in Guwahati City and parts of Upper Assam while Assam Rifles officers are sent to Tripura. Twenty companies of the Central Reserve Police Force, prior deployed in conflicted Jammu and Kashmir area, are set to reinforce militarization in the North-East especially in Tripura and Assam.
Assam government ordered internet shutdown in 10 districts "to prevent misuse of social media to disturb peace." Tripura and Meghalaya governments likewise issued a suspension of mobile internet and SMS services including Youtube and social media sites.
Indefinite curfew by the government clamped several districts of Assam yet protests including students, artists, singers and filmstars pushed through with 10-hour fasting and road blockades pass curfew hours. Some of the flights and train services in and out of Assam has also been halted.
The CAB 2019, pushed by Prime Minister Modi administration and BJP party, is said to give sanctuary to minorities who fled religious persecution. Hindus, Sikhs, Christians, Jains, Parsis and Buddhists from Pakistan, Bangladesh and Afghanistan staying in India since December 31, 2014 can now be eligible for Indian citizenship. CAB 2019 counters the Assam Accord 1985 which was signed between All Assam Student Union and Government of India. The Assam Accord resulted from the Assam Agitation in 1979 which lasted for 6 years claiming 855 lives of Assamese students and youths and giving rise to anti-immigrant riots.
The present massive uprising, gaining thousands of protesters, opposes the bill for destroying the secular foundation of Indian democracy as CAB discriminates and divides Muslims and other religious groups. Exploiting the territorial and religious conflicts that spark racism, the Indian government uses these rifts with fascism to consolidate a Hindu-supremacist bloc for its political interest.
Historically, State laws crafted and implemented without the full participation, consultation and inclusion of the masses, however sound it may look on paper, will remain out of touch of the people's interest. And when such laws are enacted, it turns into a weapon against the people and a vehicle to forward the interest of the ruling class within the State.
The current situation in the North-East India calls for the international community to pressure the Indian government to stop the militarization, the threats and the criminal violence infringing the rights and security of the people for freedom of expression. Rightful dissent and democratic space must be carved in the spirit of maximum respect for civil and political rights.
IPMSDL calls on its members and networks to extend unity in protecting peoples' rights in the North-East. We call on the Indian and State governments to shun from inciting ambivalence and racism among indigenous peoples, regardless of their nationality, but rather facilitate ultimate recognition of their rights over their ancestral territories, ways of life and self-determination.
Reference:
Beverly Longid, Global Coordinator
[email protected]
---
Defender los derechos y la libertad de los pueblos! Alto a los ataques contra los pueblos de Assam y el noreste de la India!
El Movimiento Internacional de los Pueblos Indígenas por la Autodeterminación y la Liberación (IPMSDL) hace un fuerte llamado a defender el derecho de los pueblos a la libertad, el espacio democrático y la máxima seguridad en medio de las masivas protestas en el noreste de la India tras la aprobación de la Ley de Enmienda Ciudadana de la India (CAB) 2019.
IPMSDL expresa una grave condena a la violencia y represión por parte del gobierno indio en respuesta al levantamiento anti-CAB liderado por los jóvenes, estudiantes, pueblos indígenas y comunidades locales.
Al menos tres indígenas murieron en un tiroteo durante la protesta de ayer en Assam, mientras que varios resultaron gravemente heridos, en su mayoría estudiantes, después de que la policía abriera fuego y agrediera brutalmente a los manifestantes con balas de goma, proyectiles de gas lacrimógeno, porras y cañones de agua. También se ha registrado la muerte en Tripura como un enfrentamiento entre grupos a favor y en contra del CAC. Alrededor de 1.800 personas han sido detenidas en Tripura desde el miércoles.
En Manipur, 11 miembros de All Manipur Student Union (AMSU) fueron arrestados y detenidos ilegalmente en relación con su protesta contra el CAB. Los movimientos estudiantiles de las universidades de la región noreste de la India, en el marco de la Organización de Estudiantes del Noreste (NESO), han pedido el cierre total de las escuelas para exigir la retirada del CAB.
El ejército indio y los paramilitares han sido desplegados en gran medida. Alrededor de 5.000 soldados paramilitares fueron enviados por el gobierno indio a la ciudad de Guwahati y a partes del Alto Assam, mientras que oficiales de Assam Rifles son enviados a Tripura. Veinte compañías de la Fuerza de Policía de Reserva Central, antes desplegadas en la conflictiva zona de Jammu y Cachemira, están preparadas para reforzar la militarización en el noreste, especialmente en Tripura y Assam.
El gobierno de Assam ordenó el cierre de Internet en 10 distritos "para prevenir el mal uso de los medios sociales para perturbar la paz". Los gobiernos de Tripura y Meghalaya también suspendieron los servicios de Internet móvil y SMS, incluyendo Youtube y los sitios de medios sociales.
El gobierno impuso un toque de queda indefinido en varios distritos de Assam, pero las protestas incluyeron a estudiantes, artistas, cantantes y estrellas de cine que pasaron con ayunos de 10 horas y bloqueos de carreteras que pasaron las horas de toque de queda. También se han interrumpido algunos de los vuelos y servicios ferroviarios que entraban y salían de Assam.
El CAB 2019, impulsado por la administración del Primer Ministro Modi y el partido BJP, se dice que da refugio a las minorías que huyeron de la persecución religiosa. Los hindúes, sijs, cristianos, jains, parsis y budistas de Pakistán, Bangladesh y Afganistán que permanecen en la India desde el 31 de diciembre de 2014 pueden ahora ser elegibles para la ciudadanía india. CAB 2019 se opone al Acuerdo de Assam de 1985 que fue firmado entre la Unión de Estudiantes de Assam y el Gobierno de la India. El Acuerdo de Assam fue el resultado de la agitación de Assam en 1979, que duró 6 años, cobró la vida de 855 estudiantes y jóvenes asameses y dio lugar a disturbios contra los inmigrantes.
El actual levantamiento masivo, que ha ganado miles de manifestantes, se opone al proyecto de ley para destruir los cimientos seculares de la democracia india, ya que el CAB discrimina y divide a los musulmanes y a otros grupos religiosos. Aprovechando los conflictos territoriales y religiosos que desencadenan el racismo, el gobierno indio utiliza estas divisiones con fascismo para consolidar un bloque hindú-supremacista por su interés político.
Históricamente, las leyes estatales elaboradas e implementadas sin la plena participación, consulta e inclusión de las masas, por más que parezcan en el papel, permanecerán fuera del alcance de los intereses del pueblo. Y cuando se promulgan esas leyes, se convierten en un arma contra el pueblo y en un vehículo para defender los intereses de la clase dominante dentro del Estado.
La situación actual en el noreste de la India exige que la comunidad internacional presione al gobierno indio para que ponga fin a la militarización, las amenazas y la violencia criminal que violan los derechos y la seguridad de la población en favor de la libertad de expresión. La disidencia legítima y el espacio democrático deben tallarse en un espíritu de máximo respeto por los derechos civiles y políticos.
IPMSDL hace un llamado a sus miembros y redes para que extiendan la unidad en la protección de los derechos de los pueblos en el noreste. Pedimos a los gobiernos de la India y de los Estados que eviten incitar a la ambivalencia y al racismo entre los pueblos indígenas, independientemente de su nacionalidad, y que faciliten el reconocimiento en última instancia de sus derechos sobre sus territorios ancestrales, sus modos de vida y su libre determinación.
Referencia:
Beverly Longid, Coordinadora Global
[email protected]
---
Respecter les droits et la liberté des peuples ! Arrêtez les attaques contre les peuples de l'Assam et du nord-est de l'Inde !
Le Mouvement international des peuples autochtones pour l'autodétermination et la libération (IPMSDL) appelle fermement à défendre le droit du peuple à la liberté, à l'espace démocratique et à la plus grande sécurité au milieu des protestations massives dans le nord-est de l'Inde suite à l'adoption du Citizen Amendment Bill (CAB) 2019.
L'IPMSDL condamne fermement la violence et la répression du gouvernement indien en réponse au soulèvement anti-CAB mené par les jeunes, les étudiants, les peuples autochtones et les communautés locales.
Au moins trois IP ont été tués dans une fusillade lors de la manifestation d'hier en Assam, tandis que plusieurs autres ont été grièvement blessés, pour la plupart des étudiants, après que la police eut ouvert le feu et agressé brutalement des manifestants avec des balles en caoutchouc, des bombes lacrymogènes, des bâtons et des canons à eau. Des décès ont également été enregistrés à Tripura alors que des groupes pro et anti-CAB s'affrontent. Environ 1 800 personnes ont été arrêtées à Tripura depuis mercredi.
A Manipur, 11 membres de l'All Manipur Student Union (AMSU) ont été arrêtés et détenus illégalement pour avoir protesté contre la CAB. Les mouvements d'étudiants dans les universités de la région du Nord-Est de l'Inde sous l'égide de la North East Students' Organisation (NESO) ont appelé à une fermeture totale des écoles pour exiger le retrait du CAB.
L'armée et les paramilitaires indiens ont été déployés massivement. Environ 5 000 paramilitaires ont été envoyés par le gouvernement indien dans la ville de Guwahati et dans certaines parties du Haut-Assam, tandis que des officiers des Assam Rifles sont envoyés à Tripura. Vingt compagnies de la Force centrale de police de réserve, auparavant déployées dans la région conflictuelle du Jammu-et-Cachemire, doivent renforcer la militarisation dans le Nord-Est, en particulier à Tripura et en Assam.
Le gouvernement de l'Assam a ordonné la fermeture d'Internet dans 10 districts "pour empêcher l'utilisation abusive des médias sociaux pour troubler la paix". Les gouvernements de Tripura et Meghalaya ont également suspendu les services Internet mobile et SMS, y compris Youtube et les sites de médias sociaux.
Le couvre-feu indéfini imposé par le gouvernement a bloqué plusieurs districts de l'Assam, mais les protestations d'étudiants, d'artistes, de chanteurs et de vedettes de cinéma se sont poursuivies pendant 10 heures à jeun et les barrages routiers ont dépassé les heures de couvre-feu. Certains vols et services ferroviaires au départ et à destination de l'Assam ont également été interrompus.
Le CAB 2019, poussé par l'administration du Premier ministre Modi et le parti BJP, est censé donner asile aux minorités qui ont fui la persécution religieuse. Les hindous, sikhs, chrétiens, jaïns, parsis et bouddhistes du Pakistan, du Bangladesh et d'Afghanistan séjournant en Inde depuis le 31 décembre 2014 peuvent maintenant être admissibles à la citoyenneté indienne. CAB 2019 s'oppose à l'Accord d'Assam de 1985 qui a été signé entre l'Union des étudiants de l'Assam et le gouvernement indien. L'Accord d'Assam est le résultat de l'Agitation Assam de 1979, qui a duré 6 ans et a coûté la vie à 855 étudiants et jeunes assamais, provoquant ainsi des émeutes anti-immigrés.
Le soulèvement massif actuel, qui a gagné des milliers de manifestants, s'oppose au projet de loi visant à détruire les fondements laïques de la démocratie indienne, car l'ACR discrimine et divise les musulmans et autres groupes religieux. Exploitant les conflits territoriaux et religieux plutôt que le racisme, le gouvernement indien utilise ces clivages avec le fascisme pour consolider un bloc hindou-supremaciste pour son intérêt politique.
Historiquement, les lois de l'État élaborées et mises en œuvre sans la pleine participation, la consultation et l'inclusion des masses, quelle que soit la forme qu'elles prennent sur le papier, resteront sans rapport avec les intérêts du peuple. Et quand de telles lois sont promulguées, elles se transforment en arme contre le peuple et en véhicule pour faire avancer les intérêts de la classe dirigeante au sein de l'Etat.
La situation actuelle dans le nord-est de l'Inde appelle la communauté internationale à faire pression sur le gouvernement indien pour qu'il mette fin à la militarisation, aux menaces et à la violence criminelle qui portent atteinte aux droits et à la sécurité du peuple pour la liberté d'expression. La dissidence légitime et l'espace démocratique doivent être aménagés dans un esprit de respect maximal des droits civils et politiques.
L'IPMSDL appelle ses membres et ses réseaux à renforcer l'unité dans la protection des droits des peuples du Nord-Est. Nous appelons les gouvernements indien et des États à éviter d'inciter à l'ambivalence et au racisme parmi les peuples autochtones, quelle que soit leur nationalité, mais plutôt à faciliter la reconnaissance ultime de leurs droits sur leurs territoires ancestraux, leurs modes de vie et leur autodétermination.
Référence :
Beverly Longid, Coordinatrice mondiale
[email protected]