Condemn the 'divide and conquer' rule against tribes and indigenous communities
January 26, 2020
ipmsdl_admin
Categories:

Militarism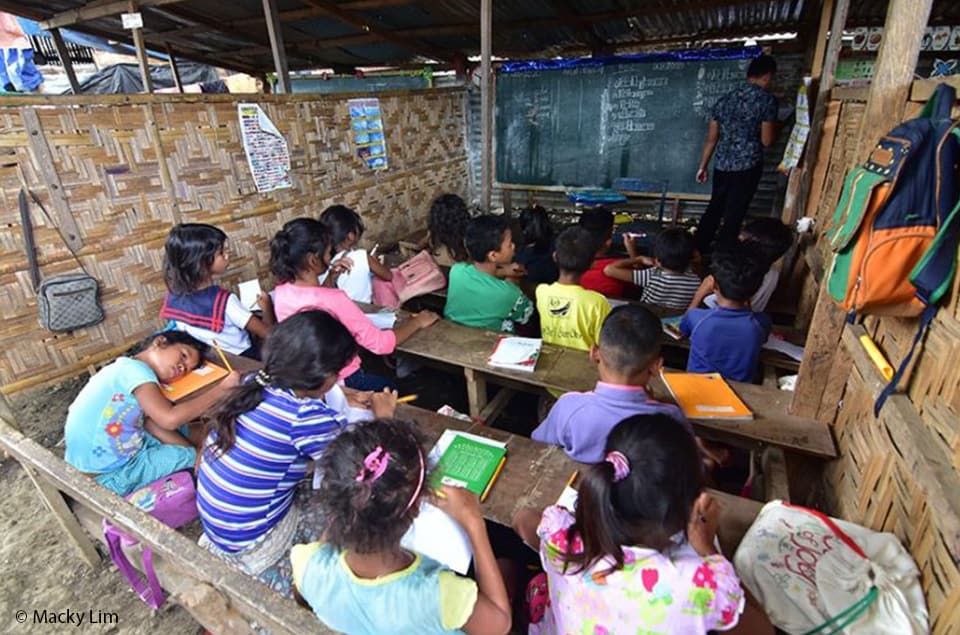 The International Indigenous Peoples Movement for Self-Determination and Liberation (IPMSDL) vehemently condemns the attacks by paramilitary forces to the sanctuary of indigenous Lumad refugees in Davao City, Philippines in the morning of January 25.
Around 50 Alamara paramilitary armed with big cutting tools destroyed the gates and walls of the refugee area of the United Church of Christ in the Philippines (UCCP) Haran which houses more than 100 families or almost 500 Lumad, including children, infants and students. The violent attack is part of the resolution by Davao Regional Peace and Order Council (RPOC) to permanently shut down the Haran refugee center accusing the center of using the Indigenous Peoples for "terroristic activities" by "communist rebel groups."
In reality, Lumad stands that their resistance against the entry of destructive corporate projects and defense of their ancestral lands in Pantaron Mountain Range is the reason for their forced displacement. In Lumad communities sought sanctuary in UCCP Haran after experiencing military encroachment of their communities, aerial bombings, and harassments by soldiers and the Alamara group.
The Alamara, a Lumad term roughly translated as "massive tribal war," is an indigenous paramilitary force created by the Armed Forces of the Philippines (AFP) for the government's counterinsurgency program. The concept of tribal warriors waging wars in defense of land, life and honor of the community against invaders is now bastardized as private companies and State agents turned them into villainy mercenaries. Paramilitary groups formed and protected by the AFP worsened inter-tribal conflicts favoring business interests on tribal lands, such as Alamara, Bungkatol Liberation Front (BULIF), Wild Dogs, and New Indigenous People's Army for Reform (NIPAR), have the peoples' blood in their hands.
Colonizers and imperialist powers have historically employed the "divide and rule" tactics to cunningly quell nations and peoples asserting their right to self-determination and liberation. In Vietnam, the US used the Montagnards Indigenous Peoples from the central highlands to fight for them against the revolutionary Viet Cong. In Nicaragua, Honduras and El Salvador, the paramilitary Miskito Indians Paramilitary and Contras backed by the U.S. Central Intelligence Agency (CIA) were used to sabotage liberation movements.
The attacks against Lumad refugees, seeking sanctuary on church institutions, expose the crisis shrinking space for the protection of peoples' rights. And when the government, its armed military and paramilitary forces, and even civilian bureaucracy connive against peoples' assertion of their self-determination, only rightful resistance through the collective action becomes their only option.
IPMSDL calls its members, networks, and the international community to call President Duterte, the AFP's Commander-in-Chief, the Duterte administration and the AFP to immediately cease any attempts to attack Lumad evacuees, and to swiftly pull-out all military encampments in Lumad communities. We call on everyone to expose and denounce the dirty "divide and rule" tactics of different States and multinational companies to conscript Indigenous Peoples, and sow rifts and fears among their communities.
Our struggle for self-determination and liberation means broadening unity among indigenous groups and communities, with other sectors and oppressed peoples, and defeating all attempts to discredit our solidarity!
Reference:
Beverly Longid, Global Coordinator
[email protected]
---
Condenar el dominio de "divide y vencerás" contra las tribus y las comunidades indígenas!
El Movimiento Internacional de los Pueblos Indígenas para la Autodeterminación y la Liberación (IPMSDL) condena con vehemencia los ataques de las fuerzas paramilitares al santuario de los refugiados indígenas Lumad en la ciudad de Davao, Filipinas, en la mañana del 25 de enero.
Unos 50 paramilitares de Alamara armados con grandes herramientas de corte destruyeron las puertas y los muros de la zona de refugiados de la Iglesia Unida de Cristo en Filipinas (UCCP) Haran, que alberga a más de 100 familias o casi 500 Lumad, incluyendo niños, bebés y estudiantes. El violento ataque forma parte de la resolución del Consejo Regional de Paz y Orden de Davao (RPOC) de cerrar permanentemente el centro de refugiados de Haran, acusándolo de utilizar a los pueblos indígenas para "actividades terroristas" de "grupos rebeldes comunistas".
En realidad, Lumad sostiene que su resistencia contra la entrada de proyectos corporativos destructivos y la defensa de sus tierras ancestrales en la Cordillera de Pantaron es la razón de su desplazamiento forzado. En las comunidades Lumad saquearon el santuario en el UCCP de Haran después de experimentar la invasión militar de sus comunidades, los bombardeos aéreos y el hostigamiento de los soldados y del grupo Alamara.
Los Alamara, un término Lumad que se traduce más o menos como "guerra tribal masiva", es una fuerza paramilitar indígena creada por las Fuerzas Armadas de Filipinas (AFP) para el programa de contrainsurgencia del gobierno. El concepto de guerreros tribales que libran guerras en defensa de la tierra, la vida y el honor de la comunidad contra los invasores está ahora bastardo, ya que las empresas privadas y los agentes del Estado los convirtieron en mercenarios de la villanía. Los grupos paramilitares formados y protegidos por las AFP agravaron los conflictos intertribales favoreciendo los intereses empresariales en las tierras tribales, como los Alamara, el Frente de Liberación Bungkatol (BULIF), los Perros Salvajes y el Nuevo Ejército de los Pueblos Indígenas para la Reforma (NIPAR), que tienen la sangre del pueblo en sus manos.
Los colonizadores y las potencias imperialistas han empleado históricamente la táctica de "divide y vencerás" para sofocar astutamente a las naciones y pueblos que afirman su derecho a la autodeterminación y la liberación. En Vietnam, Estados Unidos utilizó a los pueblos indígenas montañeses del altiplano central para luchar por ellos contra el revolucionario Viet Cong. En Nicaragua, Honduras y El Salvador, los paramilitares Miskito Indios Paramilitares y Contras respaldados por la Agencia Central de Inteligencia de los Estados Unidos (CIA) fueron utilizados para sabotear los movimientos de liberación.
Los ataques contra los refugiados Lumad, que buscan refugio en las instituciones eclesiásticas, ponen de manifiesto que la crisis está reduciendo el espacio para la protección de los derechos de los pueblos. Y cuando el gobierno, sus fuerzas armadas militares y paramilitares, e incluso la burocracia civil conspiran contra la afirmación de los pueblos de su autodeterminación, sólo la resistencia legítima a través de la acción colectiva se convierte en su única opción.
El IPMSDL llama a sus miembros, redes y a la comunidad internacional a llamar al Presidente Duterte, al Comandante en Jefe de las AFP, a la administración de Duterte y a las AFP a cesar inmediatamente cualquier intento de atacar a los evacuados de Lumad, y a retirar rápidamente todos los campamentos militares en las comunidades Lumad. Hacemos un llamado a todos a exponer y denunciar las sucias tácticas de "divide y vencerás" de los diferentes Estados y compañías multinacionales para reclutar a los Pueblos Indígenas, y sembrar desavenencias y temores entre sus comunidades.
Nuestra lucha por la autodeterminación y la liberación significa ampliar la unidad entre los grupos y comunidades indígenas, con otros sectores y pueblos oprimidos, y derrotar todos los intentos de desacreditar nuestra solidaridad!
Referencia:
Beverly Longid, Coordinadora Global
[email protected]
---
Condamnez la règle du "diviser pour mieux régner" contre les tribus et les communautés indigènes !
Le Mouvement international des peuples indigènes pour l'autodétermination et la libération (IPMSDL) condamne avec véhémence les attaques des forces paramilitaires contre le sanctuaire des réfugiés indigènes Lumad à Davao City, aux Philippines, dans la matinée du 25 janvier.
Une cinquantaine de paramilitaires d'Alamara armés de gros outils coupants ont détruit les portes et les murs de la zone de réfugiés de l'Église unie du Christ aux Philippines (UCCP) Haran qui abrite plus de 100 familles ou près de 500 Lumad, dont des enfants, des nourrissons et des étudiants. Cette violente attaque fait partie de la résolution du Conseil régional de paix et d'ordre de Davao (RPOC) de fermer définitivement le centre de réfugiés de Haran, accusant le centre d'utiliser les populations indigènes pour des "activités terroristes" de la part de "groupes rebelles communistes".
En réalité, Lumad soutient que leur résistance contre l'entrée de projets d'entreprises destructrices et la défense de leurs terres ancestrales dans la chaîne de montagnes du Pantaron est la raison de leur déplacement forcé. Les communautés de Lumad ont trouvé refuge dans l'UCCP Haran après avoir subi l'empiètement militaire de leurs communautés, les bombardements aériens et les harcèlements des soldats et du groupe Alamara.
L'Alamara, un terme Lumad grossièrement traduit par "guerre tribale massive", est une force paramilitaire indigène créée par les Forces armées des Philippines (AFP) pour le programme anti-insurrectionnel du gouvernement. Le concept de guerriers tribaux qui font la guerre pour défendre la terre, la vie et l'honneur de la communauté contre les envahisseurs est maintenant abâtardi car des sociétés privées et des agents de l'État les ont transformés en mercenaires vilains. Les groupes paramilitaires formés et protégés par l'AFP ont aggravé les conflits intertribaux favorisant les intérêts commerciaux sur les terres tribales, comme Alamara, le Front de libération du Bungkatol (BULIF), Wild Dogs, et la Nouvelle armée des peuples indigènes pour la réforme (NIPAR), ont le sang des peuples dans les mains.
Les colonisateurs et les puissances impérialistes ont historiquement utilisé la tactique du "diviser pour régner" pour étouffer astucieusement les nations et les peuples qui affirment leur droit à l'autodétermination et à la libération. Au Vietnam, les États-Unis ont utilisé les peuples indigènes montagnards des hauts plateaux du centre pour lutter pour eux contre le Viet Cong révolutionnaire. Au Nicaragua, au Honduras et au Salvador, les Indiens Miskito, paramilitaires et Contras, soutenus par la CIA (Central Intelligence Agency) américaine, ont été utilisés pour saboter les mouvements de libération.
Les attaques contre les réfugiés de Lumad, qui cherchent un refuge sur les institutions religieuses, révèlent que la crise rétrécit l'espace de protection des droits des peuples. Et lorsque le gouvernement, ses forces armées, militaires et paramilitaires, et même la bureaucratie civile, s'opposent à l'affirmation de l'autodétermination des peuples, seule une résistance légitime par l'action collective devient leur seule option.
L'IPMSDL appelle ses membres, ses réseaux et la communauté internationale à appeler le président Duterte, le commandant en chef de l'AFP, l'administration Duterte et l'AFP à cesser immédiatement toute tentative d'attaque contre les évacués de Lumad et à retirer rapidement tous les campements militaires des communautés de Lumad. Nous appelons tout le monde à dénoncer et à exposer les sales tactiques de "diviser pour régner" des différents États et des multinationales pour enrôler les peuples indigènes, et semer la division et la peur au sein de leurs communautés.
Notre lutte pour l'autodétermination et la libération signifie élargir l'unité entre les groupes et les communautés indigènes, avec d'autres secteurs et les peuples opprimés, et faire échouer toutes les tentatives visant à discréditer notre solidarité !
Référence :
Beverly Longid, coordinatrice mondiale
[email protected]
(Spanish and French translations by DeepL.)