In Solidarity with Wet'suwet'en
February 14, 2020
ipmsdl_admin
Categories:

Statement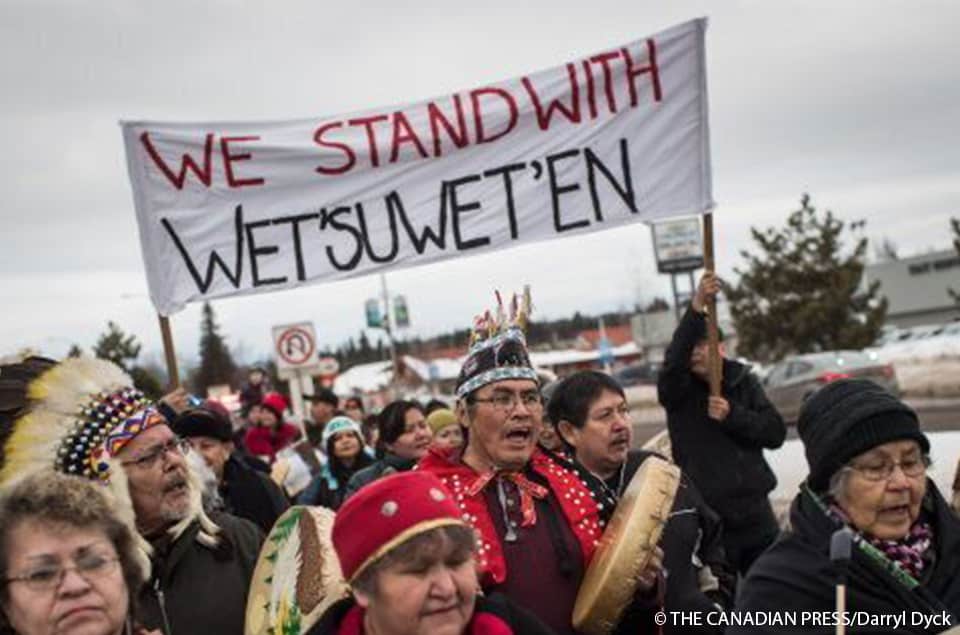 Condemn the repression and land dispossession of Indigenous Peoples!
The International Indigenous Peoples Movement for Self-determination and Liberation (IPMSDL) strongly condemns the rabid attack of Canadian State through the Royal Canadian Mounted Police (RCMP) to the sovereign Wet'suwet'en nation and its peoples by blatantly disrespecting their right to land and ways of life to favor the resource plunder of the First Nations' territories.
Around 28 Indigenous Wet'suwet'en, including Unist'ot'en Matriarchs, land defenders and journalists were arrested by the RCMP to disperse peoples' blockades halting the construction of the $6.6-billion TransCanada's Coastal GasLink fracking gas pipeline. These RCMP arrests enforces the injunction granted by B.C. Supreme Court in favor of Coastal GasLink, clearing all resistance along the TransCanada's way. The violent arrests that advance the interests of the Canadian government and multinational corporations reek of discrimination of the Wet'suwet'en peoples' traditional laws and governance over their lands, water and resources all within their unceded ancestral territory or yintah.
TransCanada's pipeline is part of the $40 billion energy project of Liquified Natural Gas (LNG) Canada, where Royal Dutch Shell is 40% owner. LNG Canada is the single largest private energy investment in Canadian history. Giant companies Pacific Trails Pipeline – Chevron and Northern Gateway Pipeline – Enbridge, set to export gas to US and Asian markets, joins in laying Tar Sands and Fracking Gas pipelines that encroaches Wet'suwet'en land and threatens huge environmental damage.
Repression has become the vile tool for land dispossession. For the First Nations of Canada and for the larger Indigenous communities defending their lands, constant attacks endanger their lives and safety. In Guatemala, conflicts over land and mineral rights resulted in killings of Indigenous rights activists. In the Philippines, indigenous leaders resisting destructive projects on indigenous communities remain in jail after being terrorist-tagged by the current government. Villagers in DR Congo challenging Canadian palm-oil plantations for taking their lands have been arrested without any charges. In Uganda, violence and harassment by transnational agribusiness company agents evicts 30,000 families in the Kiryandongo district.
As Indigenous right to self-determination remains secondary to imperialist plunder and resource exploitation, repression will heighten with continuous peoples' resistance. The Wet'suwet'en, and their growing local and international support, showed that Indigenous Peoples' exercise of their rights over their lands, territories and natural resources, their self-determination of their political status, indigenous nationality, government, jurisdiction, and laws, and their identities and way of life, spirituality, language, and culture will be in constant threat of extinction unless collectively defended.
Our solidarity with the peoples of Wet'suwet'en becomes more urgent as violent disregard of Indigenous rights anywhere replicates at an alarming rate. Thus, we call to the international community, and to our members, networks and partners to extend their unity to the Wet'suwet'en struggle. We call on everyone to join the campaign by broadly disseminating the stories of our First Nations brothers and sisters' struggles. We enjoin different organizations, land defenders and rights advocates to urgently, creatively and broadly help in exploring all mechanisms and avenues in pressuring the Canadian government, and regional and international institutions to stop the entry of destructive pipeline projects in Wet'suwet'en yintah, and the violent repression, discrimination and land dispossesion it brings.

Let our solidarity for Wet'suwet'en build a movement forwarding struggle for self-determination! Stand strong with Wet'suwet'en in their fight for lands and rights!
Reference:
Beverly Longid, Global Coordinator
[email protected]
---
En solidaridad con Wet'suwet'en
Condena la represión y el despojo de tierras de los pueblos indígenas!
El Movimiento Internacional de los Pueblos Indígenas por la Libre Determinación y la Liberación (IPMSDL) condena enérgicamente el rabioso ataque del Estado canadiense a través de la Real Policía Montada del Canadá (RCMP) a la soberana nación Wet'suwet'en y sus pueblos, al no respetar abiertamente su derecho a la tierra y a los modos de vida para favorecer el saqueo de los recursos de los territorios de las Primeras Naciones.
Alrededor de 28 indígenas Wet'suwet'en, incluyendo matriarcas Unist'ot'en, defensores de la tierra y periodistas fueron arrestados por la RCMP para dispersar los bloqueos de los pueblos que detenían la construcción del gasoducto de 6.6 billones de dólares de TransCanada's Coastal GasLink fracking. Estos arrestos de la RCMP hacen cumplir la orden judicial otorgada por la Corte Suprema de B.C. a favor de Coastal GasLink, despejando toda resistencia a lo largo del camino de TransCanada. Los arrestos violentos que promueven los intereses del gobierno canadiense y las corporaciones multinacionales apestan a discriminación de las leyes tradicionales y el gobierno del pueblo Wet'suwet'en sobre sus tierras, agua y recursos, todo dentro de su territorio ancestral no precedido o yintah.
El gasoducto de TransCanada es parte del proyecto energético de 40 mil millones de dólares de Gas Natural Licuado (GNL) de Canadá, del que Royal Dutch Shell es propietaria en un 40%. LNG Canadá es la mayor inversión privada en energía en la historia de Canadá. Las gigantescas empresas Pacific Trails Pipeline – Chevron y Northern Gateway Pipeline – Enbridge, dispuestas a exportar gas a los mercados de EE.UU. y Asia, se unen para instalar los gasoductos Tar Sands y Fracking Gas que invaden la tierra Wet'suwet'en y amenazan con un enorme daño ambiental.
La represión se ha convertido en la vil herramienta para el despojo de tierras. Para las Primeras Naciones del Canadá y para las comunidades indígenas más grandes que defienden sus tierras, los constantes ataques ponen en peligro sus vidas y su seguridad. En Guatemala, los conflictos por los derechos sobre la tierra y los minerales dieron lugar a asesinatos de activistas de los derechos indígenas. En Filipinas, los líderes indígenas que se resisten a los proyectos destructivos en las comunidades indígenas siguen en la cárcel después de haber sido marcados como terroristas por el actual gobierno. Los aldeanos de la República Democrática del Congo que se oponen a las plantaciones de palma de aceite canadiense por haberles quitado sus tierras han sido arrestados sin cargos. En Uganda, la violencia y el acoso de los agentes de las empresas transnacionales de agronegocios desalojan a 30.000 familias en el distrito de Kiryandongo.
Como el derecho indígena a la libre determinación sigue siendo secundario al saqueo imperialista y a la explotación de los recursos, la represión se intensificará con la continua resistencia de los pueblos. Los Wet'suwet'en, y su creciente apoyo local e internacional, demostraron que el ejercicio por parte de los pueblos indígenas de sus derechos sobre sus tierras, territorios y recursos naturales, su autodeterminación de su estatus político, nacionalidad indígena, gobierno, jurisdicción y leyes, y sus identidades y forma de vida, espiritualidad, idioma y cultura estarán en constante amenaza de extinción a menos que se defiendan colectivamente.
Nuestra solidaridad con los pueblos de Wet'suwet'en se hace más urgente a medida que el violento desprecio de los derechos de los indígenas en cualquier lugar se replica a un ritmo alarmante. Por lo tanto, hacemos un llamamiento a la comunidad internacional, y a nuestros miembros, redes y asociados para que extiendan su unidad a la lucha de Wet'suwet'en. Hacemos un llamamiento a todos para que se unan a la campaña difundiendo ampliamente las historias de las luchas de nuestros hermanos y hermanas de las Primeras Naciones. Exhortamos a las diferentes organizaciones, defensores de la tierra y defensores de los derechos a que ayuden de manera urgente, creativa y amplia a explorar todos los mecanismos y vías para presionar al Gobierno del Canadá y a las instituciones regionales e internacionales a fin de detener la entrada de proyectos de oleoductos destructivos en Wet'suwet'en yintah, y la violenta represión, discriminación y despojo de tierras que conlleva.
¡Que nuestra solidaridad con Wet'suwet'en construya un movimiento que avance en la lucha por la autodeterminación! ¡Permanezcan firmes con Wet'suwet'en en su lucha por las tierras y los derechos!
Referencia:
Beverly Longid, Coordinadora Global
[email protected]
---
En solidarité avec Wet'suwet'en
Condamnez la répression et la dépossession des terres des peuples indigènes !
Le Mouvement international des peuples autochtones pour l'autodétermination et la libération (IPMSDL) condamne fermement l'attaque enragée de l'État canadien, par l'intermédiaire de la Gendarmerie royale du Canada (GRC), contre la nation souveraine Wet'suwet'en et ses peuples, qui ont manifestement manqué de respect à leur droit à la terre et à leurs modes de vie pour favoriser le pillage des ressources des territoires des Premières nations.
Environ 28 Wet'suwet'en indigènes, dont des matriarches Unist'ot'en, des défenseurs des terres et des journalistes ont été arrêtés par la GRC afin de disperser les blocages des peuples arrêtant la construction du gazoduc de fracturation Coastal GasLink de TransCanada, d'une valeur de 6,6 milliards de dollars. Ces arrestations de la GRC font respecter l'injonction accordée par la Cour suprême de la Colombie-Britannique en faveur de Coastal GasLink, éliminant ainsi toute résistance sur le chemin de la TransCanada. Les arrestations violentes qui font avancer les intérêts du gouvernement canadien et des multinationales empestent la discrimination des lois traditionnelles et de la gouvernance des peuples Wet'suwet'en sur leurs terres, leur eau et leurs ressources, toutes situées sur leur territoire ancestral non cédé ou yintah.
Le gazoduc de TransCanada fait partie du projet énergétique de 40 milliards de dollars de Liquified Natural Gas (LNG) Canada, dont Royal Dutch Shell est propriétaire à 40 %. LNG Canada est le plus grand investissement privé dans le secteur de l'énergie de l'histoire du Canada. Les sociétés géantes Pacific Trails Pipeline – Chevron et Northern Gateway Pipeline – Enbridge, qui s'apprête à exporter du gaz vers les marchés américain et asiatique, s'associent pour poser des gazoducs de sables bitumineux et de fissuration qui empiètent sur les terres de Wet'suwet'en et menacent d'énormes dégâts environnementaux.
La répression est devenue le vilain outil de dépossession des terres. Pour les Premières nations du Canada et pour les communautés indigènes plus importantes qui défendent leurs terres, les attaques constantes mettent en danger leur vie et leur sécurité. Au Guatemala, les conflits relatifs aux droits fonciers et miniers ont entraîné l'assassinat de militants des droits des indigènes. Aux Philippines, les dirigeants indigènes qui résistent à des projets destructeurs sur les communautés indigènes restent en prison après avoir été marqués par le terrorisme par le gouvernement actuel. En RD Congo, des villageois qui contestaient les plantations canadiennes d'huile de palme pour avoir pris leurs terres ont été arrêtés sans aucune charge. En Ouganda, la violence et le harcèlement des agents des sociétés transnationales de l'agrobusiness expulsent 30 000 familles dans le district de Kiryandongo.
Comme le droit des autochtones à l'autodétermination reste secondaire par rapport au pillage impérialiste et à l'exploitation des ressources, la répression va s'intensifier avec la résistance continue des peuples. Les Wet'suwet'en, et leur soutien local et international croissant, ont montré que l'exercice par les peuples indigènes de leurs droits sur leurs terres, territoires et ressources naturelles, l'autodétermination de leur statut politique, de leur nationalité indigène, de leur gouvernement, de leur juridiction et de leurs lois, ainsi que leur identité et leur mode de vie, leur spiritualité, leur langue et leur culture, seront en constante menace d'extinction si elles ne sont pas défendues collectivement.
Notre solidarité avec les peuples de Wet'suwet'en devient plus urgente alors que le mépris violent des droits des indigènes se reproduit partout à un rythme alarmant. Nous appelons donc la communauté internationale, ainsi que nos membres, réseaux et partenaires, à étendre leur unité à la lutte des Wet'suwet'en. Nous appelons chacun à se joindre à la campagne en diffusant largement les récits des luttes de nos frères et sœurs des Premières nations. Nous enjoignons les différentes organisations, les défenseurs des terres et les défenseurs des droits à aider de manière urgente, créative et large à explorer tous les mécanismes et les voies pour faire pression sur le gouvernement canadien et les institutions régionales et internationales afin d'arrêter l'entrée de projets de pipeline destructeurs dans le Wet'suwet'en yintah, et la violente répression, la discrimination et la dépossession des terres qu'elle entraîne.
Laissons notre solidarité pour Wet'suwet'en construire un mouvement qui fasse avancer la lutte pour l'autodétermination ! Soyez forts avec Wet'suwet'en dans leur lutte pour les terres et les droits !
Référence :
Beverly Longid, coordinatrice mondiale
[email protected]
(Spanish and French translations by DeepL.)