IPMSDL condemns military smear campaign on church workers, HRDs in Mindanao
February 28, 2019
ipmsdl_admin
Categories:

Statement
Statement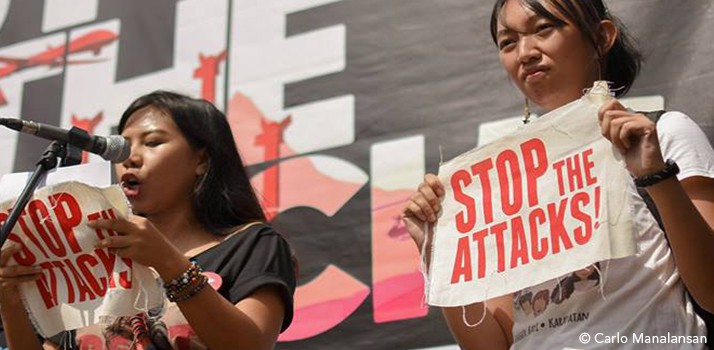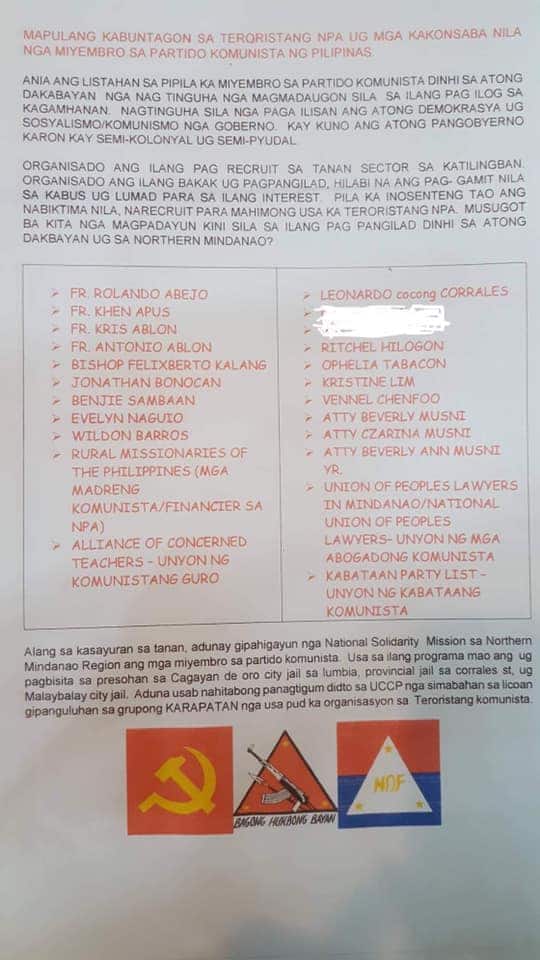 The International Indigenous Peoples Movement for Self-Determination and Liberation decries the red-tagging and the malicious hitlist circulated by suspected military and state forces agents in Northern Mindanao, Philippines last February 22 labeling several HRDs and organizations as terrorists.

Among those included in the list is the Rural Missionaries of the Philippines (RMP), a national organization of women and men religious, priests and lay, and IPMSDL partner organization in forwarding the rights of Indigenous Peoples' right to self-determination in Mindanao. It also includes human rights lawyers, teachers, priests, journalists and progressive groups.

With the dangerous situation of HRDs in the Philippines and across the globe, the smear campaigns and terrorist listings turn anyone into a target for undue harassment, attacks and killings. Weeks ago, another RMP lay worker has been illegally arrested and detained.

Last January, Indigenous leader Datu Jomorito Guaynon, and several peasant leaders were also arrested and charged with illegal possession of firearms and violation of anti-terror law. Even more desperately, the Philippine National Security Council Deputy Director General also filed a report to the UN High Commissioner for Human Rights this month accusing RMP for "trafficking" Indigenous children.

IPMSDL stands with the HRDs and activists in martial law-laden Mindanao, and with our partners and networks who bravely expressed dissent against documented illegal arrests, militarization, forced displacement of Indigenous Peoples villages, and extrajudicial killings.

Tagging civil society organizations, progressive groups and rights advocates has been the government and state forces' cheap and coward trick to silence legitimate dissent, and to besmirch their rightful advocacies against injustice, poverty and oppression.

We hold the Armed Forces of the Philippines, and Philippine government state forces, accountable that may befall those included in the malicious list. We call on the Human Rights institutions, local authorities and government units to protect the HRDs and uphold their rights. IPMSDL also believes it is imperative for the United Nations member states to support for an inquiry on the alarming human rights situation in the Philippines. We also call on the international community, organizations and individuals, rights advocates and peace defenders to issue strong condemnation against threats to silence legitimate dissent.

In this perilous times, we enjoin everyone to forge solidarity, remain vigilant and unite in resisting all forms of attacks on people's rights. Echoing the call of Filipino activists, Makibaka! Huwag matakot! (Struggle! Do not fear!)
Reference:
Beverly Longid, Global coordinator
info@ipmsdl.org
---
IPMSDL condena la campaña militar de difamación contra trabajadores de la iglesia y DDHs en Mindanao
El Movimiento Internacional de los Pueblos Indígenas por la Autodeterminación y la Liberación lamenta las etiquetas rojas y la lista maliciosa que circulan los presuntos agentes militares y de las fuerzas estatales en el norte de Mindanao, Filipinas, el pasado 22 de febrero, que calificaron de terroristas a varios/as DDHs y organizaciones.
Entre los incluidos en la lista se encuentran los Misioneros Rurales de Filipinas (RMP), una organización nacional de mujeres y hombres religiosos, sacerdotes y laicos, y la organización asociada de IPMSDL para promover los derechos de los Pueblos Indígenas a la libre determinación en Mindanao. También incluye a abogados de derechos humanos, maestros, sacerdotes, periodistas y grupos progresistas.
Con la peligrosa situación de los/as DDHs en Filipinas y en todo el mundo, las campañas de difamación y los listados de terroristas convierten a cualquiera en blanco de acoso, ataques y asesinatos indebidos. Hace semanas, otro trabajador laico de la RMP ha sido arrestado y detenido ilegalmente.
En enero pasado, el líder indígena Datu Jomorito Guaynon y varios líderes campesinos también fueron arrestados y acusados de posesión ilegal de armas de fuego y violación de la ley antiterrorista. Aún más desesperadamente, el Director General Adjunto del Consejo de Seguridad Nacional de Filipinas también presentó este mes un informe al Alto Comisionado de las Naciones Unidas para los Derechos Humanos acusando a la RMP de "tráfico" de niños indígenas.
IPMSDL apoya a los/as DDHs y activistas en Mindanao cargado de ley marcial, y a nuestros/as socios/as y redes que valientemente expresaron su desacuerdo contra los arrestos ilegales documentados, la militarización, el desplazamiento forzado de las aldeas de los Pueblos Indígenas y las ejecuciones extrajudiciales.
Etiquetar a las organizaciones de la sociedad civil, los grupos progresistas y los defensores de los derechos ha sido el truco barato y cobarde del gobierno y las fuerzas estatales para silenciar la disidencia legítima y mancillar sus legítimas reivindicaciones contra la injusticia, la pobreza y la opresión.
Responsabilizamos a las Fuerzas Armadas de Filipinas, y a las fuerzas estatales del gobierno filipino, de lo que pueda suceder a los incluidos en la lista maliciosa. Hacemos un llamamiento a las instituciones de derechos humanos, a las autoridades locales y a las unidades gubernamentales para que protejan a los/as DDHs y defiendan sus derechos. IPMSDL también cree que es imperativo que los Estados miembros de las Naciones Unidas apoyen una investigación sobre la alarmante situación de los derechos humanos en Filipinas. También pedimos a la comunidad internacional, a las organizaciones y personas, a los defensores de los derechos humanos y a los defensores de la paz que condenen enérgicamente las amenazas de silenciar la disidencia legítima.
En estos tiempos peligrosos, exhortamos a todos a forjar la solidaridad, a permanecer vigilantes y a unirse para resistir todas las formas de ataques a los derechos de las personas. Haciéndose eco del llamado de los activistas filipinos, Makibaka! ¡Huwag Matakot! (¡Lucha! ¡No temas!) #
Referencia:
Beverly Longid
Coordinador Global, info@ipmsdl.org
---
L'IPMSDL condamne la campagne de diffamation militaire contre les travailleurs des églises et les défenseurs des droits humains à Mindanao
Le Mouvement international des peuples autochtones pour l'autodétermination et la libération dénonce le marquage au rouge et la liste de personnes malveillantes diffusés par des agents présumés des forces militaires et des forces de l'Etat dans le nord de Mindanao, aux Philippines, le 22 février dernier, qualifiant plusieurs DDH et organisations de terroristes.
Parmi ceux qui figurent sur la liste figurent les Rural Missionaries of the Philippines (RMP), une organisation nationale de religieux et religieuses, de prêtres et de laïcs, et une organisation partenaire de l'IPMSDL pour faire progresser les droits des peuples autochtones à l'autodétermination à Mindanao. Il comprend également des avocats des droits de l'homme, des enseignants, des prêtres, des journalistes et des groupes progressistes.
Avec la situation dangereuse des défenseurs des droits humains aux Philippines et à travers le monde, les campagnes de diffamation et les listes terroristes font de quiconque une cible de harcèlement, d'attaques et de meurtres indus. Il y a quelques semaines, un autre travailleur non professionnel du PGR a été arrêté et détenu illégalement.
En janvier dernier, le dirigeant autochtone Datu Jomorito Guaynon et plusieurs dirigeants paysans ont également été arrêtés et accusés de possession illégale d'armes à feu et de violation de la loi antiterroriste. Plus désespérément encore, le directeur général adjoint du Conseil national de sécurité des Philippines a également déposé ce mois-ci un rapport au Haut Commissaire des Nations Unies aux droits de l'homme accusant le RMP de "trafic" d'enfants autochtones.
L'IPMSDL soutient les défenseurs des droits humains et les militants de la loi martiale de Mindanao, ainsi que nos partenaires et réseaux qui ont courageusement exprimé leur désaccord contre les arrestations illégales documentées, la militarisation, le déplacement forcé des villages des peuples autochtones, et les exécutions extrajudiciaires.
Marquer les organisations de la société civile, les groupes progressistes et les défenseurs des droits a été le tour bon marché et lâche du gouvernement et des forces de l'État pour faire taire la dissidence légitime et pour salir leurs revendications légitimes contre l'injustice, la pauvreté et l'oppression.
Nous tenons les forces armées des Philippines et les forces gouvernementales de l'État philippin responsables de leurs actes, ce qui peut arriver à ceux qui figurent sur la liste des personnes malveillantes. Nous appelons les institutions des droits de l'homme, les autorités locales et les unités gouvernementales à protéger les défenseurs des droits humains et à défendre leurs droits. L'IPMSDL estime également qu'il est impératif que les États membres des Nations Unies soutiennent une enquête sur la situation alarmante des droits humains aux Philippines. Nous appelons également la communauté internationale, les organisations et les individus, les défenseurs des droits humains et les défenseurs de la paix à condamner fermement les menaces visant à réduire au silence les dissidents légitimes.
En ces temps périlleux, nous demandons à tous de faire preuve de solidarité, de rester vigilants et de s'unir pour résister à toute forme d'atteinte aux droits des personnes. Faisant écho à l'appel des militants philippins, Makibaka ! Huwag matakot ! (Lutte ! N'aie pas peur !) #
Référence :
Beverly Longid
Coordinatrice mondiale, info@ipmsdl.org
(Spanish and French translations by DeepL.)