IPMSDL solidarity to the First International Meeting of Native Peoples
October 31, 2019
ipmsdl_admin
Categories:

Statement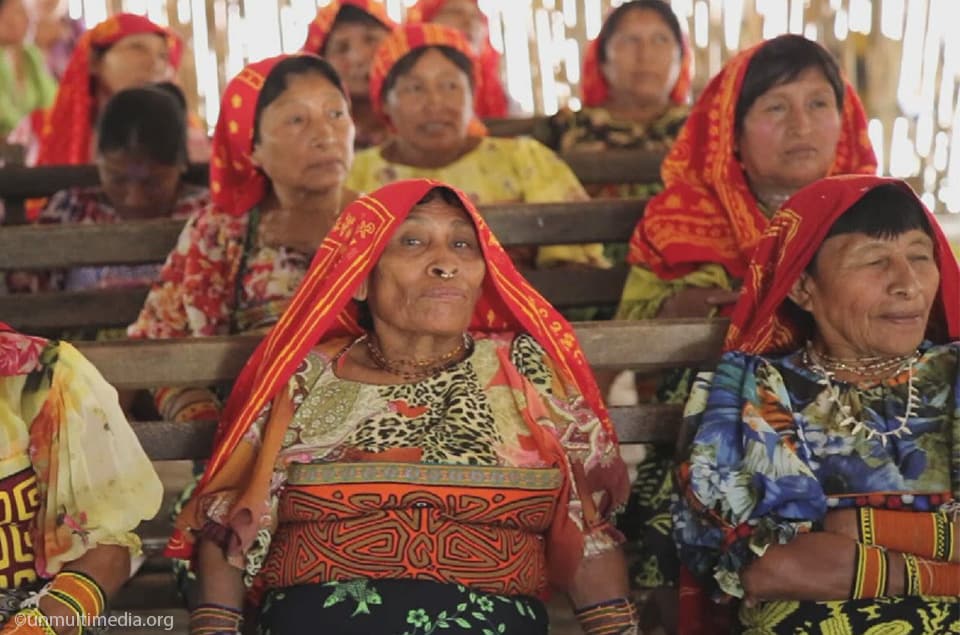 The International Indigenous Peoples Movement for Self-Determination and Liberation (IPMSDL) extends its warmest greetings to the success of the First International Meeting of Native Peoples, and to all the indigenous leaders of different nations, the attendees, organizers, and allies in the struggle of Indigenous Peoples (IP) in Latin America and the whole world.
To build and materialize this international meeting is already a victory, given the attacks and other colossal challenges ahead of the modern anti-colonization movements.
We continue to draw inspiration from the militant history of the region — from the Spanish American War of Independence against Western domination, the Bolivarian Revolution calling for peoples and nation's liberation from the old capitalist system of exploitation, to the Revolution for Independence of Argentina, Colombia, Bolivia, Peru, Paraguay, Mexico, Haiti, Venezuela and many more. These are some of the historical landmarks that gave birth to national independence movements in the region.
From the past to the present, Indigenous and Native Peoples — carrying the double burden of discrimination and marginalization, attacks on culture, exploitation, plunder, and oppression — are part and continue to be at the forefront of struggles for self-determination and liberation.
Now, the world is witnessing the resurgence of militancy in Latin American countries in reaction to the failure of global neoliberal system, to the declining standard of living, to the imperialist plunder of ancestral lands and territories, and against the displacements of communities, killings and arrests of activists and human rights defenders at the behest of fascist, authoritarian regimes. Again, the Indigenous Native Peoples, together with other oppressed sectors, are at the forefront of this renewed struggle.
The IPMSDL, its members and networks, are resolved in the fruitful and broader unity that the Indigenous and Native Peoples shall reach in this meeting. We stand in solidarity with you for sovereignty and decolonization.
Long live the people's struggle for self-determination and liberation!

Reference:
Beverly Longid, Global Coordinator
[email protected]
---
Solidaridad de la IPMSDL con el Primer Encuentro Internacional de Pueblos Indígenas
El Movimiento Internacional de los Pueblos Indígenas por la Autodeterminación y la Liberación (IPMSDL) saluda calurosamente el éxito del Primer Encuentro Internacional de los Pueblos Indígenas, y a todos los líderes indígenas de diferentes naciones, a los asistentes, organizadores y aliados en la lucha de los Pueblos Indígenas (PI) en América Latina y el mundo entero.
Construir y materializar este encuentro internacional ya es una victoria, dados los ataques y otros desafíos colosales que se avecinan ante los modernos movimientos anticolonización.
Seguimos inspirándonos en la historia militante de la región, desde la Guerra de Independencia hispanoamericana contra la dominación occidental, la Revolución Bolivariana llamando a los pueblos y la liberación de la nación del viejo sistema capitalista de explotación, hasta la Revolución por la Independencia de Argentina, Colombia, Bolivia, Perú, Paraguay, México, Haití, Venezuela y muchos más. Estos son algunos de los hitos históricos que dieron origen a los movimientos de independencia nacional en la región.
Desde el pasado hasta el presente, los pueblos indígenas y nativos -llevando la doble carga de la discriminación y la marginación, los ataques a la cultura, la explotación, el saqueo y la opresión- son parte y continúan estando a la vanguardia de las luchas por la autodeterminación y la liberación.
Ahora, el mundo está siendo testigo del resurgimiento de la militancia en los países latinoamericanos como reacción al fracaso del sistema neoliberal global, a la caída del nivel de vida, al saqueo imperialista de las tierras y territorios ancestrales, y contra los desplazamientos de comunidades, los asesinatos y arrestos de activistas y defensores de los derechos humanos a instancias de regímenes fascistas y autoritarios. Una vez más, los Pueblos Indígenas, junto con otros sectores oprimidos, están a la vanguardia de esta lucha renovada.
La IPMSDL, sus miembros y redes, están resueltos en la fructífera y más amplia unidad que los Pueblos Indígenas y Nativos alcanzarán en esta reunión. Nos solidarizamos con ustedes por la soberanía y la descolonización.
Viva la lucha del pueblo por la autodeterminación y la liberación!
Reference:
Beverly Longid, Coordinadora Global
[email protected]
---
Solidarité de l'IPMSDL à la première Rencontre internationale des peuples autochtones
Le Mouvement international des peuples autochtones pour l'autodétermination et la libération (IPMSDL) salue chaleureusement le succès de la première Rencontre internationale des peuples autochtones, ainsi que tous les dirigeants autochtones des différentes nations, les participants, les organisateurs et les alliés dans la lutte des peuples autochtones (PI) en Amérique latine et dans le monde entier.
Construire et matérialiser cette rencontre internationale est déjà une victoire, étant donné les attaques et autres défis colossaux qui attendent les mouvements anticolonisateurs modernes.
Nous continuons de nous inspirer de l'histoire militante de la région – de la guerre d'indépendance hispano-américaine contre la domination occidentale, de la révolution bolivarienne appelant à la libération des peuples et des nations de l'ancien système capitaliste d'exploitation, à la révolution d'indépendance de l'Argentine, la Colombie, la Bolivie, le Pérou, le Paraguay, le Mexique, Haïti, le Venezuela et beaucoup plus. Ce sont là quelques-uns des repères historiques qui ont donné naissance aux mouvements indépendantistes nationaux dans la région.
D'hier à aujourd'hui, les peuples autochtones et autochtones – qui portent le double fardeau de la discrimination et de la marginalisation, des attaques contre la culture, de l'exploitation, du pillage et de l'oppression – font partie et continuent d'être à l'avant-garde des luttes d'autodétermination et de libération.
Aujourd'hui, le monde assiste à la résurgence du militantisme dans les pays d'Amérique latine en réaction à l'échec du système néolibéral mondial, à la baisse du niveau de vie, au pillage impérialiste des terres et territoires ancestraux et aux déplacements de communautés, aux meurtres et arrestations de militants et défenseurs des droits humains à l'initiative des régimes fascistes et autoritaires. Encore une fois, les peuples autochtones autochtones, avec d'autres secteurs opprimés, sont à l'avant-garde de cette lutte renouvelée.
L'IPMSDL, ses membres et ses réseaux sont résolus dans l'unité fructueuse et plus large que les peuples autochtones et autochtones doivent atteindre au cours de cette réunion. Nous sommes solidaires avec vous pour la souveraineté et la décolonisation.
Vive la lutte du peuple pour l'autodétermination et la libération !
Référence :
Beverly Longid, Coordinatrice mondiale
[email protected]
(Spanish and French translations by DeepL.)