On Australia/Invasion Day
January 26, 2019
nas
Categories:

Statement
Statement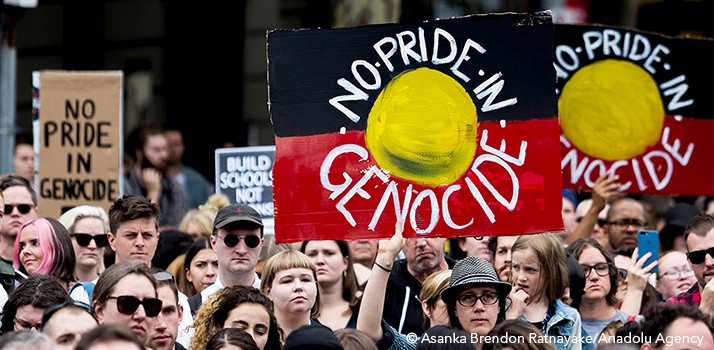 As Australia celebrates the 231st anniversary of its founding, tens of thousands of Aboriginal and Torres Strait Indigenous Peoples and non-Indigenous supporters rallied on the streets of Melbourne to demand the abolishment of the national day. The arrival of British colonizers on 26th January 1788 on Indigenous lands, now known as Australia, marked the beginning of the genocide of the Indigenous Peoples of Australia.
The International Indigenous Peoples Movement for Self-Determination and Liberation (IPMSDL) stands in solidarity with the Aboriginal and Torres Strait Indigenous Peoples on this annual day of mourning. The celebration of Australia Day glorifies the British colonizers' centuries of plunder, diseases, stolen generations, massacre, and obliteration of indigenous identities and ways of life.
The history of dispossession and displacement of Indigenous Peoples manifests itself at present in their poor living conditions, leading to lower life expectancy and disproportionate rate of Indigenous incarceration. The absence of treaty negotiations and land rights legislations that will genuinely protect Indigenous rights over ancestral lands and territories also maintains Indigenous Peoples at the margins of society.
We call on the international community to stand with the Aboriginal People and Torres Strait Islanders, and to support their continuing struggle for recognition and self-determination. Let us remember our Aboriginal brothers and sisters who suffered from centuries of invasion and illegal occupation but also, those who resisted and fought for their rights and liberation.
Abolish Australia Day!
Uphold the Rights of Indigenous Peoples!
Reference:
Beverly Longid, Global Coordinator
info@ipmsdl.org
En Australia/Día de la Invasión
Mientras Australia celebra el 231º aniversario de su fundación, decenas de miles de indígenas aborígenes y del Estrecho de Torres, así como simpatizantes no indígenas, se congregaron en las calles de Melbourne para exigir la abolición de la fiesta nacional. La llegada de los colonizadores británicos el 26 de enero de 1788 a las tierras indígenas, ahora conocidas como Australia, marcó el inicio del genocidio de los pueblos indígenas de Australia.
El Movimiento Internacional de los Pueblos Indígenas por la Autodeterminación y la Liberación (IPMSDL) se solidariza con los Pueblos Indígenas Aborígenes y del Estrecho de Torres en este día anual de luto. La celebración del Día de Australia glorifica los siglos de saqueo, enfermedades, generaciones robadas, masacre y destrucción de las identidades y formas de vida indígenas de los colonizadores británicos.
La historia de despojo y desplazamiento de los Pueblos Indígenas se manifiesta en la actualidad en sus pobres condiciones de vida, lo que lleva a una menor esperanza de vida y a una tasa desproporcionada de encarcelamiento de los Indígenas. La ausencia de negociaciones de tratados y de legislaciones sobre los derechos a la tierra que protejan genuinamente los derechos indígenas sobre las tierras y territorios ancestrales también mantiene a los Pueblos Indígenas al margen de la sociedad.
Hacemos un llamamiento a la comunidad internacional para que apoye al pueblo aborigen y a los isleños del Estrecho de Torres y apoye su continua lucha por el reconocimiento y la libre determinación. Recordemos a nuestros hermanos y hermanas aborígenes que sufrieron siglos de invasión y ocupación ilegal, pero también a aquellos que resistieron y lucharon por sus derechos y su liberación.
Día de la Abolición de Australia!
Defender los derechos de los pueblos indígenas!
Le jour de l'Australie/Journée de l'invasion
Alors que l'Australie célèbre le 231e anniversaire de sa fondation, des dizaines de milliers d'aborigènes et d'indigènes du détroit de Torres et de non-autochtones se sont rassemblés dans les rues de Melbourne pour demander l'abolition de la fête nationale. L'arrivée des colonisateurs britanniques le 26 janvier 1788 sur les terres indigènes, maintenant connues sous le nom d'Australie, marque le début du génocide des peuples indigènes d'Australie.
Le Mouvement international des peuples autochtones pour l'autodétermination et la libération (MIPDSL) est solidaire des peuples autochtones et des peuples autochtones du détroit de Torres en ce jour de deuil annuel. La célébration de la fête de l'Australie glorifie les siècles de pillage, de maladies, de vols de générations, de massacres et d'oblitération des identités et des modes de vie autochtones des colonisateurs britanniques.
L'histoire de la dépossession et du déplacement des peuples autochtones se manifeste actuellement par leurs mauvaises conditions de vie, ce qui entraîne une espérance de vie inférieure et un taux disproportionné d'incarcération des autochtones. L'absence de négociations de traités et de lois sur les droits fonciers qui protégeront véritablement les droits des Autochtones sur leurs terres et territoires ancestraux maintient également les peuples autochtones en marge de la société.
Nous demandons à la communauté internationale de se ranger du côté des peuples autochtones et des insulaires du détroit de Torres et d'appuyer leur lutte continue pour la reconnaissance et l'autodétermination. Souvenons-nous de nos frères et sœurs autochtones qui ont souffert de siècles d'invasion et d'occupation illégale, mais aussi de ceux qui ont résisté et lutté pour leurs droits et leur libération.
Abolition de la fête de l'Australie !
Faites respecter les droits des peuples autochtones !