On the Day of the Landless 2019
March 29, 2019
ipmsdl_admin
Categories:

Statement
Statement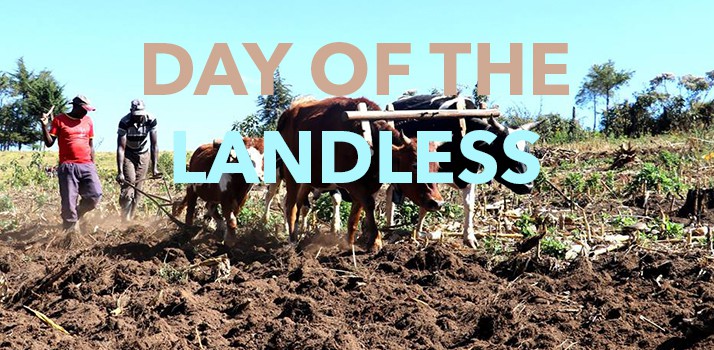 The indigenous Lumad community has faced continuous attacks against their right to self-determination and ancestral lands as corporate extractives, energy and plantation projects leave them landless. Forced evacuations, harassments and loss of life under a highly militarized government programs equally drive indigenous Lumad communities away from their forests, lands and farms.
IPMSDL joins this years Day of the Landless lead by Asian Peasant Coalition (APC), PAN Asia Pacific (PANAP), and People's Coalition on Food Sovereignty (PCFS) under the theme "Reclaim Our Lands, Reclaim Our Future" in solidarity with the campaign "No Land, No Life!" of rural communities, Indigenous Peoples, farmers and peasants around the world struggling for their lands and rights.
Watch the video of Lumad leader Kerlan Fanagel (Chairman of Lumad confederation PASAKA, an IPMSDL member org in the Philippines) and Lumad student Catherine, as they reflect on the struggle against landlessness experienced by Indigenous Peoples.
---
En el Día de los Sin Tierra 2019
La comunidad indígena Lumad ha enfrentado continuos ataques contra su derecho a la autodeterminación y sus tierras ancestrales, ya que las corporaciones extractivas, los proyectos de energía y las plantaciones los dejan sin tierra. Las evacuaciones forzadas, los hostigamientos y la pérdida de vidas en el marco de programas gubernamentales altamente militarizados alejan a las comunidades indígenas Lumad de sus bosques, tierras y granjas.
IPMSDL se une este año al Día de los Sin Tierra liderado por la Coalición Campesina Asiática (APC), PAN Asia Pacífico (PANAP) y la Coalición de los Pueblos por la Soberanía Alimentaria (PCFS) bajo el tema "Reclama Nuestras Tierras, Reclama Nuestro Futuro" en solidaridad con la campaña "No hay Tierra, No hay Vida" de las comunidades rurales, Pueblos Indígenas, campesinos y campesinas de todo el mundo que luchan por sus tierras y derechos.
Vea el video del líder de Lumad Kerlan Fanagel (Presidente de la confederación de Lumad PASAKA, una organización miembro de IPMSDL en las Filipinas) y la estudiante de Lumad Catherine, mientras reflexionan sobre la lucha contra la falta de tierra experimentada por los Pueblos Indígenas.
---
Le jour des sans terre 2019
La communauté indigène Lumad a fait face à des attaques constantes contre son droit à l'autodétermination et ses terres ancestrales, car les projets d'extraction, d'énergie et de plantation des entreprises les laissent sans terre. Les évacuations forcées, les harcèlements et les pertes de vie dans le cadre de programmes gouvernementaux fortement militarisés éloignent également les communautés indigènes Lumad de leurs forêts, terres et fermes.
L'IPMSDL s'associe cette année à la Journée des paysans sans terre menée par l'Asian Peasant Coalition (APC), le PAN Asia Pacific (PANAP) et la People's Coalition on Food Sovereignty (PCFS) sous le thème "Reclaim Our Lands, Reclaim Our Future" en solidarité avec la campagne "No Land, No Life" des communautés rurales, peuples indigènes, agriculteurs et paysans du monde entier luttant pour leurs terres et droits.
Regardez la vidéo de Kerlan Fanagel (Président de la confédération Lumad PASAKA, une organisation membre de l'IPMSDL aux Philippines) et Catherine, étudiante Lumad, qui réfléchissent sur la lutte contre l'absence de terre vécue par les peuples autochtones.