Respect Freedom of Expression & Stop The Systemic Persecution of Atama Katama!
February 9, 2019
nas
Categories:

Statement
Statement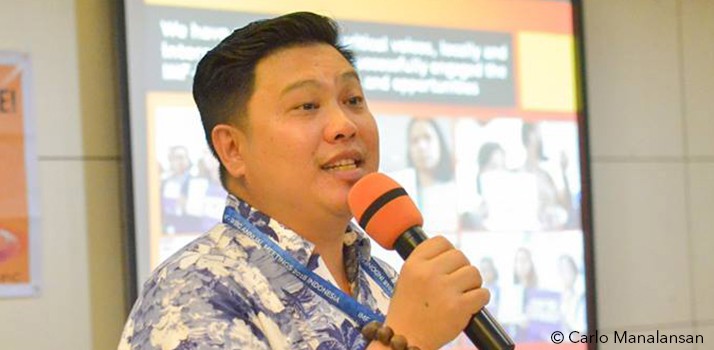 The International Indigenous Peoples Movement for Self-Determination and Liberation (IPMSDL) calls for international support for IPMSDL Asia Regional Coordinator Andrew Ambrose (aka Atama Katama) against the continuous political persecution with threat of bankruptcy and travel ban following a defamation suit by former Deputy Chief Minister of Sabah Tan Sri Dr. Herman James Luping. We are of the position that freedom of expression is absolute and those in public position and power should engage and debate in any issue or allegation and not to silence them using the law and position.

The defamation case followed after Atama expressed his opinions, published in a news report and his social media accounts, on the appointment of Dr. Luping to the Royal Commission of Inquiry in 2012. Atama, then Bersih Sabah's spokesperson and National Steering Committee member, raised questions in line with the Paris Principles and public interest on the said appointment in relation to Dr. Luping's public integrity to determine an important political issue in Sabah. Dr. Luping's alleged involvement in a corruption issue in the 1980s, soliciting RM1 million from timber tycoon Victor Wong Chet was brought to public attention and for him to come clean on the case reported. However, he didn't respond or clarify the matter nor explain his qualification to the Commission but instead decided to flex his privilege and sued Atama for defamation with a total claim of 50 Million Ringgit. Bersih Sabah is part of a coalition of over 60 Malaysian NGOs seeking free and fair elections, electoral reforms and promotion of democratic rights in Malaysia monitoring the 2013 general elections.

In 2014, the Session Court in Sabah granted an order to the former Attorney General against Atama and fellow activist, to pay 340,000 USD or 1.4 million Malaysian Ringgits. The amount demanded by court came on top of Dr. Luping's demand for injunction to restraint any "defamatory remarks" about him, an order to take down the published news, and any other relief deemed fit by the court. Re-appeal and objections over the punitive measures have been submitted to the Court of Appeal by Atama's legal counsel, asserting the citizens and civil society's right to participate, protest and express concerns on public interest. The appeal was then lost in the legal process as lawyers were unwilling to act for Atama, leaving him in limbo.

Recently, Atama has been appointed Permanent Representative of Dayak Indigenous Peoples at the United Nations (UN) at the Temenggung International Conference last November 28, 2018. The appointment seeks to forward the rights to self-determination, revitalization of traditional knowledge and cultural expressions including customary governance and justice institutions of the Dayak Peoples of Sabah & Sarawak Malaysia, Indonesia and Brunei. Atama Katama is an Indigenous rap artist, DJ, musician, activist, and leader, works as International Liaison Manager of Sabah-based Borneo Dayak Forum International championing Indigenous peoples' acknowledgement of their culture, lands and rights against discrimination and further marginalisation.

Atama also functions as Asia Focal Point of Civil Society Partnership for Development Effectiveness (CPDE), Advisor of Global Indigenous Youth at the United Nations and member of BEBC Socio Culture & Education of BIMP EAGA and head for TVET cluster for Sabah, Malaysia Chapter.

In the face of alarming attacks and repression of activists, rights defenders, Indigenous leaders and peoples organizations around the world, political persecution through lawsuits, and use of position and influence, as well as misuse of judicial processes has been employed to silence resistance. It is not just mere arrest detention and enforced disappearances that are employed but also costly and lengthy legal processes to punish critics instead of engaging in a debate. These cunning actions send a chilling effect to intimidate and malign their work in forwarding peoples' welfare as an exercise of their democratic rights. In Malaysia, we see the lawsuit against rights activists such as Jannie Lasimbang and Maria Chin Abdullah working in defense of Indigenous land rights against palm oil plantations and hydro electric projects. In Singapore, the usage of defamation suits to silence opposition and critics of the Lee Kuan Yew regime is a notable example of political persecution and misuse of law in democracy over public interest matters
IPMSDL stands for the immediate stop of all forms of political persecution whether through lawsuits, legal charges or government policies that threaten to restrain an activist's work. We call for the Malaysian Government to intervene and defend an activist's right to expression and to drop all charges against Atama. IPMSDL calls on the Malaysian government to fully exercise its mandate in creating a safe and democratic space for civil society workers by providing genuine protection from political persecution to activists and rights defenders.

We enjoin the international community for unity in echoing our call in protecting the rights of the people, whether activists, Indigenous Peoples, or marginalised citizens, and put pressure on international institutions, the Malaysian Government of Prime Minister Tun Mahathir Mohammed and the Sabah State Government of Chief Minister Datuk Seri Shafie Apdal to hear our demands. The systemic attacks and shrinking democratic space call for a strong and united civil society. Only through this can we achieve a society which truly champions peoples' freedom.
Reference:
Beverly Longid, Global Coordinator
info@ipmsdl.org
Respetar la libertad de expresión y detener la persecución sistémica de Atama Katama!
El Movimiento Internacional de los Pueblos Indígenas por la Autodeterminación y la Liberación (IPMSDL) pide apoyo internacional para el Coordinador Regional de IPMSDL en Asia, Andrew Ambrose (alias Atama Katama), contra la continua persecución política con amenaza de bancarrota y prohibición de viajes a raíz de una demanda por difamación presentada por el ex Viceministro Principal de Sabah Tan Sri Sri Dr. Herman James Luping. Somos de la opinión de que la libertad de expresión es absoluta y que quienes ocupan cargos públicos y tienen poder deben participar y debatir sobre cualquier cuestión o alegación y no silenciarlos utilizando la ley y la posición.
El caso de difamación siguió después de que Atama expresara sus opiniones, publicadas en un informe de noticias y en sus reportajes en los medios sociales, sobre el nombramiento del Dr. Luping a la Comisión Real de Investigación en 2012. Atama, entonces portavoz de Bersih Sabah y miembro del Comité Directivo Nacional, planteó preguntas en línea con los Principios de París y de interés público sobre dicho nombramiento en relación con la integridad pública del Dr. Luping para determinar una cuestión política importante en Sabah. La supuesta participación del Dr. Luping en un asunto de corrupción en la década de 1980, solicitando 1 millón de RM del magnate maderero Víctor Wong Chet, fue señalada a la atención del público y para que se pronunciara sobre el caso denunciado. Sin embargo, no respondió ni aclaró el asunto ni explicó su calificación a la Comisión, sino que decidió flexibilizar su privilegio y demandó a Atama por difamación con una reclamación total de 50 millones de ringgit. Bersih Sabah forma parte de una coalición de más de 60 ONG malasias que buscan elecciones libres y justas, reformas electorales y promoción de los derechos democráticos en Malasia y que supervisan las elecciones generales de 2013.
En 2014, el Tribunal de Sabah dictó una orden al ex Fiscal General contra Atama y su colega activista para que pagara 340.000 dólares estadounidenses o 1,4 millones de ringgits malayos. La cantidad exigida por el tribunal se sumó a la demanda del Dr. Luping de una orden judicial para restringir cualquier "comentario difamatorio" sobre él, una orden para retirar las noticias publicadas, y cualquier otra reparación que el tribunal considerara conveniente. El abogado de Atama ha presentado ante el Tribunal de Apelación una nueva apelación y objeciones a las medidas punitivas, afirmando el derecho de los ciudadanos y de la sociedad civil a participar, protestar y expresar su preocupación por el interés público. La apelación se perdió en el proceso legal ya que los abogados no estaban dispuestos a actuar en nombre de Atama, dejándolo en el limbo.
Recientemente, Atama ha sido nombrado Representante Permanente de los Pueblos Indígenas Dayak ante las Naciones Unidas (ONU) en la Conferencia Internacional de Temenggung el 28 de noviembre de 2018. El nombramiento tiene por objeto promover el derecho a la libre determinación, la revitalización de los conocimientos tradicionales y las expresiones culturales, incluidas la gobernanza consuetudinaria y las instituciones de justicia de los pueblos dayak de Sabah y Sarawak de Malasia, Indonesia y Brunei. Atama Katama es una artista de rap indígena, DJ, músico, activista y líder, trabaja como Gerente de Enlace Internacional del Foro Borneo Dayak Internacional, con sede en Sabah, defendiendo el reconocimiento de los pueblos indígenas de su cultura, sus tierras y sus derechos contra la discriminación y la marginación.
Atama también funciona como Punto Focal de Asia de la Asociación de la Sociedad Civil para la Eficacia del Desarrollo (CPDE), Asesor de la Juventud Indígena Global en las Naciones Unidas y miembro de BEBC Socio Culture & Education de BIMP EAGA y jefe del grupo de TVET para Sabah, Malasia.
Frente a los alarmantes ataques y represión de activistas, defensores de derechos, líderes indígenas y organizaciones de pueblos en todo el mundo, la persecución política a través de demandas, y el uso de la posición y la influencia, así como el uso indebido de los procesos judiciales, se ha empleado para silenciar la resistencia. No sólo se emplean la detención preventiva y las desapariciones forzadas, sino también procesos legales costosos y prolongados para castigar a los críticos en lugar de entablar un debate. Estas astutas acciones tienen un efecto escalofriante para intimidar y difamar su trabajo de promover el bienestar de las personas como un ejercicio de sus derechos democráticos. En Malasia, vemos la demanda contra activistas de derechos como Jannie Lasimbang y Maria Chin Abdullah que trabajan en defensa de los derechos de los indígenas a la tierra contra las plantaciones de aceite de palma y los proyectos hidroeléctricos. En Singapur, el uso de demandas por difamación para silenciar a la oposición y a los críticos del régimen de Lee Kuan Yew es un ejemplo notable de persecución política y mal uso de la ley en la democracia por asuntos de interés público.
IPMSDL significa el cese inmediato de todas las formas de persecución política, ya sea a través de demandas, cargos legales o políticas gubernamentales que amenazan con restringir el trabajo de un activista. Pedimos al Gobierno malasio que intervenga y defienda el derecho de expresión de un activista y que retire todos los cargos contra Atama. IPMSDL hace un llamamiento al gobierno de Malasia para que ejerza plenamente su mandato en la creación de un entorno seguro y democrático.
Respectez la liberté d'expression et arrêtez la persécution systémique d'Atama Katama !
Le Mouvement international des peuples autochtones pour l'autodétermination et la libération (IPMSDL) appelle à un soutien international pour Andrew Ambrose (alias Atama Katama), coordinateur régional de l'IPMSDL pour l'Asie, contre la persécution politique continue avec menace de faillite et d'interdiction de voyager suite à une plainte en diffamation déposée par Herman James Luping, ancien sous-ministre principal de Sabah Tan Sri. Nous sommes d'avis que la liberté d'expression est absolue et que ceux qui sont en position et au pouvoir publics devraient s'engager et débattre de toute question ou allégation et ne pas les réduire au silence par la loi et la position.
L'affaire de diffamation a suivi après qu'Atama eut exprimé ses opinions, publiées dans un reportage et dans ses comptes rendus sur les médias sociaux, sur la nomination de M. Luping à la Commission royale d'enquête en 2012. Atama, alors porte-parole de Bersih Sabah et membre du Comité directeur national, a soulevé des questions conformes aux Principes de Paris et à l'intérêt public concernant ladite nomination en relation avec l'intégrité publique du Dr Luping pour déterminer une question politique importante à Sabah. L'implication présumée de M. Luping dans une affaire de corruption dans les années 80, en sollicitant 1 million de RM auprès du magnat du bois Victor Wong Chet, a été portée à l'attention du public et lui a demandé de faire la lumière sur le cas rapporté. Cependant, il n'a pas répondu ou clarifié la question et n'a pas expliqué sa qualification à la Commission, mais a plutôt décidé de faire valoir son privilège et a poursuivi Atama pour diffamation avec une réclamation totale de 50 millions de Ringgit. Bersih Sabah fait partie d'une coalition de plus de 60 ONG malaisiennes à la recherche d'élections libres et équitables, de réformes électorales et de promotion des droits démocratiques en Malaisie pour surveiller les élections générales de 2013.
En 2014, le tribunal de session de Sabah a ordonné à l'ancien procureur général de payer 340 000 USD, soit 1,4 million de Ringgits malaisiens, contre Atama et son collègue activiste. La somme exigée par le tribunal s'ajoutait à la demande d'injonction du Dr Luping pour contenir toute " remarque diffamatoire " à son égard, à une ordonnance de retrait des nouvelles publiées et à toute autre mesure jugée appropriée par le tribunal. Le conseil juridique d'Atama a soumis à la Cour d'appel un nouveau recours et des objections concernant les mesures punitives, affirmant le droit des citoyens et de la société civile à participer, à protester et à exprimer leurs préoccupations concernant l'intérêt public. L'appel a ensuite été rejeté au cours du processus judiciaire, car les avocats refusaient d'agir pour le compte d'Atama, le laissant dans l'incertitude.
Récemment, Atama a été nommée représentante permanente des peuples autochtones Dayak auprès des Nations Unies (ONU) à la Conférence internationale de Temenggung le 28 novembre 2018. Cette nomination vise à promouvoir les droits à l'autodétermination, à la revitalisation des savoirs traditionnels et des expressions culturelles, y compris la gouvernance coutumière et les institutions judiciaires des peuples Dayak du Sabah & Sarawak en Malaisie, en Indonésie et au Brunei. Atama Katama est une artiste de rap indigène, DJ, musicienne, activiste et leader, travaille en tant que responsable de la liaison internationale du Borneo Dayak Forum International, basé à Sabah, qui défend la reconnaissance par les peuples indigènes de leur culture, leurs terres et leurs droits contre la discrimination et la marginalisation accrue.
Atama est également Point focal Asie du Partenariat de la société civile pour l'efficacité du développement (CPDE), Conseiller de la jeunesse autochtone mondiale aux Nations Unies et membre du BEBC Socio Culture & Education du BIMP EAGA et responsable du cluster TVET pour Sabah, chapitre Malaisie.
Face aux attaques alarmantes et à la répression des militants, des défenseurs des droits humains, des dirigeants autochtones et des organisations populaires du monde entier, la persécution politique par le biais de poursuites judiciaires, l'utilisation de la position et de l'influence, ainsi que l'abus des processus judiciaires ont été utilisés pour faire taire la résistance. Ce ne sont pas seulement de simples arrestations et des disparitions forcées qui sont utilisées, mais aussi des procédures juridiques longues et coûteuses pour punir les critiques au lieu de s'engager dans un débat. Ces actions astucieuses ont un effet dissuasif et intimident et calomnient leur travail qui consiste à faire progresser le bien-être des peuples dans l'exercice de leurs droits démocratiques. En Malaisie, nous voyons des militants des droits humains comme Jannie Lasimbang et Maria Chin Abdullah travailler à la défense des droits fonciers autochtones contre les plantations de palmiers à huile et les projets hydroélectriques. Singapour, le recours aux procès en diffamation pour réduire au silence l'opposition et les critiques du régime de Lee Kuan Yew est un exemple notable de persécution politique et d'abus de droit en démocratie pour des raisons d'intérêt public.
L'IPMSDL représente l'arrêt immédiat de toute forme de persécution politique, que ce soit par le biais de poursuites judiciaires, d'accusations ou de politiques gouvernementales qui menacent de restreindre le travail d'un activiste. Nous appelons le gouvernement malaisien à intervenir et à défendre le droit d'expression d'un militant et à abandonner toutes les charges retenues contre Atama. L'IPMSDL appelle le gouvernement malaisien à s'acquitter pleinement de son mandat pour créer un environnement sûr et démocratique.
(Spanish and French translations by DeepL.)