Salute to the people of Ecuador! Oppose bankrupt neoliberal policies and defeat all imperialist attacks!
October 24, 2019
ipmsdl_admin
Categories:

Statement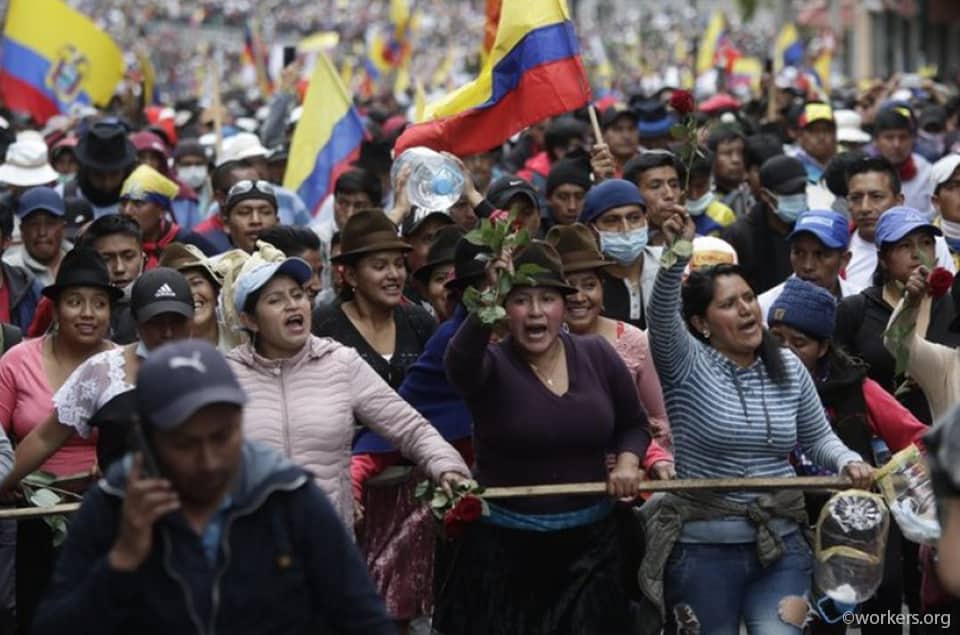 The International Indigenous Peoples Movement for Self Determination and Liberation (IPMSDL) stands with the people of Ecuador after the historical victory of the 12-day national protest, mainly led by the Indigenous Peoples, against the neoliberal policies of Pres. Lenin Moreno's government dictated by the International Monetary Fund (IMF).
Around 20,000 Ecuadorian from north and south of the country, including those coming Indigenous communities, marched towards the capital Quito amid heightened military and police repression following the declaration of the State of Exception (60-day cancellation of the rights to hold meetings and protests). The declaration heavily militarized Quito and neighboring areas. Regional mobilizations, transport strikes, and road blockades have also been carried on by indigenous, peasant and people's movements months before the national protest.
The Ecuadorian Confederation of Indigenous Nationalities (Conaie) denounced State's violent measures that resulted in 2,000 injured, 1,000 prisoners, 10 killed, 100 missing, and human rights violations, and the death of indigenous leader Inocencio Tucumbi. During the national strike, the government also arrested opposition figures, employed mass detentions of protesters, arbitrary arrests, torture, and repression of media outfits that reported on what's happening on the ground.
At the heart of the national strike is the militancy of Ecuadorian people – the workers, trade unions, indigenous and student organizations – against the imposition of "Paquetazo" (package) as part of the Moreno government's commitment to the $4.2 billion IMF loan. Part of this IMF loan is the conditionality to implement Decree 883 that will remove state subsidies on diesel and gasoline, increasing the prices of goods and commodities. Due to the massive action of Ecuadorian people, the government rescinded the said decree in a televised talk of Moreno and Indigenous leaders.
Still, the fight is far from over as government is still set to increase people's taxes while eliminating tax hurdles and restrictions for foreign capital to come and go from the country, flexibility, and deregulation of work resulting in wage cuts and labor insecurity, and privatization of public utilities among others under the signed agreement with US-led IMF.
IPMSDL stands that the Ecuadorian peoples' rejection of US-led IMF's neoliberal agenda, including austerity measures, trade, and investment liberalisation, privatisation of social services and state assets, and deregulation of key sectors, is just and urgent to assert their rights. Amid the invasion of multinational mining corporations, dam projects and foreign agribusiness in indigenous lands, these additional attacks of the IMF's bankrupt neoliberal agenda only systematize the growing inequality between the rich and marginalized sectors and exacerbates human rights violations.
We salute the courage of the people of Ecuador that sparked solidarity from Indigenous communities across Latin America, in the Amazon, and across the world, facing the common struggle against political and economic havoc brought by State fascism, imperialist powers, and institutions.
We enjoin everyone to remain vigilant as IMF-dictated programs are still in place. Let us also unite in calling for immediate and independent investigation for those killed, arrested, missing and injured. Let us continue to demand accountability and justice from IMF and the Moreno government as protesters and organizations remain targeted with criminal charges, tagged as terrorists, attacked by legal cases and harassed by State forces after the national protest.
In the face of intensified repression and neoliberal offensives, our collective action is our greatest weapon. The people united will never be defeated!
Reference:
Beverly Longid, Global Coordinator
[email protected]
Saludos al pueblo de Ecuador! Oponerse a las políticas neoliberales en bancarrota y derrotar todos los ataques imperialistas!
El Movimiento Internacional de los Pueblos Indígenas por la Autodeterminación y la Liberación (IPMSDL) se une al pueblo de Ecuador después de la histórica victoria de la protesta nacional de 12 días, encabezada principalmente por los Pueblos Indígenas, contra las políticas neoliberales del gobierno del presidente Lenin Moreno dictadas por el Fondo Monetario Internacional (FMI).
Alrededor de 20.000 ecuatorianos del norte y del sur del país, incluyendo a las comunidades indígenas venideras, marcharon hacia la capital, Quito, en medio de una represión militar y policial intensificada tras la declaración del Estado de Excepción (60 días de cancelación de los derechos a celebrar reuniones y protestas). La declaración militarizó fuertemente Quito y las áreas vecinas. Movilizaciones regionales, huelgas de transporte y bloqueos de carreteras también han sido llevadas a cabo por movimientos indígenas, campesinos y populares meses antes de la protesta nacional.
La Confederación Ecuatoriana de Nacionalidades Indígenas (Conaie) denunció las medidas violentas del Estado que resultaron en 2.000 heridos, 1.000 prisioneros, 10 muertos, 100 desaparecidos y violaciones a los derechos humanos, y la muerte del líder indígena Inocencio Tucumbi. Durante la huelga nacional, el gobierno también arrestó a figuras de la oposición, empleó detenciones masivas de manifestantes, arrestos arbitrarios, torturas y represión de grupos mediáticos que informaron sobre lo que está ocurriendo en el terreno.
En el centro del paro nacional está la militancia del pueblo ecuatoriano -los trabajadores, los sindicatos, las organizaciones indígenas y estudiantiles- contra la imposición del "Paquetazo" (paquete) como parte del compromiso del gobierno de Moreno con el préstamo del FMI de 4.200 millones de dólares. Parte de este préstamo del FMI es la condicionalidad para implementar el Decreto 883 que eliminará los subsidios estatales al diesel y la gasolina, aumentando los precios de los bienes y los productos básicos. Debido a la acción masiva del pueblo ecuatoriano, el gobierno revocó dicho decreto en una charla televisada de líderes morenos e indígenas.
Aún así, la lucha dista mucho de haber terminado, ya que el gobierno aún está dispuesto a aumentar los impuestos de las personas y a eliminar los obstáculos y restricciones fiscales para que el capital extranjero vaya y venga del país, la flexibilidad y la desregulación del trabajo, lo que resulta en recortes salariales e inseguridad laboral, y la privatización de los servicios públicos, entre otras cosas, en virtud del acuerdo firmado con el FMI dirigido por Estados Unidos.
IPMSDL sostiene que el rechazo del pueblo ecuatoriano a la agenda neoliberal del FMI liderada por Estados Unidos, incluyendo las medidas de austeridad, la liberalización del comercio y la inversión, la privatización de los servicios sociales y los activos estatales, y la desregulación de sectores clave, es justo y urgente para hacer valer sus derechos. En medio de la invasión de corporaciones mineras multinacionales, proyectos de represas y agronegocios extranjeros en tierras indígenas, estos ataques adicionales de la agenda neoliberal en bancarrota del FMI sólo sistematizan la creciente desigualdad entre los sectores ricos y marginados y exacerban las violaciones de los derechos humanos.
Saludamos la valentía del pueblo ecuatoriano que suscitó la solidaridad de las comunidades indígenas de toda América Latina, en la Amazonía y en todo el mundo, frente a la lucha común contra los estragos políticos y económicos causados por el fascismo del Estado, las potencias imperialistas y las instituciones.
Instamos a todos a permanecer vigilantes mientras los programas dictados por el FMI siguen en marcha. Unámonos también para pedir una investigación inmediata e independiente de los muertos, detenidos, desaparecidos y heridos. Sigamos exigiendo rendición de cuentas y justicia al FMI y al gobierno de Moreno, ya que los manifestantes y las organizaciones siguen siendo blanco de cargos criminales, etiquetados como terroristas, atacados por casos legales y acosados por las fuerzas del Estado después de la protesta nacional.
Ante la intensificación de la represión y las ofensivas neoliberales, nuestra acción colectiva es nuestra mayor arma. ¡El pueblo unido jamás será vencido!
Referencia:
Beverly Longid, Coordinadora Global
[email protected]
Saluez le peuple équatorien ! Opposez-vous aux politiques néolibérales en faillite et vainquez toutes les attaques impérialistes !
Le Mouvement international des peuples autochtones pour l'autodétermination et la libération (IPMSDL) se tient aux côtés du peuple équatorien après la victoire historique des 12 jours de protestation nationale, principalement menée par les peuples autochtones, contre les politiques néolibérales du gouvernement du président Lenin Moreno, dictées par le Fonds monétaire international (FMI).
Environ 20 000 Équatoriens du nord et du sud du pays, y compris les communautés autochtones à venir, ont marché vers la capitale Quito dans un climat de répression militaire et policière accrue à la suite de la déclaration de l'État d'exception (60 jours d'annulation du droit de tenir des réunions et des manifestations). La déclaration a fortement militarisé Quito et les régions voisines. Des mobilisations régionales, des grèves des transports et des barrages routiers ont également été menés par des mouvements indigènes, paysans et populaires des mois avant la manifestation nationale.
La Confédération équatorienne des nationalités autochtones (Conaie) a dénoncé les mesures violentes de l'État qui ont fait 2 000 blessés, 1 000 prisonniers, 10 morts, 100 disparus et les violations des droits de l'homme, et la mort du dirigeant autochtone Inocencio Tucumbi. Pendant la grève nationale, le gouvernement a également arrêté des personnalités de l'opposition, procédé à des détentions massives de manifestants, procédé à des arrestations arbitraires, à des tortures et à la répression des médias qui ont rendu compte de ce qui se passe sur le terrain.
Au cœur de la grève nationale se trouve le militantisme du peuple équatorien – les travailleurs, les syndicats, les organisations indigènes et étudiantes – contre l'imposition du "Paquetazo" (paquet) dans le cadre de l'engagement du gouvernement Moreno envers le prêt de 4,2 milliards $ du FMI. Une partie de ce prêt du FMI est liée à la conditionnalité de la mise en œuvre du décret 883 qui supprimera les subventions de l'État sur le diesel et l'essence, augmentant ainsi les prix des biens et des marchandises. En raison de l'action massive du peuple équatorien, le gouvernement a annulé ledit décret dans un entretien télévisé de Moreno et des dirigeants autochtones.
Pourtant, la lutte est loin d'être terminée puisque le gouvernement est toujours prêt à augmenter les impôts des gens tout en éliminant les obstacles fiscaux et les restrictions à l'entrée et à la sortie des capitaux étrangers du pays, la flexibilité et la déréglementation du travail qui entraînent des réductions salariales et l'insécurité du travail, la privatisation des services publics, notamment en vertu de l'accord signé avec le FMI dirigé par les États-Unis.
L'IPMSDL estime qu'il est juste et urgent que le peuple équatorien rejette le programme néolibéral du FMI dirigé par les États-Unis, notamment les mesures d'austérité, la libéralisation du commerce et des investissements, la privatisation des services sociaux et des actifs publics et la déréglementation des secteurs clés, pour faire valoir ses droits. Au milieu de l'invasion des multinationales minières, des projets de barrages et des agro-industries étrangères sur les terres autochtones, ces attaques supplémentaires contre le programme néolibéral en faillite du FMI ne font que systématiser l'inégalité croissante entre les secteurs riches et marginalisés et aggraver les violations des droits humains.
Nous saluons le courage du peuple équatorien qui a suscité la solidarité des communautés indigènes d'Amérique latine, d'Amazonie et du monde entier face à la lutte commune contre les ravages politiques et économiques causés par le fascisme d'État, les puissances impérialistes et les institutions.
Nous exhortons tout le monde à rester vigilant, car les programmes imposés par le FMI sont toujours en place. Unissons-nous également pour demander une enquête immédiate et indépendante sur les personnes tuées, arrêtées, disparues et blessées. Continuons d'exiger que le FMI et le gouvernement Moreno rendent des comptes et rendent justice au FMI et au gouvernement Moreno, car les manifestants et les organisations sont toujours la cible d'accusations criminelles, étiquetés comme terroristes, attaqués par des poursuites judiciaires et harcelés par les forces de l'État après la manifestation nationale.
Face à l'intensification de la répression et aux offensives néolibérales, notre action collective est notre meilleure arme. Le peuple uni ne sera jamais vaincu !
Référence :
Beverly Longid, Coordinatrice mondiale
[email protected]
(Spanish and French translations by DeepL.)