Stop the attacks on Jumma people! Defend their lands, uphold their rights!
November 6, 2020
ipmsdl_admin
Categories:

Statement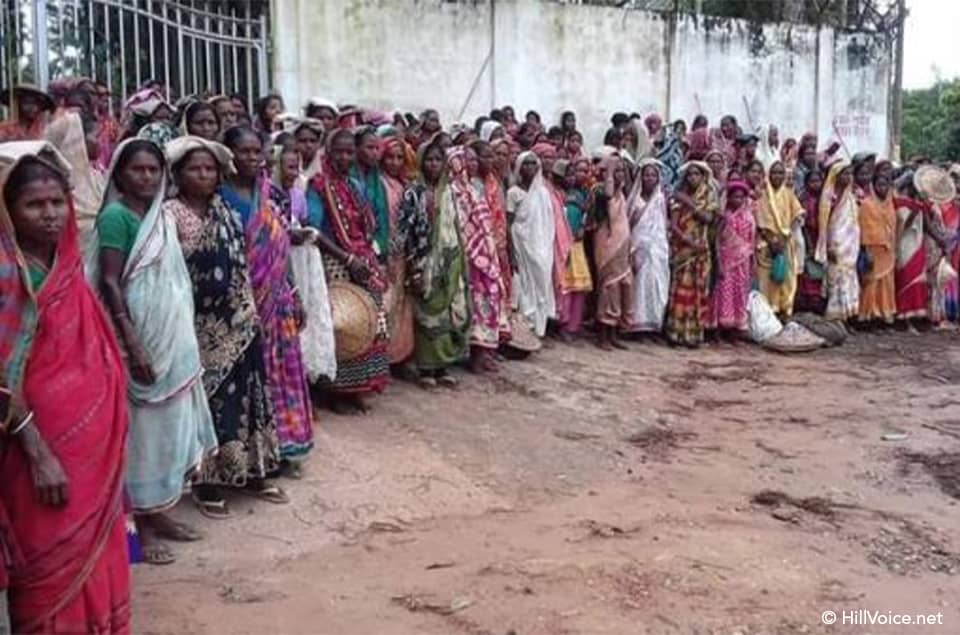 The International Indigenous Peoples' Movement for Self-Determination and Liberation (IPMSDL) condemns the recent attacks, land encroachment, and terrorist-tagging against the indigenous communities of Chittagong Hill Tracts (CHT) in Bangladesh amid the continuing pandemic and government's failure to address long-standing economic and peace crises.
Instead of immediate humanitarian support, indigenous communities in the CHT face threats, discrimination, humiliation, brutal violence, rape and uncertainty everyday.
On October 27, the Border Guards Bangladesh (BGB), an army-backed paramilitary group, attempted to illegally occupy Jumma lands in Panchhari. Jumma villagers' protests were met with violence, threats of arrest, and even accusing protesters as "extremists" by the BGB.
While in Rajasthali, last October 17, 23 indigenous leaders, activists and Parbatya Chattagram Jana Samhati Samiti (PCJSS) leaders were criminalized through alleged murder charges and accusations as members of "armed hill terrorists."
The International CHT Commission expressed their concern on the displacement of the Mro people, part of the Jumma community residing in CHT, due to the plans of building a luxurious hotel in Bandarban as part of tourism projects in CHT.
Without any meaningful recognition of indigenous Jumma's right to free, prior and informed consent, IPMSDL maintainsthat any projects initiated in indigenous lands are a blatant attack to people's right to development and self-determination.
Especially in CHT, we call out the State, military and police not only for failing to address but also for perpetuating indigenous peoples rights violations with impunity. For every Jumma people whose rights are violated and for every inch of ancestral land stolen and plundered by the government or corporations, the government further display its insincerity to implement the CHT Peace Accord.
We call for justice and independent investigation on all the cases of injustice against the indigenous Jumma and their communities, to pull-out all military and para-military forces occupying their lands, and to stop all disputed 'development' projects in their territories. Under the current global crisis, we call for immediate humanitarian, health and economic support for their most basic needs.
Let us stand with the Jummas, for justice, land and self-determination against militarization and development aggression of ancestral territories.
Stop the attacks on Jumma people!
Protection not Discrimination!
Defend IP Rights! Defend Ancestral Lands!
Struggle for self-determination!
Reference:
Beverly Longid, Global Coordinator
info@ipmsdl.org
---
¡Detengan los ataques a la gente Jumma! ¡Defiendan sus tierras, defiendan sus derechos!
El Movimiento Internacional de los Pueblos Indígenas para la Libre Determinación y la Liberación (IPMSDL) condena los recientes ataques, la invasión de tierras y el marcado terrorista contra las comunidades indígenas de Chittagong Hill Tracts (CHT) en Bangladesh, en medio de la continua pandemia y el fracaso del gobierno para abordar la prolongada crisis económica y de paz.
En lugar de un apoyo humanitario inmediato, las comunidades indígenas de las Colinas de Chittagong viven cada día bajo amenazas, discriminación, humillación, violencia brutal, violaciones e incertidumbre.
El 27 de octubre, la Guardia Fronteriza de Bangladesh (BGB), un grupo paramilitar respaldado por el ejército, intentó ocupar ilegalmente las tierras de los jumma en Panchhari. Las protestas de los aldeanos jumma fueron recibidas con violencia, amenazas de arresto e incluso acusaciones de "extremistas" por parte de la BGB.
En Rajastán, el 17 de octubre pasado, 23 dirigentes indígenas, activistas y líderes de Parbatya Chattagram Jana Samhati Samiti (PCJSS) fueron criminalizados mediante presuntos cargos de asesinato y acusaciones como miembros de "terroristas armados de las colinas".
La Comisión Internacional del CHT expresó su preocupación por el desplazamiento del pueblo Mro, parte de la comunidad Jumma que reside en el CHT, debido a los planes de construir un lujoso hotel en Bandarban como parte de proyectos turísticos en el CHT.
Sin un reconocimiento significativo del derecho de los indígenas jumma al consentimiento libre, previo e informado, el IPMSDL sostiene que todo proyecto en tierras indígenas es un flagrante ataque al derecho de los pueblos al desarrollo y la libre determinación.
Especialmente en el CHT, hacemos un llamamiento al Estado, al ejército y a la policía no sólo por no abordar las violaciones de los derechos de los pueblos indígenas sino también por perpetuarlas con impunidad. La seriedad del gobierno en la aplicación del Acuerdo de Paz del CHT, que forma parte de la victoria de los pueblos nativos por su cultura, idioma y autodeterminación, sigue siendo un engaño para cada pueblo jumma cuyos derechos son violados o para cada pulgada de tierra ancestral arrebatada por el gobierno o la corporación.
Hacemos un llamamiento para que se haga justicia y se investigue de forma independiente toda la injusticia contra los indígenas jumma y sus comunidades, para que se retiren todas las fuerzas militares y paramilitares de sus tierras y se detengan todos los proyectos de "desarrollo" en disputa en sus territorios. En el marco de la actual crisis mundial, hacemos un llamamiento para que se preste un apoyo humanitario, sanitario y económico inmediato a sus necesidades más básicas.
Permanezcamos con los jummas, por la justicia, la tierra y la autodeterminación contra la militarización y la agresión del desarrollo de los territorios ancestrales.
Detengan los ataques al pueblo Jumma!
Protección, no discriminación!
Defender los derechos de la propiedad intelectual! Defender las tierras ancestrales!
Luchar por la autodeterminación!
Referencia:
Beverly Longid, Coordinadora Global
info@ipmsdl.org
---
Arrêtez les attaques contre le peuple Jumma ! Défendez leurs terres, faites respecter leurs droits !
Le Mouvement international des peuples indigènes pour l'autodétermination et la libération (IPMSDL) condamne les récentes attaques, l'empiètement sur les terres et le martelage terroriste contre les communautés indigènes des Chittagong Hill Tracts (CHT) au Bangladesh, alors que la pandémie se poursuit et que le gouvernement ne parvient pas à résoudre la crise économique et la crise de la paix qui sévit depuis longtemps.
Au lieu de bénéficier d'une aide humanitaire immédiate, les communautés indigènes des CHT vivent au quotidien les menaces, la discrimination, l'humiliation, la violence brutale, le viol et l'incertitude.
Le 27 octobre, les Border Guards Bangladesh (BGB), un groupe paramilitaire soutenu par l'armée, a tenté d'occuper illégalement les terres des Jumma à Panchhari. Les protestations des villageois Jumma ont été accueillies avec violence, des menaces d'arrestation, et même l'accusation par le BGB de qualifier les manifestants d'"extrémistes".
Lors de leur séjour au Rajasthali, le 17 octobre dernier, 23 dirigeants, militants et leaders indigènes du Parbatya Chattagram Jana Samhati Samiti (PCJSS) ont été criminalisés par des accusations de meurtre et de membres de "terroristes armés des collines".
La Commission internationale CHT a exprimé son inquiétude sur le déplacement du peuple Mro, une partie de la communauté Jumma résidant à CHT, en raison des plans de construction d'un hôtel de luxe à Bandarban dans le cadre de projets touristiques à CHT.
Sans reconnaissance significative du droit des Jumma autochtones au consentement libre, préalable et informé, l'IPMSDL estime que tout projet sur les terres autochtones est une attaque flagrante contre le droit des peuples au développement et à l'autodétermination.
En particulier à CHT, nous demandons à l'État, à l'armée et à la police non seulement de ne pas s'occuper des violations des droits des peuples indigènes, mais aussi de les perpétuer en toute impunité. Le sérieux avec lequel le gouvernement met en œuvre l'accord de paix de CHT, qui fait partie de la victoire des peuples indigènes pour leur culture, leur langue et leur autodétermination, reste un canular pour chaque peuple Jumma dont les droits sont violés ou pour chaque pouce de terre ancestrale saisi par le gouvernement ou l'entreprise.
Nous demandons que justice soit faite et qu'une enquête indépendante soit menée sur toutes les injustices commises à l'encontre des Jumma et de leurs communautés, que toutes les forces militaires et paramilitaires soient retirées de leurs terres et que tous les projets de "développement" contestés sur leurs territoires soient arrêtés. Dans le contexte de la crise mondiale actuelle, nous demandons un soutien humanitaire, sanitaire et économique immédiat pour répondre à leurs besoins les plus fondamentaux.
Soutenons les Jummas, pour la justice, la terre et l'autodétermination contre la militarisation et l'agression du développement des territoires ancestraux.
Arrêtez les attaques contre le peuple Jumma !
La protection, pas la discrimination !
Défendez les droits de la propriété intellectuelle ! Défendez les terres ancestrales !
Luttez pour l'autodétermination !
Référence :
Beverly Longid, coordinatrice mondiale
info@ipmsdl.org
(Translations by DeepL.)