Strongly condemn another "Lianga Massacre"
June 16, 2021
ipmsdl_admin
Categories:

Statement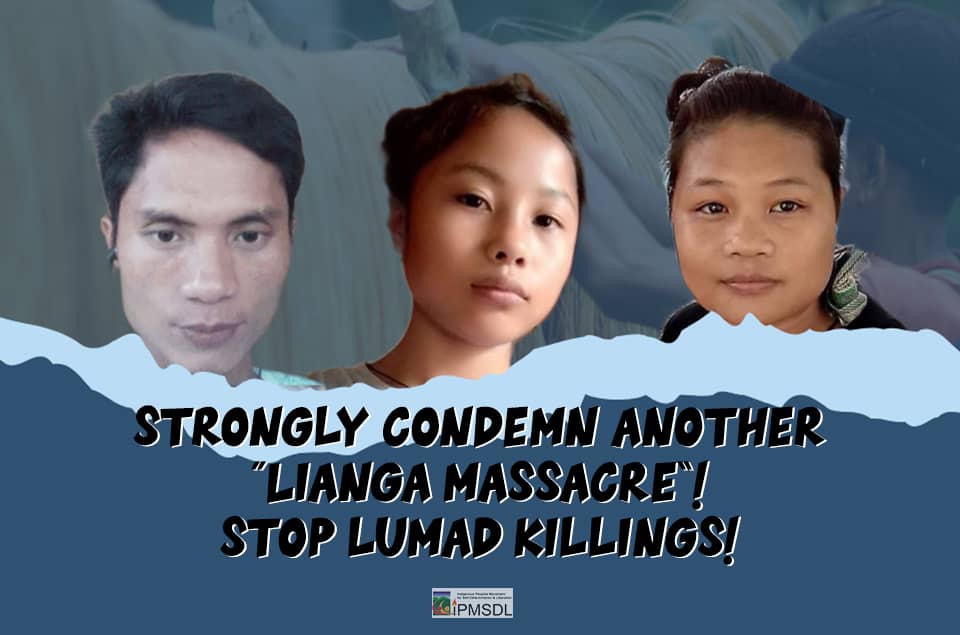 The International Indigenous Peoples Movement for Self-Determination and Liberation strongly condemns the murder of three indigenous Lumad by the Philippine Army today in Lianga town, Surigao del Sur in Mindanao, Philippines. 
Angel Rivas, a Grade 6 student of Lumad school Tribal Filipino Program of Surigao del Sur (TRIFPSS), and Willy Rodriguez and Lenie Rivas, members of Lumad organization Malahutayong Pakigbisog alang sa Sumusunod (MAPASU/ Continuing Struggle for the Next Generation), were killed after the 3rd Special Battalion Force of the Philippine Army indiscriminately fired around 1 p.m. on June 15.
Together with some Lumad farmers, the victims asked permission from the military to harvest their abaca hemp, yet the military indiscriminately fired, murdering the victims. The murdered bodies were then purportedly presented by the army as members of armed insurgents New People's Army (NPA). Here, clear violations by the army of International Humanitarian Law (IHL) for the protection of civilians and non-combatants, humane treatment and respect of civilian lives without discrimination must be probed. More so, indiscriminate firing within civilian communities, especially Indigenous villages, violates IHL on weapons and tactics that are by nature indiscriminate.
Philippine Army troops have been encamping in the Lumad communities in Lianga for several months amid strong opposition and the army's grave violation of Free, Prior, Informed Consent of the community. In Lianga and other IP communities, military encampments in IP communities continue and result to various forms of human rights violations such as rape, mass evacuations, red-tagging and murder.
On September 1, 2015, three Lumad leaders and Lumad school pioneers Dionel "Onel" Campos, Aurello "Bello" Sinzo and Emerito "Emok" Samarca were massacred by Philippine Army-trained paramilitaries. Again, on January 24, 2019, two Lumad-Manobo abaca farmers Randel Gallego and Emel Tejero were killed by the Philippine Army accusing them of being combatant NPA rebels. Around 140 activists and Lumad land and rights defenders have been killed since President Duterte came to power, including Campos and others.
This recent wave of Lumad killings comes in time when the International Criminal Court (ICC) decided to investigate the thousands of victims of the government's extrajudicial killings. This "policy of killings" by the Duterte regime underscores the long-standing spiralling rights violations towards Indigenous Peoples and Lumad that has long been condemned by the international community.
We urge everyone to amplify the urgent and crucial call to hold the Duterte government, the Philippine military and state forces accountable for its murderous actions and policies with impunity, and support all efforts for an independent, international investigation.
We call all Indigenous groups and advocates, rights defenders, activists and the international community to lend their voice and call for justice for Angel, Willy, Lenie and all the victims before another life is lost.
Such precarious times demand our stronger solidarity and urgent actions. These times demand that we decisively stand for justice and topple all authoritarian and fascist regimes that continue to trample on our rights, oppress and kill our people.#
Reference:
Beverly Longid, Global Coordinator
info@ipmsdl.org
Whatsapp +63927901983
---
Condenamos enérgicamente otra "Masacre de Lianga"
El Movimiento Internacional de los Pueblos Indígenas por la Autodeterminación y la Liberación condena enérgicamente el asesinato de tres indígenas lumad por parte del ejército filipino hoy en la ciudad de Lianga, Surigao del Sur en Mindanao, Filipinas.
Ángel Rivas, estudiante de sexto grado de la escuela Lumad Tribal Filipino Program of Surigao del Sur (TRIFPSS), y Willy Rodríguez y Lenie Rivas, miembros de la organización Lumad Malahutayong Pakigbisog alang sa Sumusunod (MAPASU/ Lucha Continua para la Próxima Generación), fueron asesinados después de que la Fuerza del Tercer Batallón Especial del Ejército Filipino disparara indiscriminadamente alrededor de la 1 de la tarde del 15 de junio.
Junto con algunos agricultores lumad, las víctimas pidieron permiso a los militares para cosechar su cáñamo de abacá, pero los militares dispararon indiscriminadamente, asesinando a las víctimas. Los cuerpos asesinados fueron luego supuestamente presentados por el ejército como miembros de los insurgentes armados del Nuevo Ejército del Pueblo (NPA). En este caso, deben investigarse las claras violaciones por parte del ejército del Derecho Internacional Humanitario (DIH) para la protección de civiles y no combatientes, el trato humano y el respeto a la vida de los civiles sin discriminación. Más aún, los disparos indiscriminados dentro de las comunidades civiles, especialmente en las aldeas indígenas, violan el DIH sobre las armas y las tácticas que son por naturaleza indiscriminadas.
Las tropas del ejército filipino llevan varios meses acampando en las comunidades lumad de Lianga en medio de una fuerte oposición y de la grave violación por parte del ejército del consentimiento libre, previo e informado de la comunidad. En Lianga y otras comunidades indígenas, los campamentos militares en las comunidades indígenas continúan y dan lugar a diversas formas de violaciones de los derechos humanos, como violaciones, evacuaciones masivas, señalizaciones y asesinatos.
El 1 de septiembre de 2015, tres líderes y pioneros escolares lumad, Dionel "Onel" Campos, Aurello "Bello" Sinzo y Emerito "Emok" Samarca, fueron masacrados por paramilitares entrenados por el ejército filipino. De nuevo, el 24 de enero de 2019, dos agricultores de abacá Lumad-Manobo, Randel Gallego y Emel Tejero, fueron asesinados por el Ejército de Filipinas acusándolos de ser rebeldes combatientes del NPA. Alrededor de 140 activistas y defensores de la tierra y los derechos de los lumad han sido asesinados desde que el presidente Duterte llegó al poder, entre ellos Campos y otros.
Esta reciente oleada de asesinatos de lumad llega en el momento en que la Corte Penal Internacional (CPI) ha decidido investigar a las miles de víctimas de las ejecuciones extrajudiciales del gobierno. Esta "política de asesinatos" del régimen de Duterte subraya la prolongada espiral de violaciones de derechos hacia los pueblos indígenas y los lumad, condenada desde hace tiempo por la comunidad internacional.
Instamos a todo el mundo a amplificar el llamamiento urgente y crucial para que el gobierno de Duterte, el ejército filipino y las fuerzas del Estado rindan cuentas por sus acciones y políticas asesinas con impunidad, y a apoyar todos los esfuerzos para una investigación independiente e internacional.
Hacemos un llamamiento a todos los grupos y defensores indígenas, a los defensores de los derechos, a los activistas y a la comunidad internacional para que presten su voz y pidan justicia para Ángel, Willy, Lenie y todas las víctimas antes de que se pierda otra vida.
Estos tiempos precarios exigen nuestra mayor solidaridad y acciones urgentes. Estos tiempos exigen que nos posicionemos con decisión a favor de la justicia y derroquemos a todos los regímenes autoritarios y fascistas que siguen pisoteando nuestros derechos, oprimiendo y matando a nuestra gente.#
Referencia:
Beverly Longid, Coordinadora Mundial
info@ipmsdl.org
Whatsapp +63927901983
---
Condamne fermement un nouveau "Massacre de Lianga".
Le Mouvement international des peuples autochtones pour l'autodétermination et la libération condamne fermement le meurtre de trois autochtones Lumad par l'armée philippine aujourd'hui dans la ville de Lianga, à Surigao del Sur, à Mindanao, aux Philippines.
Angel Rivas, élève de sixième année de l'école Lumad Tribal Filipino Program of Surigao del Sur (TRIFPSS), ainsi que Willy Rodriguez et Lenie Rivas, membres de l'organisation Lumad Malahutayong Pakigbisog alang sa Sumusunod (MAPASU / Lutte continue pour la prochaine génération), ont été tués après que la force du 3e bataillon spécial de l'armée philippine a tiré sans discernement vers 13 heures le 15 juin.
Avec quelques agriculteurs Lumad, les victimes ont demandé la permission aux militaires de récolter leur chanvre abaca, mais les militaires ont tiré sans discernement, tuant les victimes. Les corps assassinés ont ensuite été présentés par l'armée comme des membres des insurgés armés de la Nouvelle armée populaire (NPA). Il s'agit ici de violations manifestes par l'armée du droit international humanitaire (DIH) relatif à la protection des civils et des non-combattants, au traitement humain et au respect de la vie des civils sans discrimination. Plus encore, les tirs aveugles au sein des communautés civiles, en particulier les villages indigènes, violent le DIH sur les armes et les tactiques qui sont par nature aveugles.
Les troupes de l'armée philippine campent dans les communautés Lumad de Lianga depuis plusieurs mois, malgré une forte opposition et la grave violation par l'armée du consentement libre, préalable et éclairé de la communauté. À Lianga et dans d'autres communautés IP, les campements militaires se poursuivent et donnent lieu à diverses formes de violations des droits de l'homme telles que des viols, des évacuations massives, des marquages rouges et des meurtres.
Le 1er septembre 2015, trois leaders Lumad et pionniers des écoles Lumad, Dionel "Onel" Campos, Aurello "Bello" Sinzo et Emerito "Emok" Samarca, ont été massacrés par des paramilitaires entraînés par l'armée philippine. De nouveau, le 24 janvier 2019, deux cultivateurs d'abaca Lumad-Manobo, Randel Gallego et Emel Tejero, ont été tués par l'armée philippine qui les accusait d'être des rebelles combattants de la NPA. Environ 140 militants et défenseurs des terres et des droits des Lumad ont été tués depuis l'arrivée au pouvoir du président Duterte, dont Campos et d'autres.
Cette récente vague d'assassinats de Lumad intervient au moment où la Cour pénale internationale (CPI) a décidé d'enquêter sur les milliers de victimes des exécutions extrajudiciaires commises par le gouvernement. Cette "politique d'assassinats" du régime Duterte souligne la spirale de violations des droits des peuples autochtones et des Lumad, condamnée depuis longtemps par la communauté internationale.
Nous exhortons tout le monde à amplifier l'appel urgent et crucial visant à tenir le gouvernement Duterte, l'armée philippine et les forces de l'État responsables de ses actions et politiques meurtrières en toute impunité, et à soutenir tous les efforts en faveur d'une enquête internationale indépendante.
Nous appelons tous les groupes et défenseurs autochtones, les défenseurs des droits, les militants et la communauté internationale à prêter leur voix et à réclamer justice pour Angel, Willy, Lenie et toutes les victimes avant qu'une autre vie ne soit perdue.
Ces temps précaires exigent une solidarité plus forte et des actions urgentes. Ces temps exigent que nous prenions résolument position pour la justice et que nous renversions tous les régimes autoritaires et fascistes qui continuent de bafouer nos droits, d'opprimer et de tuer nos concitoyens.#
Référence :
Beverly Longid, coordinatrice mondiale
info@ipmsdl.org
Whatsapp +63927901983