Uphold Bougainville's right to self-determination
December 12, 2019
ipmsdl_admin
Categories:

Statement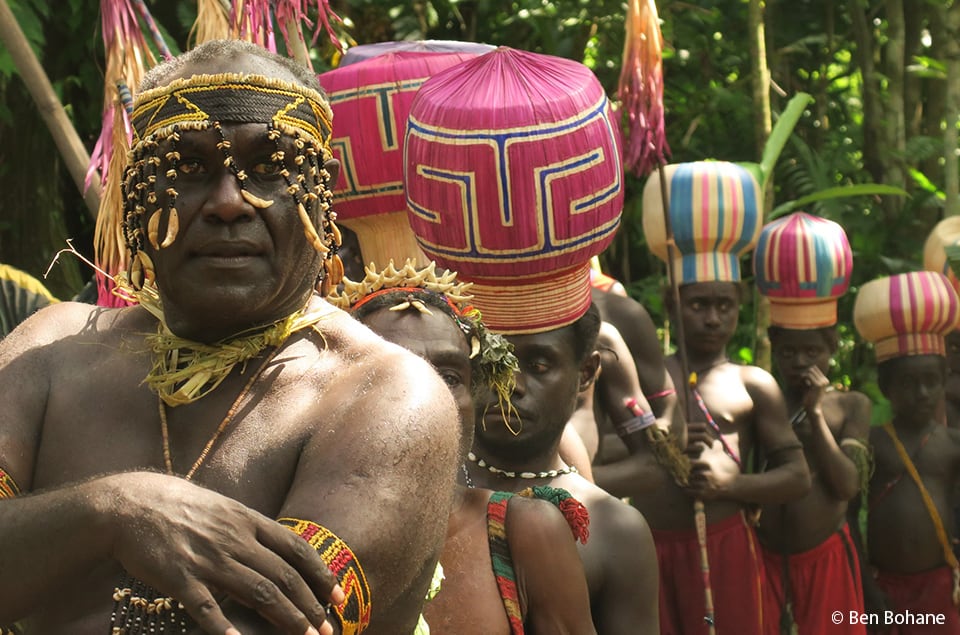 The International Indigenous Peoples Movement for Self-Determination and Liberation (IPMSDL) congratulates the people of Bougainville for the triumphant outcome of the referendum held on 23rd November to 7th December 2019. The result of the referendum, released last December 11, was predominantly in favor of Bouganville's full independence from Papua New Guinea (PNG) with 98.31% voting for independence over the choice of greater autonomy within PNG.  
This referendum was held in fulfillment of a 2001 agreement between the government of PNG and the Autonomous Bougainville Government following a decade-long civil war which led to the death of 15,000-20,000 Bougainvileans.
The island nation of Bougainville, located east of PNG in the Melanesian subregion of Oceania, was merged with the territory of Papua in 1949 while both nations were under Australian occupation.
Just like other colonizations, at the core of it was economic interests as Bougainville was rich with lode gold and copper which led to Australia's Rio Tinto putting up the Panguna Mine in the island. In 1975, PNG took along the territory of Bougainville with it during its declaration of independence from Australia, and became a shareholder of the Panguna Mine which would eventually contribute to over 45% of the country's export revenue. The company has been accused of environmental destruction specifically the poisoning of the Jaba River and the extinction of the flying fox bat in the island.
The mining company is one of the main factors that incited the formation of the Bougainville Revolutionary Army (BRA) which aimed to defend the ancestral territory occupied by the mining site. The conflict between the BRA and PNG Defense Force would then escalate into a civil war with the former fighting for Bougainville's complete secession from PNG.
The success of the referendum is a pronouncement of the Bougainville people's will to be independent and their decisiveness to take control of their destiny as a nation. Moreover, it is an inspiration to the people's struggle in the Pacific region with neighboring nations such as West Papua and New Caledonia undergoing a similar ordeal. It is also a notable milestone in the struggle for self-determination of Indigenous Peoples around the world.
While the vote is non-binding and the final say still remains with the PNG Government, the overwhelming vote for independence cannot be ignored. We challenge the PNG Government to recognize the result of the referendum and to uphold the right of the people to live independently. At the same time, we should remain vigilant to the possible interventions from the US and Australia which has strong economic and political investments in the region.
The International IPMSDL will continue to stand behind the people of Bougainville in their journey towards complete liberation. We call on the international community to echo this support to Bougainville and to all nations engaged in the struggle for self-determination and liberation.
Uphold Bougainville's right to self-determination!
Long live the people of Bougainville!
Reference:
Beverly Longid, Global coordinator
[email protected]
---
Defender el derecho de Bougainville a la autodeterminación
El Movimiento Internacional de los Pueblos Indígenas por la Autodeterminación y la Liberación (IPMSDL) felicita al pueblo de Bougainville por el resultado triunfal del referéndum celebrado del 23 de noviembre al 7 de diciembre de 2019. El resultado del referéndum, dado a conocer el pasado 11 de diciembre, fue predominantemente a favor de la plena independencia de Bouganville de Papúa Nueva Guinea (PNG) con un 98,31% de votos a favor de la independencia sobre la elección de una mayor autonomía dentro de PNG.
Este referéndum se celebró en cumplimiento de un acuerdo de 2001 entre el gobierno de Papua Nueva Guinea y el gobierno autónomo de Bougainville, tras una guerra civil que duró una década y que provocó la muerte de entre 15.000 y 20.000 habitantes de Bougainville.
La nación insular de Bougainville, situada al este de Papúa Nueva Guinea, en la subregión melanesia de Oceanía, se fusionó con el territorio de Papúa en 1949 mientras ambas naciones estaban bajo ocupación australiana.
Al igual que otras colonizaciones, en el centro de la misma se encontraban los intereses económicos, ya que Bougainville era rica en oro y cobre, lo que llevó a la australiana Rio Tinto a instalar la Mina Panguna en la isla. En 1975, PNG se apoderó del territorio de Bougainville durante su declaración de independencia de Australia, y se convirtió en accionista de la Mina Panguna, que finalmente contribuiría a más del 45% de los ingresos de exportación del país. La compañía ha sido acusada de destrucción ambiental, específicamente por el envenenamiento del río Jaba y la extinción del murciélago zorro volador en la isla.
La empresa minera es uno de los principales factores que incitó a la formación del Ejército Revolucionario de Bougainville (BRA), cuyo objetivo era defender el territorio ancestral ocupado por el yacimiento minero. El conflicto entre el BRA y las Fuerzas de Defensa de Papúa Nueva Guinea se convertiría entonces en una guerra civil, en la que el primero lucharía por la completa secesión de Bougainville de Papúa Nueva Guinea.
El éxito del referéndum es una declaración de la voluntad del pueblo de Bougainville de ser independiente y de su decisión de tomar el control de su destino como nación. Además, es una inspiración para la lucha de los pueblos de la región del Pacífico con naciones vecinas como Papua Occidental y Nueva Caledonia que están pasando por una prueba similar. También es un hito notable en la lucha por la libre determinación de los pueblos indígenas de todo el mundo.
Aunque la votación no es vinculante y la última palabra sigue siendo del Gobierno de Papúa Nueva Guinea, no se puede ignorar el abrumador voto a favor de la independencia. Retamos al Gobierno de Papua Nueva Guinea a que reconozca el resultado del referéndum y a que defienda el derecho del pueblo a vivir de manera independiente. Al mismo tiempo, debemos permanecer atentos a las posibles intervenciones de los Estados Unidos y Australia, que tienen fuertes inversiones económicas y políticas en la región.
La IPMSDL Internacional continuará apoyando al pueblo de Bougainville en su viaje hacia la liberación completa. Pedimos a la comunidad internacional que se haga eco de este apoyo a Bougainville y a todas las naciones que participan en la lucha por la libre determinación y la liberación.
Defender el derecho de Bougainville a la autodeterminación!
¡Viva el pueblo de Bougainville!
Referencia:
Beverly Longid, Coordinadora Global
[email protected]
---
Faire respecter le droit de Bougainville à l'autodétermination
Le Mouvement international des peuples autochtones pour l'autodétermination et la libération (IPMSDL) félicite le peuple de Bougainville pour le résultat triomphant du référendum tenu du 23 novembre au 7 décembre 2019. Le résultat du référendum, rendu public le 11 décembre dernier, était principalement en faveur de l'indépendance totale de Bouganville par rapport à la Papouasie-Nouvelle-Guinée (PNG) avec 98,31% des voix en faveur de l'indépendance sur le choix d'une plus grande autonomie en PNG.
Ce référendum a été organisé en application d'un accord conclu en 2001 entre le gouvernement de la PNG et le gouvernement autonome de Bougainville à la suite d'une guerre civile qui a duré une décennie et qui a entraîné la mort de 15 000 à 20 000 bougainvilliens.
La nation insulaire de Bougainville, située à l'est de la PNG dans la sous-région mélanésienne de l'Océanie, a fusionné avec le territoire de la Papouasie en 1949 alors que les deux nations étaient sous occupation australienne.
Tout comme d'autres colonisations, les intérêts économiques étaient au cœur de l'histoire, car Bougainville était riche en or filonien et en cuivre, ce qui a conduit le Rio Tinto australien à installer la mine Panguna sur l'île. En 1975, la Papouasie-Nouvelle-Guinée a emmené avec elle le territoire de Bougainville lors de sa déclaration d'indépendance de l'Australie et est devenue actionnaire de la mine de Panguna, qui allait finalement contribuer à plus de 45% des recettes d'exportation du pays. L'entreprise a été accusée de destruction de l'environnement, notamment d'empoisonnement de la rivière Jaba et de l'extinction de la chauve-souris renarde volante sur l'île.
La compagnie minière est l'un des principaux facteurs qui ont incité à la formation de l'Armée Révolutionnaire de Bougainville (BRA) qui visait à défendre le territoire ancestral occupé par le site minier. Le conflit entre le BRA et la Force de défense de la PNG dégénérerait alors en guerre civile, la première se battant pour la sécession complète de Bougainville de la PNG.
Le succès du référendum témoigne de la volonté du peuple de Bougainville d'être indépendant et de sa détermination à prendre en main son destin en tant que nation. En outre, elle est une source d'inspiration pour la lutte des peuples de la région du Pacifique contre des pays voisins tels que la Papouasie occidentale et la Nouvelle-Calédonie qui connaissent une épreuve similaire. C'est aussi un jalon important dans la lutte pour l'autodétermination des peuples autochtones dans le monde.
Bien que le vote ne soit pas contraignant et que le gouvernement de la PNG ait encore le dernier mot, le vote écrasant en faveur de l'indépendance ne peut être ignoré. Nous mettons au défi le gouvernement de la PNG de reconnaître le résultat du référendum et de défendre le droit du peuple à vivre de manière indépendante. Dans le même temps, nous devons rester vigilants face aux éventuelles interventions des États-Unis et de l'Australie, qui ont de forts investissements économiques et politiques dans la région.
L'IPMSDL internationale continuera de soutenir le peuple de Bougainville dans son cheminement vers la libération complète. Nous appelons la communauté internationale à faire écho à cet appui à Bougainville et à toutes les nations engagées dans la lutte pour l'autodétermination et la libération.
Faire respecter le droit de Bougainville à l'autodétermination !
Vive le peuple de Bougainville !
Référence :
Beverly Longid, Coordinatrice mondiale
[email protected]