Urgent Appeal to Surface Lumad leader Datu Jomorito Goaynon
January 28, 2019
nas
Categories:

Statement
Statement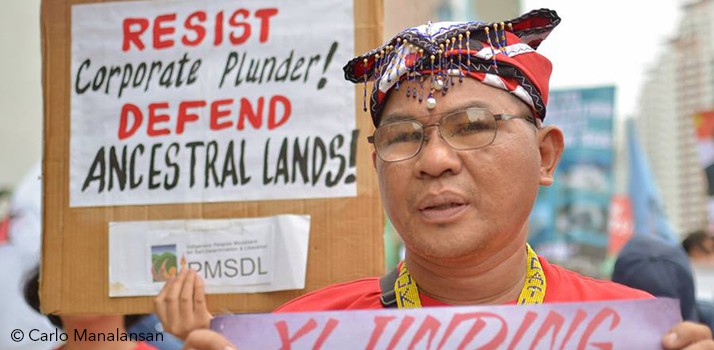 The Indigenous Peoples Movement for Self-Determination and Liberation (IPMSDL) calls to surface Indigenous Lumad leader Datu Jomorito Goaynon, chairperson of Kalumbay Regional Lumad Organization (IPMSDL member organization), and Ireneo Udarbe, chairperson of Kilusang Magbubukid ng Pilipinas – Northern Mindanao Region, who have been reportedly missing since the morning of January 28.

Both Datu Jomorito and Ireneo were on their way to meet Pig-uyonan, a member organization of Kalumbay, which happened to have a dialogue with 65th IB and the Commission on Human Rights (CHR) in the morning. The dialogue aims to discuss about the recent harassment incident last January 22, 2019 to some members of Pig-uyonan as 65th IB was forcing them to surrender as fake rebel insurgents.

Datu Jomorito Goaynon is a staunch Indigenous leader who has been active in different campaigns against the continuing Martial Law in Mindanao which heightens the presence State forces in their ancestral lands targeted by giant foreign extractive firms, energy corporations, and foreign-owned plantations. He has been at the forefront of the struggle for Indigenous Peoples' assertion for the right to self-determination, resumption of peace negotiations between government and the rebels, and lifting of martial rule in Mindanao.

His critical voice against State fascism and tyranny, injustices, and exploitation has placed him under heightened surveillance, harassment, and intimidation by State military forces. Tarpaulins and other posters with the photo of Datu Jomrito accusing him as recruiter of the New People's Army (NPA) are installed in the Municipality of Talakag, Bukidnon.

Last July 4, 2018, Datu Jomorito, with several rights defenders in Mindanao, was among those jailed for trumped-up murder charges, which later released on bail. Said leaders have been target of state's criminalization and intimidation tactics to undermine their campaigns against destructive agribusiness plantation and other projects in Northern Mindanao, and their fight against the forcible displacements due to military encampment in Lumad schools and communities.

Datu Jomorito and Ireneo's disappearance is similar to many unsolved cases of military and State-sponsored attacks on Indigenous Peoples and human rights defenders. Thus, we demand accountability from State armed forces, particularly the 65th Infantry Battalion, and the Philippine National Police to swiftly and transparently disclose all necessary information on the condition and whereabouts of the two leaders. We demand them to surface and ensure the leaders' utmost safety.

We call on the national and local government units to uphold civilian rule and the rule of law, amidst Martial Law in Mindanao, and help locate and protect the two leaders. We demand the Philippine government to uphold internationally recognized human rights standards to which the Philippines is a signatory. We condemn any attempt to silence dissent and the continuing criminalization and attacks to human rights defenders.

IPMSDL calls on all human rights institutions, peoples organizations, and the international community to raise the alarm and condemn all forms of threats and attacks against rights defenders, Indigenous and peasant leaders, human rights activists and advocates.
Reference:
Beverly Longid, Glocal Coordinator
info@ipmsdl.org
Llamamiento urgente al líder de Surface Lumad Datu Jomorito Goaynon
El Movimiento de los Pueblos Indígenas por la Autodeterminación y la Liberación (IPMSDL) llama a la superficie al líder indígena Lumad Datu Jomorito Goaynon, presidente de la Organización Regional Lumad de Kalumbay (organización miembro del IPMSDL), e Ireneo Udarbe, presidente de Kilusang Magbubukid ng Pilipinas – Región del Norte de Mindanao, que supuestamente han estado desaparecidos desde la mañana del 28 de enero.
Tanto Datu Jomorito como Ireneo iban a reunirse con Pig-uyonan, una organización miembro de Kalumbay, que por la mañana dialogó con el 65º IB y la Comisión de Derechos Humanos (CDH). El diálogo tiene como objetivo discutir sobre el reciente incidente de acoso ocurrido el pasado 22 de enero de 2019 a algunos miembros de Pig-uyonan, ya que el 65º IB les estaba obligando a rendirse como falsos insurgentes rebeldes.
Datu Jomorito Goaynon es un líder indígena acérrimo que ha participado activamente en diferentes campañas contra la continuación de la Ley Marcial en Mindanao, que aumenta la presencia de las fuerzas del Estado en sus tierras ancestrales atacadas por gigantescas empresas extractivas extranjeras, corporaciones energéticas y plantaciones de propiedad extranjera. Ha estado a la vanguardia de la lucha por la afirmación del derecho a la autodeterminación por parte de los pueblos indígenas, la reanudación de las negociaciones de paz entre el gobierno y los rebeldes y el levantamiento del régimen marcial en Mindanao.
Su voz crítica contra el fascismo y la tiranía del Estado, las injusticias y la explotación lo han puesto bajo una mayor vigilancia, acoso e intimidación por parte de las fuerzas militares del Estado. En el municipio de Talakag, en Bukidnon, se han instalado lonas y otros carteles con la foto de Datu Jomrito acusándolo de reclutador del Nuevo Ejército del Pueblo (NPA).
El pasado 4 de julio de 2018, Datu Jomorito, junto con varios defensores de los derechos humanos en Mindanao, fue uno de los encarcelados por cargos de asesinato simulado, que luego fue puesto en libertad bajo fianza. Dichos líderes han sido blanco de las tácticas de criminalización e intimidación del Estado para socavar sus campañas contra las plantaciones agroindustriales destructivas y otros proyectos en el norte de Mindanao, y su lucha contra los desplazamientos forzosos debidos a los campamentos militares en las escuelas y comunidades de Lumad.
La desaparición de Datu Jomorito e Ireneo es similar a muchos casos sin resolver de ataques militares y patrocinados por el Estado contra Pueblos Indígenas y defensores de derechos humanos. Por lo tanto, exigimos que las fuerzas armadas del Estado, en particular el 65º Batallón de Infantería y la Policía Nacional de Filipinas, rindan cuentas para que divulguen rápida y transparentemente toda la información necesaria sobre la situación y el paradero de los dos dirigentes. Les exigimos que salgan a la superficie y garanticen la máxima seguridad de los líderes.
Hacemos un llamamiento a las unidades gubernamentales nacionales y locales para que respeten el gobierno civil y el estado de derecho, en medio de la Ley Marcial en Mindanao, y ayuden a localizar y proteger a los dos líderes. Exigimos al gobierno filipino que respete las normas de derechos humanos internacionalmente reconocidas de las que Filipinas es signataria. Condenamos todo intento de silenciar la disidencia y la continua criminalización y los ataques contra los defensores de los derechos humanos.
IPMSDL hace un llamado a todas las instituciones de derechos humanos, organizaciones populares y a la comunidad internacional para que den la voz de alarma y condenen todas las formas de amenazas y ataques contra los defensores de los derechos humanos, los líderes indígenas y campesinos, los activistas de derechos humanos y los defensores.
Appel urgent au dirigeant de Surface Lumad Datu Jomorito Goaynon
Le Mouvement des peuples autochtones pour l'autodétermination et la libération (IPMSDL) appelle Datu Jomorito Goaynon, président de l'Organisation régionale Lumad de Kalumbay (organisation membre de l'IPMSDL) et Ireneo Udarbe, président de Kilusang Magbubukid ng Pilipinas – Région Nord de Mindanao, qui auraient disparu depuis le 28 janvier matin.
Datu Jomorito et Ireneo allaient rencontrer Pig-uyonan, une organisation membre de Kalumbay, qui a eu un dialogue avec la 65e IB et la Commission des droits de l'homme le matin. Le dialogue vise à discuter du récent incident de harcèlement du 22 janvier 2019 à certains membres de Pig-uyonan alors que le 65e IB les forçait à se rendre en tant que faux insurgés rebelles.
Datu Jomorito Goaynon est un dirigeant autochtone convaincu qui a participé activement à différentes campagnes contre la loi martiale qui se poursuit à Mindanao et qui renforce la présence des forces de l'État sur leurs terres ancestrales et qui est la cible d'entreprises extractives étrangères géantes, de sociétés énergétiques et de plantations de propriété étrangère. Il a été à l'avant-garde de la lutte pour l'affirmation du droit des peuples autochtones à l'autodétermination, la reprise des négociations de paix entre le gouvernement et les rebelles et la levée du régime martial à Mindanao.
Sa voix critique contre le fascisme et la tyrannie d'État, les injustices et l'exploitation l'a placé sous surveillance, harcèlement et intimidation accrus de la part des forces militaires étatiques. Des bâches et d'autres affiches avec la photo de Datu Jomrito l'accusant d'être recruteur de la Nouvelle armée populaire (NPA) sont installées dans la municipalité de Talakag, Bukidnon.
Le 4 juillet 2018, Datu Jomorito, avec plusieurs défenseurs des droits humains à Mindanao, faisait partie des personnes emprisonnées pour de fausses accusations de meurtre, qui ont ensuite été libérées sous caution. Ces dirigeants ont été la cible de tactiques de criminalisation et d'intimidation de la part de l'État pour saper leurs campagnes contre les plantations agroalimentaires destructrices et d'autres projets dans le nord de Mindanao, et leur lutte contre les déplacements forcés dus au campement militaire dans les écoles et communautés Lumad.
La disparition de Datu Jomorito et d'Ireneo s'apparente à de nombreux cas non résolus d'agressions militaires et d'agressions étatiques contre des peuples autochtones et des défenseurs des droits humains. Nous exigeons donc que les forces armées de l'État, en particulier le 65e bataillon d'infanterie et la Police nationale philippine, répondent de leurs actes et communiquent rapidement et en toute transparence toutes les informations nécessaires sur la situation des deux dirigeants et le lieu où ils se trouvent. Nous leur demandons de faire surface et d'assurer la plus grande sécurité des dirigeants.
Nous appelons les unités gouvernementales nationales et locales à maintenir l'état civil et l'état de droit, dans le cadre de la loi martiale à Mindanao, et à aider à localiser et protéger les deux dirigeants. Nous exigeons du gouvernement philippin qu'il respecte les normes internationalement reconnues en matière de droits humains, dont les Philippines sont signataires. Nous condamnons toute tentative visant à réduire au silence la dissidence et la poursuite de la criminalisation et des attaques contre les défenseurs des droits humains.
L'IPMSDL appelle toutes les institutions des droits de l'homme, les organisations populaires et la communauté internationale à tirer la sonnette d'alarme et à condamner toutes les formes de menaces et d'attaques contre les défenseurs des droits, les dirigeants autochtones et paysans, les militants des droits humains et les avocats.
(Spanish and French translation by DeepL.)