Waves of Resistance in a Climate of Crisis: The Political Economy of Climate Change
December 12, 2019
ipmsdl_admin
Categories:

Statement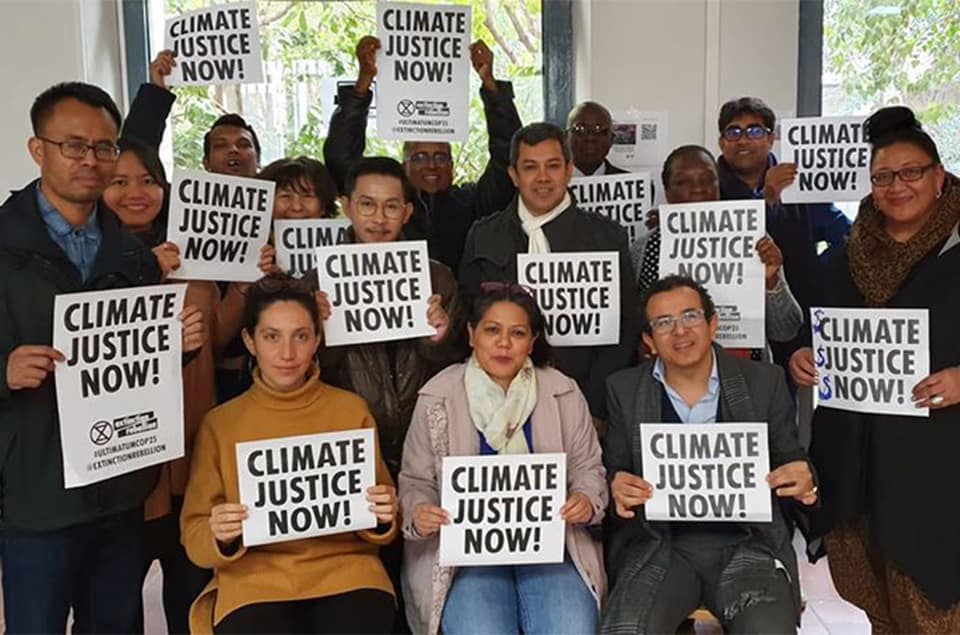 (Speech delivered by CPDE Co-Chair and IPMSDL Global Coordinator Beverly Longid during the "People-Powered Climate Action: Reclaiming the Climate Agenda amid Corporate Plunder and Repression" on 11th December 2019 in Madrid, Spain)
---
"Remember your Children, Remember our Future. Remember your Children, Remember Mother Nature. Is it Money? Is it Business? Is it Profit that You Seek?"
– Salidummay
For the past months, the issue of climate change or climate crisis is at the epicenter of global public discourse. Well, it is this time of the year that parties to the UN Framework Convention on Climate Change (UNFCCC) meet in the annual Conference of Parties (CoP). But more than that is the catastrophic effects of climate change are patently undeniable.
Scientific studies have exposed the rising temperature and sea levels on the planet, and its inevitable effect on the future of humanity. The Emissions Gas Report 2019 of the UNEP states that the "GHG emissions continue to rise, despite scientific warnings and political commitments. It has risen at a rate of 1.5 percent per year in the last decade."
Climate Central, an independent organization of leading scientists and journalists published five days ago its research stating that "150 million people – three times more than was previously estimated – could potentially be displaced by 2050, or up to 300 million by the end of the century if climate change is not mitigated. The study found that more than 70% of the total number of people (live) on implicated land area is in eight Asian countries: China, Bangladesh, India, Vietnam, Indonesia, Thailand, the Philippines, and Japan." It concludes that the Philippines would be underwater in 2050. 
One does not need to be a rocket scientist to feel the impacts of climate change. It is felt by all but more adversely by the poor and vulnerable peoples and marginalized groups. There is not much debate on the reality of climate change. But there is a great debate on the causes and solutions to climate change.
The majority of available literature points to "anthropogenic interference" or human activity as the culprit of climate change. Human? that includes you and me. It is our fault! or Is it our fault? Let's take a look at the top causes of climate change:
1. Fossil fuels and electrification but 16% of the world's population or 1.4 billion people have little or no access to electricity, and 80% of these lives in rural areas;
2. Deforestation where the biggest contributor to forest loss is timber harvesting or logging and agricultural expansion employing huge amounts of fertilization and pesticides; and
3. Mining that is inherently a destructive industry. It has greatly induced erosion, sinkholes, and loss of biodiversity, the contamination of soil, ground and surface water by the chemicals used in mining processes.
Amidst the accelerating climate crisis are the growing protests in different parts of the world: from Venezuela, Ecuador, Chile to Iran, Lebanon, Palestine, Sudan, in Hong Kong, West Papua, and in the Philippines to the United Kingdom, Germany, France, in all countries with the greater participation and leadership of Indigenous Peoples and women, peasants and farmer organizations, of unions and migrant associations; and notably of the youth.
Some of these protests are small but are budding resistance, some big enough to paralyze national operations and others looking like revolutions enough to topple current governments. What drives these protests?
Oil price hikes leading to fare and commodity price increases, slash on agricultural subsidies, new tax, and austerity measures but tax cuts and bailouts for the rich. Many also stand up against the escalating attacks on fundamental freedoms and civil liberties, and against the rise of fascism, right-wing and draconian totalitarian regimes; on the denial of people's right to self-determination, liberation, and development.
What unites these manifestations of people's rights of expression, association, and to petition the government for a redress of grievances with the earlier described climate or ecological crisis? All these are brought about by the drive for profit and more profits at a quicker pace. It is brought about by the accumulation of capital by a few. It is caused by the rule of neoliberal capitalism or aptly by imperialism. And this is what is lacking in the current narratives and discourse on climate change. And this we have to expose as the real cause of disasters, of poverty, of famine, and war.
Activists, climate warriors, defenders of Mother Earth, we should rise from the current climate conversation but dig to the roots of the climate crisis.
"The struggle against global warming requires a conscious struggle against capitalism.[1]"
Peoples, especially in the global South, are increasingly under threat as the worsening economic conditions are accompanied by the climate crisis. The worsened effects of climate change on the poor, especially in the global south, are ever urgent amidst the markedly worse impacts should global warming reach 2 degrees Celsius above pre-industrial levels – from loss of biodiversity and natural resources as well as climate-related risks to health, food, and livelihoods.[2]
The majority, the poor people who have contributed the least to the problem shall suffer the most from climate change. The poor do not possess effective technological and financial means to protect themselves from the catastrophic consequences of climate change. And these are the same poor people that big businesses, corporations of greed, transnational and multinational corporations earlier displaced, and who suffered from low wages and poor working conditions.
And they shall further suffer anew as industries, financial institutions, and investors peddle false and market-based solutions that might be equally destructive and harmful to people and planet. Because even in times of disaster and crisis such as now capital can even profit by inventing new business opportunities such as carbon trading and markets and disaster insurance.
Thus, "Fighting for climate justice includes a component of class struggle."[3]
Green solutions are not necessarily green. Lithium is an essential ingredient of the batteries that power electric vehicles, smartphones, e-bikes, solar panels and more. Over half of the lithium reserves are in South America in the Andes – in the lithium triangle countries of Bolivia, Argentina, and Chile. But who owns and controls these mines?
Globally, people are rising against the unjust system that damned our future today. People's narratives and actions have directed us towards a common enemy – capitalist plunder of the environment and exploitation of labor.
Scientific studies claim that to halt catastrophic climate change, 80% of the world's fossil fuels need to stay within the ground – an obstacle to the interest of the fossil fuel companies.
Free Trade Agreements empowers corporations to sue governments for interfering with their business – whether it be due to the enactment of carbon reduction goals or adopting environmental legislation.[4]
The deregulation of environmental policies is a legal tool that allows large extractive industries'unyielding access to natural resources of peoples in the global South. This will further deprive us to exercise our sovereign right to utilize our natural resources for socio-economic development and to prepare our communities for environmental catastrophes.[5]
The private sector largely composing of big businesses and financial institutions have now encroached in global policy spaces – leveraging funds – profit from the plunder and occupation of peoples' lands. Government control over facilities and policy-making is handed over to corporations.
Globally, Indigenous Peoples have rights over a quarter of the world's land surface or at least 38 million kilometers.[6]In a world run by corporations, we stand in the way of their vested interests. Our domains are the last places on earth where resources are unspoiled and abundant. Foreign investors on agriculture and extractive industries encroach on our ancestral lands and territories.
War, militarism, and neoliberalism are major setbacks to people and the planet.
It facilitates wanton plunder of the environment leading to its rampant depletion and destruction. Neoliberalism allows market expansion while war and militarism secure the violent control of natural resources (land, raw materials) and human resources (docile and cheap labor).
In the regions of Africa, Latin America and the Caribbean, and "developing" countries in Asia, workers, students, peasants and farmers, Indigenous Peoples and other movements rose in clamor around issues involving US military presence, US-backed governments, and state repression, Mainland China's expansion, and against neoliberal institutions of world trade and finance. Strikes and protests streaked across the global North. The Global Climate Strike mobilized four million people around the world; many of them are students and youth.
Social movements and people's organization's continuous exercise of people's sovereignty and the assertion of people's rights meet repression. The global capitalist response to the crisis is to intensify repression particularly to the Indigenous Peoples, the vanguards against climate change.
Indigenous peoples' food systems have been proven resistant to climate threats but despite their number and relevance to environmental preservation and food production; Indigenous Peoples are either poor, marginalized or under attack.
India and the Philippines landed as two deadliest countries for land rights defenders. Included in the report are the killings of indigenous peoples. At least 185 environmental and land defenders have been killed in 2017 most of which are indigenous peoples or 30% of the total recorded deaths. [7]
Communities, people's organizations and social movements face enormous challenges and daunting tasks. It is about time that we turn the tide against the myth that there is no alternative to the exploitative capitalist and oppressive system. We should debunk the thought of green capitalism because profit and sustainable development are incompatible. We said it before and we shall do it now – system change, not climate change.
Today, we denounce – governments and corporations – the environmental criminals, the top polluters, the looters and thieves of the environment. As we commemorate the International Human Rights Day, let us commit today as the beginning of waves upon waves of protests to hold them accountable.
We rise against war, militarism, and neoliberalism as top environmental criminals! We rise for people's rights, sovereignty, and people-powered climate action!
Thank you.
---
[1] https://climateandcapitalism.com/2019/06/16/ecosocialist-views-of-karl-marx-kohei-saito/
[2] http://www.iboninternational.org/I3D/Intl-Situation-2018-Crisis-inequalities-corporate-concentration
[3] https://climateandcapitalism.com/2019/06/16/ecosocialist-views-of-karl-marx-kohei-saito/
[4] http://iboninternational.org/resources/15/07/13/ibon-primer-21st-century-free-trade-agreements
[5] ibid
[6] https://www.nature.com/articles/s41893-019-0349-4.epdf
[7] https://www.iflscience.com/environment/an-average-of-more-than-3-environmental-defenders-were-killed-per-week-of-2018/